The countries that line the Mediterranean Sea eat a diet rich in seasonal fruits, vegetables, legumes, nuts, seeds, olive oil and fish.  They don't eat a lot of red meat or sweets and typically enjoy alcohol in moderation.  They also typically lead an active lifestyle.
Research studies have shown there are many health benefits for following a Mediterranean style diet.
Mediterranean diet is associated with the following health benefits (1):
Help lower cholesterol
Help with weight loss
Improve rheumatoid arthritis
Lower risk for Alzheimer's
Lower risk for type 2 diabetes
Lower risk for certain cancers
To get these health benefits from the Mediterranean diet, incorporate these simple tips into your everyday lifestyle.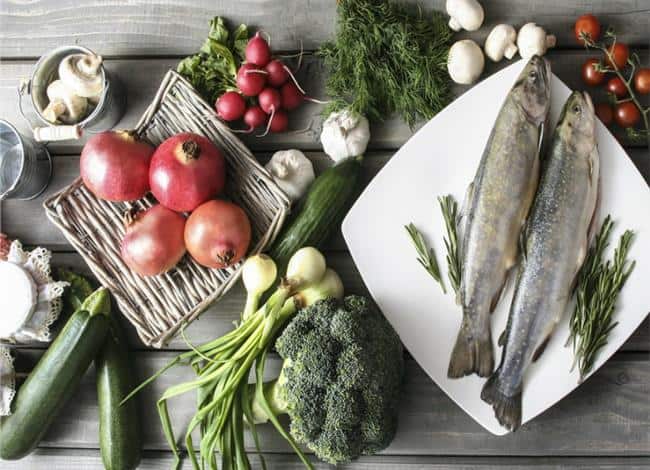 Start changes gradually and over time so they develop into long term habits.
1. Eat more fish in place of red meat.
It makes sense people living around the Mediterranean Sea eat mostly fish and seafood for protein source.
However, most Americans have a hard time reaching the recommended two servings of fish per week guideline.
Switching to a Mediterranean based eating plan means swapping out some red meat for fish and seafood.
Fatty fish like salmon, sardines, albacore tuna, mackerel or herring are rich sources of omega 3 fatty acids.
Omega 3's are anti-inflammatory and are one reason why eating a Mediterranean diet can help lower inflammation in the body.
2. Use olive oil in place of other fats.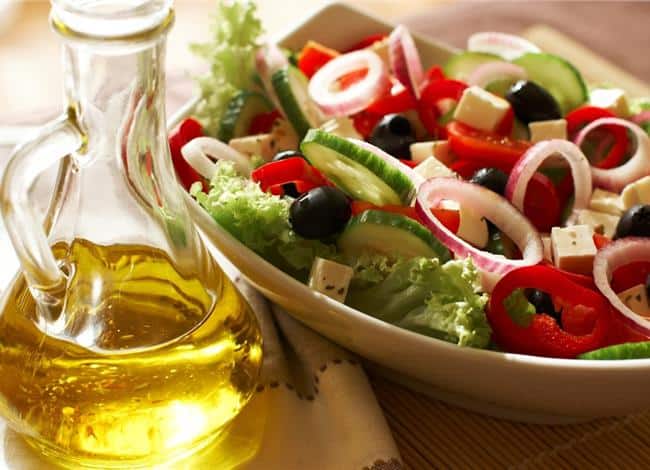 The Mediterranean diet is not considered a low fat diet.
However, the main fat sources are olive oil and nuts which are high in heart healthy monounsaturated fats.
Using olive oil in place of butter, mayo and refined vegetable oils is a main component of the Mediterranean diet.
Mayo Clinic (2) also suggests using extra virgin olive oil to get the highest levels of antioxidants.
3. Plan meals around vegetables.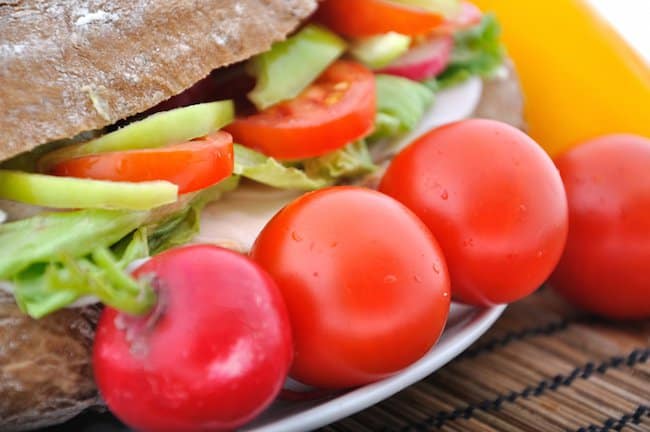 Most Americans are used to planning meals around meat.  However, the Mediterranean diet is much more plant focused.
Eating more fruits and vegetables is a staple for following this diet.  As the USDA recommends, plan your meals with fruits and vegetables taking up half your plate instead of as a side item.
Meal plan around vegetables instead of focusing on meat.
For snacks, make them fruit and vegetable focused instead of using chips or crackers.
The antioxidants, fiber, vitamins and minerals from fruits and vegetables play an important role for the health benefits associated with following a Mediterranean diet.
4. Add more legumes to your diet.
The Mediterranean diet has a higher consumption of legumes than a typical Western diet, and the reasons to add more legumes to your diet are many.
There is an inverse relationship between legume intake and BMI, and legumes can help provide satiety after eating (3).
Legumes are high in protein and fiber which is probably why they are beneficial for weight maintenance.
They are also a good source of many minerals and antioxidants.  The recommended intake for legumes (4) is 3 cups per week.
You can use legumes in place of meats during meal times.
Examples can include: adding beans to tacos, salads, soups, stir fries and egg dishes.
Eating hummus with vegetables and whole grain chips can be a healthy snack choice as well.
5. Use more spices and herbs in place of salt.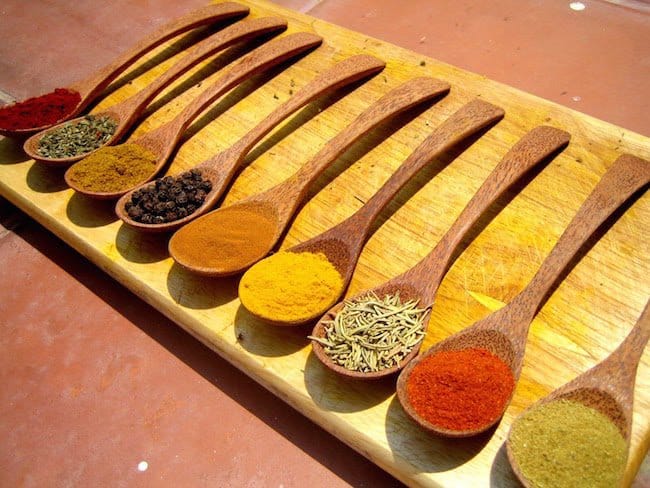 Herbs and spices have high antioxidant content.  Using these in place of salt can help boost nutrient values for dishes and lower sodium levels.
Most Americans get too much sodium which can increase risk for high blood pressure in certain individuals.
The Mediterranean diet is lower in salt and focuses more on fresh herbs and spices.
6. Snack on nuts instead of packaged snacks.
Besides olive oil, nuts and seeds are another source of heart healthy fats in the Mediterranean diet.
Like legumes, they are also high in protein and fiber which means they are a satisfying snack.
Swapping nuts in place of other snacks like chips or crackers can be a helpful tip for eating a more Mediterranean like diet.
Keep in mind the recommended serving is about an ounce of nuts per day, which is roughly the size of a small handful.
7. Cut down on sweets.
The Mediterranean diet puts sweets and red meats on top of the eating pyramid meaning these should only be eaten sparingly.
Instead of turning to sweets for a snack or dessert, opt for eating more fruits.
Instead of eating packaged cookies for snacks, choose nuts, whole grains, fruits or vegetables.
Use sweets as an occasional treat not a staple in your diet.
8. Swap in more whole grains in place of refined grains.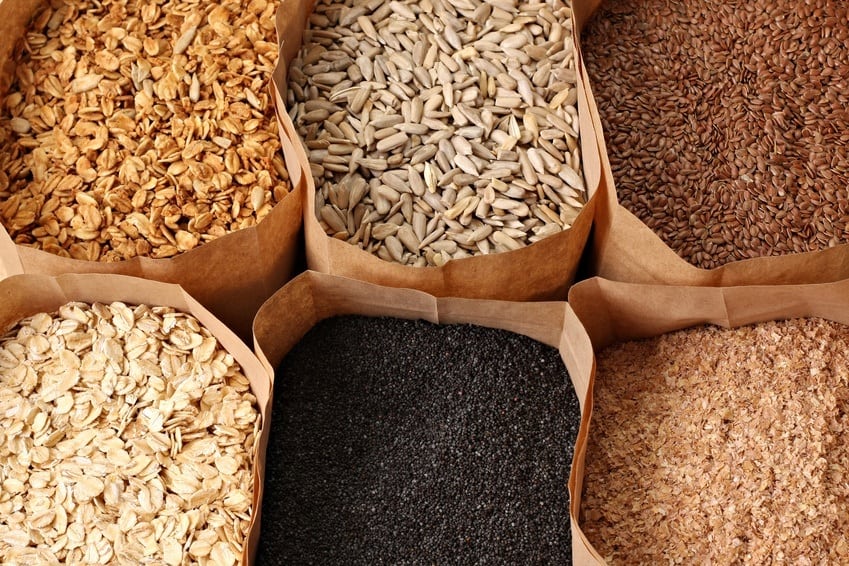 Instead of white bread, white rice or sweetened cereal, choose whole grain alternatives.
The Mediterranean diet emphasizes a diet high in the plant foods legumes, fruits, vegetables and whole grains.
Choosing whole grains means you are getting the natural nutritional value of the whole plant: fiber, vitamins, minerals and antioxidants.
For more variety in your grain intake, try adding quinoa, barley, millet or farro into your diet.
9. If you drink alcohol, drink in moderation.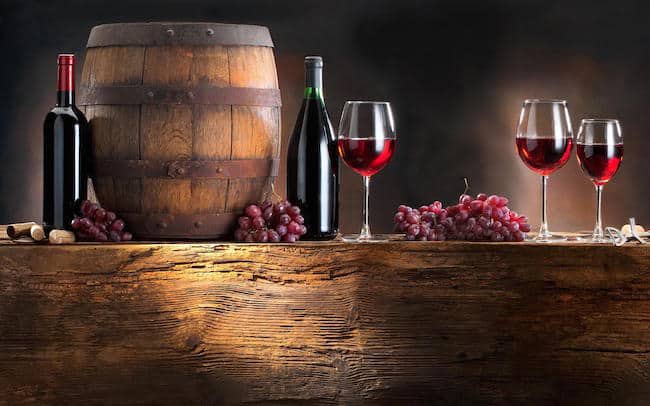 If you already drink alcohol, make sure you are drinking in moderation.
Drinking alcohol, especially red wine, is common along the Mediterranean region, and drinking in moderation is associated with some health benefits.
Moderation is considered one 5 ounce wine serving per day for women and up to two 5 ounce wine servings per day for men (5).
Drinking more than the recommended moderation servings can increase risk for many negative health consequences.
If you don't drink alcohol or have trouble keeping your intake to the moderate dose, don't start drinking alcohol.
10. Get more movement in your daily life.
The Mediterranean lifestyle emphasizes eating certain foods, but exercise is also a big piece of their way of life.
Traditionally, people in this region do much walking as part of their lifestyle.
To get the full benefits of the Mediterranean, incorporate more movement in your day.
If you sit at a desk for most of the day, take walk breaks or other exercise breaks throughout the day to break up long periods of sitting.