Chicken is a staple in many homes; compared to other meats, it is relatively cheap protein source.  Eating foods high in protein could be beneficial for weight loss because some studies suggest a higher protein intake during weight loss can help preserve muscle mass.  Protein has a high satiety value meaning it helps keep you feeling full after eating.
Therefore, eating protein at meals could help lower food intake afterwards.
While eating foods high in protein like chicken can be an important component for a healthy weight loss diet, it's important to remember eating a variety of foods is important for overall health.
Chicken can be considered a healthy food, but incorporating other protein sources into your diet is recommended for balance.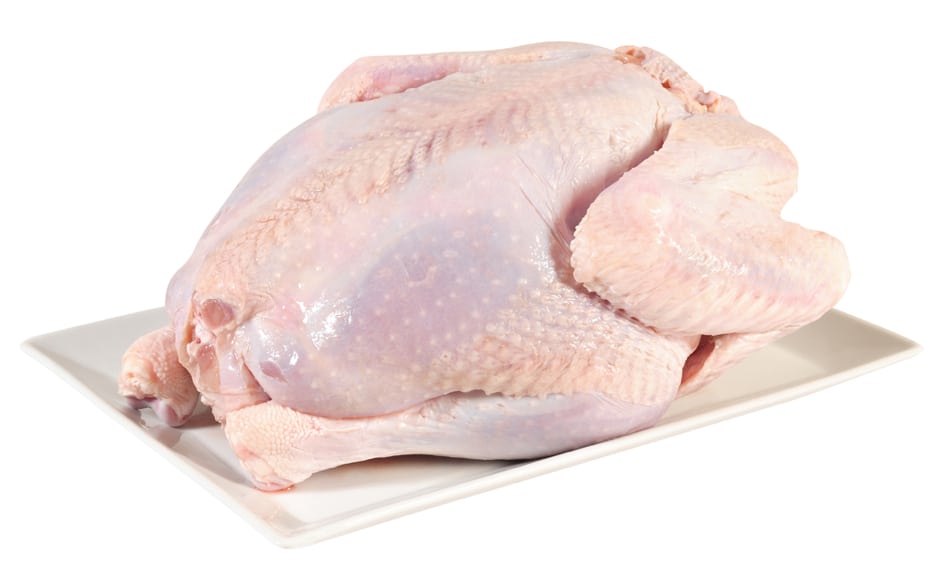 Chicken can vary in calorie and fat content.  In general, it is recommended to eat mostly lean protein sources as part of a balanced weight loss diet.
White chicken meat like the breast meat is lower in fat than darker meat.
The skin of chicken is higher in fat, so removing the skin before cooking is a lower calorie cooking method for chicken.
See Also: Which Part of the Chicken is the Healthiest to Eat and the Best Way to Cook It?
Protein source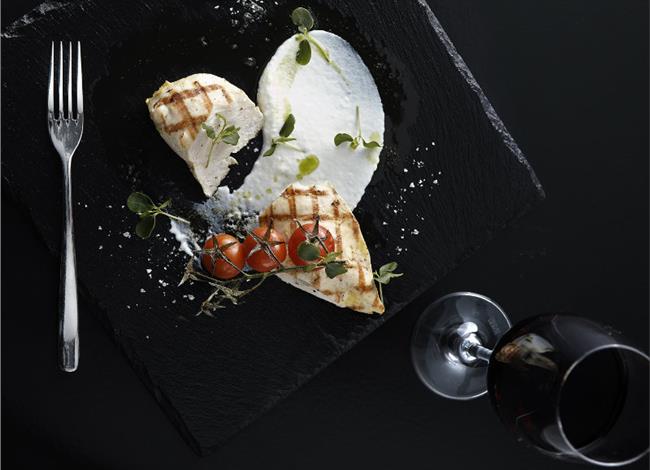 An average chicken breast is around 4 ounces.
A 4 ounce chicken breast provides about 35 grams of protein which is about 70% DV of protein.
Eating chicken breast at meals can provide a significant protein source which can help keep you feeling full long after eating.
How much protein you need can depend on activity level and health status.
In general, healthy adults should get between 10-35% of calories or about 0.8-1.2 grams per kilogram of body weight.
A 2013 study (1) found a higher protein diet of 1.2 grams of protein per kilogram of body weight helped preserve lean muscle mass during weight loss compared to people who had a protein intake of 0.8 grams per kilogram of body weight.
Another way to think about incorporating protein in your diet is to be closer to the range of 25-35% of calories from protein.
This is generally considered a higher protein diet but is still within the recommended range of percent of calories.
Eating chicken as part of a balanced meal can help you reach this range of calories from protein for weight loss.
Fat content
Chicken breast is high in protein but relatively low in calories.
An uncooked chicken breast provides less than 200 calories with about 4 grams of fat.
However, if you eat chicken thighs with the skin, fat content jumps up to about 17 grams of fat per 4 ounce serving.
You don't need to fear eating fat while you are trying to lose weight.
However, it is recommended most of your fat intake from foods should come from unsaturated fat sources like olive oil, nuts, seeds and avocados.
Chicken with the skin is higher in total calories and saturated fat.
While the relationship between saturated fat and overall health is being challenged by recent research, guidelines still suggest getting most of your fat intake from unsaturated fats.
Can you enjoy chicken wings, thighs or drumsticks with the skin during weight loss?  They can be an occasional splurge.  However, if chicken is a staple in your diet, the majority of your chicken intake should be from leaner parts of the chicken without the skin.
Vitamins and minerals from chicken
Chicken can provide more to the body than just protein and energy.
Chicken is a source of selenium, B vitamins, iron and magnesium.
Selenium (2) is a trace mineral that acts like an antioxidant, helps form new DNA and has a role with thyroid hormone.
A 3 ounce serving of roasted chicken provides about 30% DV for selenium.
A serving of chicken breast also provides about 30% DV for vitamin B6.  Vitamin B6 is used to make new red blood cells, protein metabolism and to make neurotransmitters in the brain.
Getting adequate intake of B vitamins may be helpful for lowering risk for cardiovascular disease because B vitamins help lower homocysteine levels in the blood.
High levels of homocysteine can increase risk for cardiovascular disease.
A serving of chicken breast provides less than 10% DV for magnesium and iron.
Other red meat sources are higher in iron.  If you are looking to get more iron in your diet, eating dark chicken meat can provide a higher amount of iron.
What to eat with chicken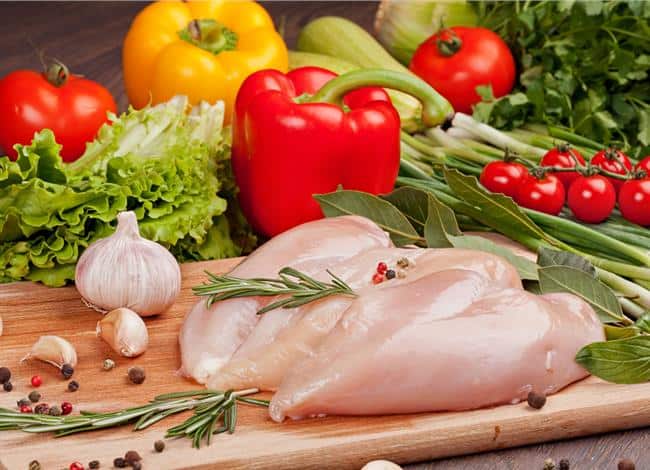 Chicken may be a healthy part of a weight loss diet, but you need to eat a variety of other foods with it.
No one food is responsible for impacting health and weight.
Instead, it is a combination of everything you eat.  Eating a high intake of fruits and vegetables is recommended for overall health.
If you are planning a meal around chicken, try to make a meal that includes at least half of your plate with fruits and vegetables.
Eating whole grains, legumes, nuts and seeds and heart healthy fats can also provide many other nutrients the body needs.
Therefore, adding some legumes or a whole grain in addition to a meal with chicken, fruits and vegetables can provide a nutrient dense, balanced meal.
Remember to make chicken just one part of your diet, not the sole component.
See also: Chicken and Brown Rice Diet
Healthy ways to cook chicken
How you cook a food can greatly impact flavor, texture but also the nutritional value.
Fried chicken, especially with the skin, can be a higher calorie cooking method.
When incorporating chicken into your diet, use lower fat cooking methods.
Baking or grilling chicken can be lower in calories compared to frying.
Adding chicken and vegetables to a slow cooker or in a soup can be easy ways to cook moist chicken without adding a lot of extra calories.