Research suggests there may be some health benefits of drinking alcohol in moderation, but too much alcohol can have negative health results and increase risk for weight gain. Alcohol is fairly high in energy; it has 7 calories per gram. When we ingest alcohol, the body sees this as top priority for metabolizing because alcohol is a toxin. Alcohol can also increase risk of excess fat around the midsection.
The relationship between alcohol and weight regulation is not clearly understood. Some research studies suggest a positive, negative or no effect at all between moderate alcohol consumption and weight.
Regardless, here are some tips that anyone can use if you are trying to lose or maintain your weight while drinking alcohol.
Moderation
The recommendation for drinking alcohol should always stay within the recommended moderation guideline. The Dietary Guidelines for Americans defines drinking in moderation as 1 drink per day for females and up to 2 drinks per day for males.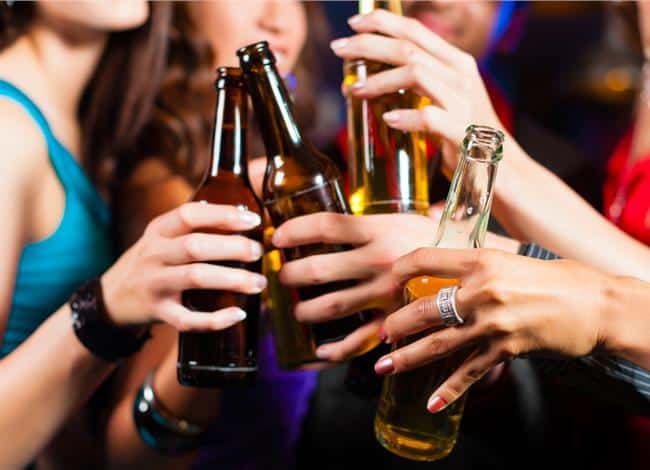 It is important to realize that a glass of alcohol does not equal a serving; often a "serving" of alcohol that is poured is more than the recommended serving size.
This is important to realize for preventing weight gain when drinking alcohol, as drinking a larger portion can mean more calories coming from alcohol than you think you're getting.
If you do drink alcohol and want to prevent weight gain, stick with the moderation guidelines. A serving of alcohol is considered: 12 ounces of beer, 5 ounces of wine, 8 ounces of malt liquor or an ounce and a half of hard liquor.
Some research actually suggests drinking in moderation may help regulate food intake.
However, the reverse can happen when excess alcohol is ingested. You are more likely to have your guard down and choose high calorie foods and larger portion sizes when you have had too much to drink.
Is type of alcohol important?
A review article from The American Journal of Clinical Nutrition concluded that heavy alcohol intake, more than 30 grams of alcohol per day, was associated with weight gain no matter what kind of alcohol was consumed.
Quantity of alcohol appears to be a strong indicator for weight regulation. In terms of types of alcoholic drinks, those with added sugar or heavy syrups will add more unnecessary calories that can hinder weight loss goals. Choose types of alcohol that do not have added sweeteners and always remember moderation is key.
Food choices with alcohol
It may seem like a good idea if you know you are going to have an alcoholic drink to not eat food so you will save calories so you can still lose weight.
However, that rationale can back fire.
Eating foods that provide fiber, lean proteins and healthy fats can help keep blood sugar stable and inhibit a crash in blood sugar which triggers hunger.
Other lifestyle behaviors
Some theories for why drinking alcohol in moderation may help with weight balance is that drinking in moderation may be associated with other healthy behaviors such as exercising and eating healthy.
Keep in mind whether you drink alcohol in moderation or don't drink alcohol, other important factors for weight loss still need to be addressed like physical activity, a healthy diet, stress management and proper sleep.
Genetic differences
People metabolize alcohol differently, and this may be one reason why moderate alcohol consumption may appear to be beneficial for weight loss in some people and not others.
While this may seem unfair, there are genetic variances for many other things related to weight balance. Just because someone can drink alcohol in moderation and lose weight doesn't mean it will work for someone else.
When should you not drink alcohol?
If you do not drink alcohol, it is not recommended to start drinking alcohol for potential health benefits. If you struggle with moderation in alcohol intake, total abstinence may be a healthier option.
Pregnant women should never drink alcohol, as it is unclear what amount of alcohol can increase risk for fetal alcohol effects.
It is easy to go over the moderation recommendation of alcohol, and the negative health effects related to drinking more than the suggested amount are many.
Certain medications are also contraindicated with alcohol consumption, so if you are taking medication talk with a doctor before drinking alcohol.
Conclusion
Drinking alcohol in moderation can be a part of a weight loss program, as some research suggests drinking in moderation could be associated with weight management. However, not everyone can benefit from drinking even in moderation, so there is high individual variance.
Quantity of alcohol in terms of weight loss is important; drinking over the recommended amount can increase risk for weight gain.
Also, drinking alcohol without added sweeteners or other caloric beverages is key. Making healthy food choices is important when drinking alcohol; skipping eating when drinking can lead to a higher calorie intake later.
References used in this article