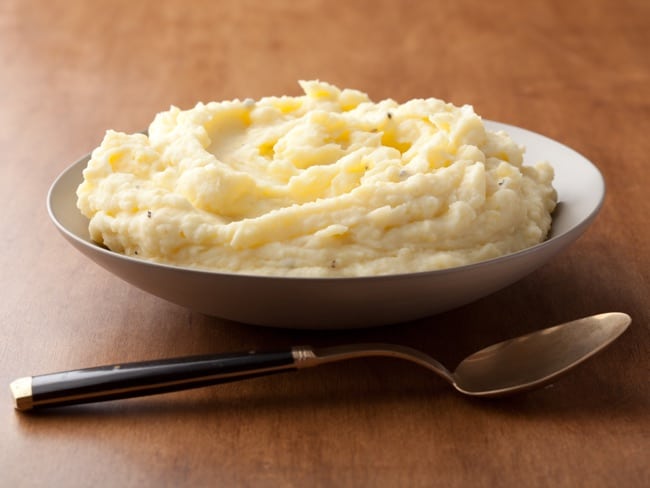 Consumption of potatoes worldwide is right behind rice, wheat and corn, and about half of potato sales in the US are from processed foods like instant mashed potatoes, French fries, etc.  For many Americans, mashed potatoes especially are considered a comfort food and a favorite go to.
There are of course many different ways to make mashed potatoes, but are mashed potatoes good for you?  The answer to this question depends on many factors.  How much are you eating, what is in the mashed potatoes, and what are you eating it with?  Are you using mashed potatoes on a consistent basis in place of whole grains?
Mashed potatoes and glycemic index
The glycemic index (GI) is one way to measure the impact a food will have on raising blood sugar after you eat it.  The closer the number is 100, the larger the impact on blood sugar levels.
Eating a lot of foods that are high on the GI may increase your risk of type 2 diabetes or weight gain.  High levels of blood sugar can signal high amounts of insulin to be released in the blood stream.  Insulin is a storage promoter meaning when it is out, insulin will promote fat storage.
Foods with high GI values are foods that are high in simple carbohydrates like soda, candy and white bread.  Even though potatoes are primarily carbohydrates, the GI of potatoes can vary by variety and preparation.
A 2005 study (1) compared the GI of potatoes prepared in different ways.
Researchers found boiled red potatoes eaten cold had the lowest GI at 56.  Instant mashed potatoes and boiled red potatoes had the highest GI value according to this study, 88 and 89 respectively.
If you want to eat potatoes with a lower GI value, this study found when potatoes were pre-cooked, eaten cold or re heated, they had lower GI values.
How big is the serving?
When determining if mashed potatoes will be healthy or considered fattening, you need to account for portion size.  Another way to measure the impact of a food's impact on blood sugar is the glycemic load (GL).  GL takes into account how much of a food you are eating.
You may be eating a high GI food, like mashed potatoes, but if you eat just a small amount, it can have a lower GL value.  Mashed potatoes' impact on blood sugar can be minimized by eating smaller portion of mashed potatoes.
A standard serving of mashed potatoes can be considered to be 1 cup.  It can be easy to serve portions larger than 1 cup, but eating smaller portion sizes, even less than 1 cup, may be a healthy option to still be able to enjoy mashed potatoes.
What are you putting in the mashed potatoes?
Mashed potatoes can be made from boxed, dehydrated potatoes and adding minimal ingredients, like water, or be homemade with all the fixings: butter, cheese, milk, salt, etc.  Obviously what you put in mashed potatoes besides the potatoes can impact the nutritional profile.
If you are trying to make lower calorie mashed potatoes, skimping heavier ingredients like butter will help.  Adding in herbs or garlic to mashed potatoes can help give them flavor without piling on extra calories.
If you are making mashed potatoes from dehydrated potato flakes, keep in mind you may not be getting all the nutrients from the actual potato.  Potatoes are a rich source of potassium and B vitamins.
What are you eating with mashed potatoes?
What you eat with mashed potatoes can have an impact on how your body digests mashed potatoes.  Eat mashed potatoes with a protein and healthy fat for a balanced ratio of macronutrients and to further lower the GI impact of the meal.
The USDA suggests at meal times to make half your plate filled with fruits and vegetables.  While the potato can be a vegetable, it is also a starch.  Don't make mashed potatoes half your plate; make sure you are filling it with other fruits and vegetables and including a protein source.
Are you substituting mashed potatoes for whole grains?
A 2006 study (2) did find a small positive association between potato and French fry intake and risk for type 2 diabetes.  However, researchers found this association was more pronounced when mashed potatoes were eaten in place of whole grains.
Mashed potatoes, especially if made without the skin, aren't as high in fiber as whole grains.  If you want to eat mashed potatoes, eat in moderation.  Still make whole grains your choice for most meals.  If you put mashed potatoes in place of whole grains, you might be increasing your risk for type 2 diabetes, especially if you are eating a lot of other high GI foods.
Other ways to enjoy potatoes
If you want to enjoy potatoes but want a lower GI choice, try roasting or cooking potatoes different ways.  Potatoes are a nutrient dense food and can help you reach your recommended daily potassium intake.
Even though potatoes are white, they are still a good source of antioxidants too (3).
Roast potatoes with herbs and seasoning for French fry alternative too.  Cutting potatoes into smaller pieces can shorten the cooking time.  If you rely heavily on boxed potato products or potato chips, experiment with recipes using real potatoes.  The extra time for preparation is worth the nutritional gain!
Conclusion
Potatoes are a popular choice for many people worldwide, and the potato does have a lot to offer in terms of nutritional benefit.  Potatoes are high in potassium, vitamin C, B vitamins and contain smaller amount of iron and magnesium.
Potatoes are primarily carbohydrate food, so when they are eaten alone they may have a substantial impact on raising blood sugar.  Mashed potatoes especially are high on the GI.
To counter this effect, eat a small to moderate serving of mashed potatoes with other foods that offer protein, fiber and healthy fats.
Choosing mashed potatoes over whole grains could increase risk for type 2 diabetes, so remember to keep most of your starches as whole grains.
Explore with potatoes and try eating them different ways; eating them cooked differently can also influence the GI value.