How much weight you can lose in a month from just eating salads really depends. It depends on how much weight you have to lose, how much salad you are eating, how much exercise you are getting and other individual health factors. 
The word salad is usually associated with health and weight loss for most people.  Traditional salads are based on leafy greens and other vegetables that are naturally low in calories, high in vitamins, minerals, antioxidants and fiber.
What could be wrong about using these as a base for a meal?  It can be true salads are a low calorie, high nutrient dense meal choice, but it isn't always the case.
Salads can sometimes have sneaky ingredients that drastically increase the fat, sugar, sodium and/or calories.  Therefore, knowing what ingredients to limit on a salad, especially when trying to lose weight, is important.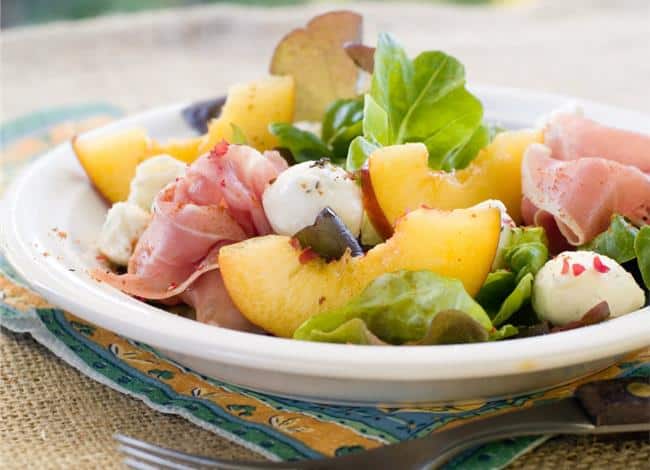 Even if salads are low in calories, they can also sometimes leave you feeling unsatisfied.  If you are just using vegetables and healthy salad toppings, you are not getting much protein or diversity from your salads.
Incorporating all the foods groups in a salad can create a satisfying, healthy meal.  Salads don't have to be boring and just lettuce!
Eating Salads for a Month and Weight Loss
Eating just salads for a month may lead to weight loss, but it isn't the only way to lose weight.
Eating a balanced, varied diet is recommended for overall health and long-term weight loss success.  Keep these tips in mind if you are planning to eat more salads for weight loss.
All salads are not equal
Traditional salads in the US can mean a base of pale, iceberg lettuce, a few pieces of tomatoes, cucumbers, carrots and ranch, French or Italian dressing.
However, salads now can mean a variety of colored fruits, vegetables, dark leafy greens, lean proteins, nuts, cheese, whole grains and heart healthy oil-based dressings.
Salads can really be a complete meal if you include all the food groups.  Incorporating at least one protein source (lean meats, eggs, cheese, nuts) on a salad can increase satiety after eating which means your appetite will be lowered longer after eating.
Comparing a limp iceberg based traditional side salad with a vibrant, colorful modern salad is a big difference.
So, when you are trying to eat more salads for weight loss, it's important to incorporate salads that have varied, colorful ingredients along with a healthy protein and fat source.
Something to remember especially when eating out is the salad on the menu isn't always the lowest calorie option.
Salads that have creamy dressings, fried tortilla chips, big pile of cheese or fried chicken are going to be higher in calories.
To keep salads lighter, ask for the dressing on the side, skip fried toppings and eat about half a portion of a salad when eating out.
What's on your salad?
Base layer: choosing dark leafy greens is a no brainer for a nutritional, low calorie base for a salad.  Skip the iceberg lettuce; choosing darker greens will have more nutritional value.
If you're looking to change up your salads, you can do a whole grain based salad that uses brown or black rice, quinoa, farro, barley or other whole grain.
Toppings:  Toppings can either make or break a salad.  Toppings should be a variety of colors, textures and flavors to create a satisfying and nutritious salad.
You can be generous with vegetable toppings; aim to have at least 2-3 different colored veggies in your salad.
Other toppings can include: legumes (good fiber and protein source), berries, apples, avocado, citrus fruits, soy proteins or lean meats.
Garnishes: Garnishes can be higher calorie toppings but in smaller quantities.  Adding in cheese, croutons, nuts or seeds can add healthy fats and provide flavor.
Keeping the quantity smaller is key for keeping salads lower in calories.  To add some extra pop of flavor, sprinkle your favorite fresh herbs on top.
Dressing: A dressing should tie all the components of a salad together.  For healthiest options, keep dressings oil based.  Specifically, olive, avocado, flaxseed or walnut oils can be healthy salad dressing bases.
A salad shouldn't be doused in dressing; dressing should be kept to a light coating.  You can also keep the dressing separate and dip your fork in dressing before dipping in the salad.
If you are looking to diversify your salad options, here are 30 salad recipes for weight loss.
How much weight can you lose from eating salads?
Unfortunately, there is no one fixed number of pounds that you are guaranteed to lose from eating salads for a month.
How much weight you can lose in a month from just eating salads really depends.
It depends on how much weight you have to lose, how much salad you are eating, how much exercise you are getting and other individual health factors.
In general, a weight loss of 1-2 pounds per week is recommended.  You could reach this goal by eating healthy, balanced salads in a month.
For more individualized guidance, speak with a dietitian for your weight loss goals.
Conclusion: You don't have to just eat salad for weight loss
Salads can be a healthy meal choice while trying to lose weight or at any point in life.  The important consideration is to create a salad that is full of nutrient dense foods (fruits, vegetables, lean proteins) and also providing a balance of fiber, protein and heart healthy fats.
Just because something is called a salad doesn't mean it is automatically healthy or low in calories.
Salads at restaurants can still be high in calories from fried toppings, high amount of cheese or creamy dressings which can translate to a high calorie meal.
If you are getting bored with just eating salads for weight loss, remember you do not JUST have to eat salads!
In fact, it is recommended to eat a variety of foods not just only one specific food type for a month.
You can incorporate salads in your diet while eating other healthy foods.  One option is to include a salad before meal times.
Doing this will make sure you are getting a good serving of vegetables, and your portion size at meal times will be smaller.