Quinoa is an ancient seed from the Andes mountain region in South America.  Quinoa is actually a seed, but it cooks and looks like a grain.  The ancient Incan culture relied heavily upon quinoa and sowed the first seeds of the quinoa plant.  During the Spanish conquest of South America, the quinoa plant lost its value in the eyes of the Spanish conquerors.
However, in recent years quinoa has made a comeback globally as a popular super food because of the many health benefits it contains.
Benefits of Quinoa
Here is a list of the health benefits of quinoa and why you may want to try it if you haven't yet.
Quinoa is high in Protein
Animal products are naturally high in protein and contain all the essential amino acids.  Plant foods are generally lower in protein and are considered incomplete proteins because plants lack at least 1 essential amino acid.  However, quinoa contains high amounts of all amino acids making it a complete protein.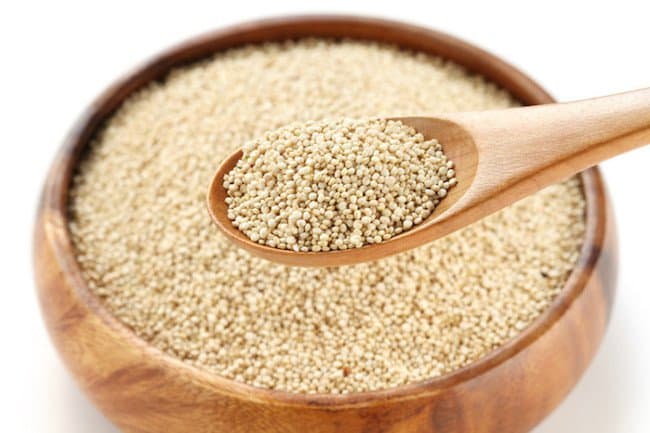 In fact, a half cup of quinoa provides 12 grams of protein.  Quinoa has the highest amount of protein compared to other grains.
Eating high protein foods can increase satiety which may lower food intake at subsequent meals.  Eating quinoa in place of other whole grains will increase the protein content of the meal.
Quinoa is high in Fiber
A half cup of quinoa contains 6 grams of fiber.  Fiber also relates to satiety meaning the more fiber you eat a meal the longer you will feel satisfied.
Because quinoa is high in protein and fiber, it can be especially beneficial for keeping you satisfied for a long time.
Fiber is beneficial for heart health, digestive tract health and blood sugar regulation.  Females between 19-50 years old need 25 grams of fiber per day, and men 19-50 years old need 38 grams of fiber per day.
Vitamins and minerals
Quinoa provides many vitamins, minerals and antioxidants.  Quinoa is high in manganese, phosphorus, copper, magnesium, folate and zinc.  These nutrients can be commonly under consumed in a typical Western diet high in processed foods.  Eating quinoa can help reach the adequate intake of these nutrients.
Quinoa is rich in two antioxidants, quercetin and kaempferol.  The amount of these antioxidants in quinoa is comparable, and maybe even higher than, the amount found in some berries.  Antioxidants can help prevent and limit damage from free radicals that can damage cells.
Quinoa contains other phytochemicals that have an anti-inflammatory effect on the body.  Some animal studies have shown that quinoa may help lower risk of chronic diseases associated with inflammation like obesity and heart disease.
More human research studies are needed to understand the relationship between quinoa and lowering inflammation in humans.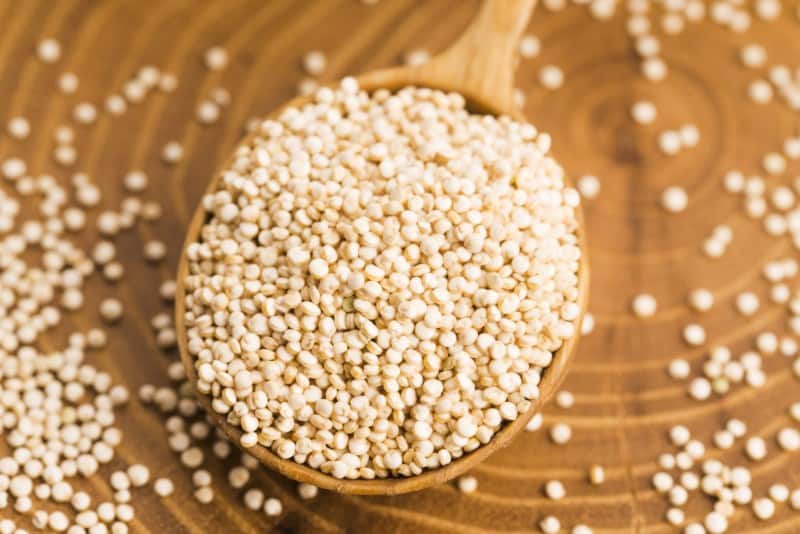 It is gluten free
Quinoa is naturally gluten free because it does not contain wheat proteins like other grains such as wheat, barley, rye or oats.  People on a gluten free diet can find in challenging to find high fiber grain gluten free products.
Many gluten free products are made with white rice flour or potato starch which is low in fiber and nutrients.
Quinoa products like flakes, pasta, etc. are now more readily available as gluten free alternatives.  Those who are gluten insensitive can use quinoa as a gluten free alternative grain with worry.
Quinoa and Weight loss
Quinoa can be part of a healthy, balanced diet for weight loss.  It has a high satiety value because it is high in protein and fiber.  The carbohydrates from quinoa are released slowly into the blood stream so it does not spike blood sugar which is beneficial for weight loss.
Quinoa is not fattening, it is relatively low in calories and has many nutrients for the calories it does provide meaning it is nutrient dense.
How to cook quinoa
Quinoa is relatively easy to make.  For every cup of quinoa, you need 2 cups of water.  Rinse quinoa first to help remove bitterness.  You can bring the water to a boil first then add the quinoa or bring both water and quinoa to a boil.  Then, reduce heat to low, cover and simmer for about 20 minutes.
To add flavor to quinoa, use broth for all or part of the liquid.  Use quinoa as a side item by itself or use it as a base to build a salad.  You can also use quinoa like oatmeal and top your favorite fruits and sprinkle nuts on it for a complete meal.
Conclusion
The ancient "grain" of quinoa has many health benefits associated with it, and in recent years has grown in popularity as a super food.  Quinoa has one of the highest protein levels for any grain and is very high in fiber.  Being both high in protein and fiber can be beneficial for weight loss and increasing satiety.
Quinoa is high in many vitamins, minerals and antioxidants.  Quinoa also has other phytochemicals that can help lower inflammation in the body.  Quinoa is naturally gluten free and can serve as a healthy grain for people who have sensitivity to gluten.
References used in this article