Pasta has gotten a bad rap for being a food that can promote weight gain.  As low carbohydrate diets have grown in popularity, foods like pasta which is high in carbohydrates have been shunned for weight loss.  While it may be true eating a lot of foods high in simple sugars can spike blood sugar which can spike blood insulin levels, research studies have shown eating pasta does not correlate with increased risk for weight gain.
In fact, some research suggests eating pasta may actually be associated with being lower weight.
One misconception with pasta is it is a high glycemic food because it is primarily made of carbohydrates.
However, pasta is actually a low glycemic index (GI) food meaning it does not spike blood sugar levels.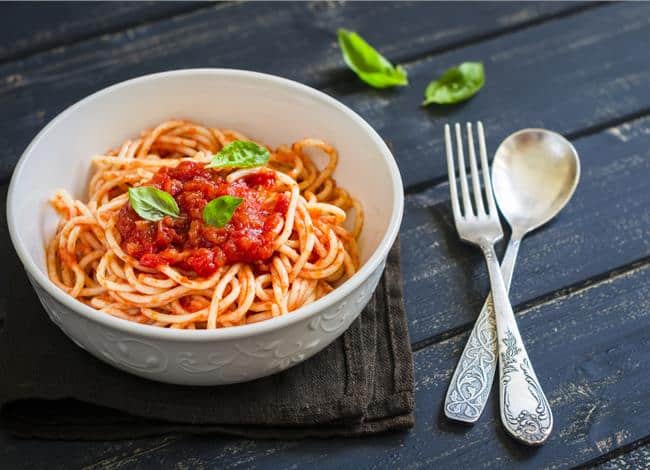 The flour made used for making pasta takes a longer time to get broken down during digestion which encourages slow release of glucose into the bloodstream (1).
Does this mean you can eat all the pasta you want and not gain weight? 
Sorry, not so fast. Pasta should be part of a healthy diet, especially a Mediterranean diet for best health results.
Weight gain depends on overall diet quality and quantity, not just from eating one food.  Portion sizes and cooking methods for pasta play an important role on how they can impact weight regulation.
Follow these tips to make your pasta intake diet friendly and part of a healthy, balanced diet.
Eat as part of a Mediterranean diet
According to Science Alert (2), Italian research from over 20,000 people concluded when pasta was eaten as part of a Mediterranean diet, pasta did not increase risk for weight gain.
In fact, eating pasta was associated with having lower BMIs in research participants.
The key for healthy pasta intake may be eating it as part of a Mediterranean diet high in fruits, vegetables, legumes, whole grains, olive oil, nuts, seeds and seafood.
It limits intake of sweets, processed snacks and red meat.  When pasta is eaten with these other foods and in moderate portion sizes, it can be a diet friendly way to eat pasta.
Eating pasta with vegetables, tomatoes, olive oil, garlic, seafood and herbs fits within the Mediterranean diet scheme.
Eating pasta with high amounts of heavy cream sauces and meats does not.
Eat pasta with a salad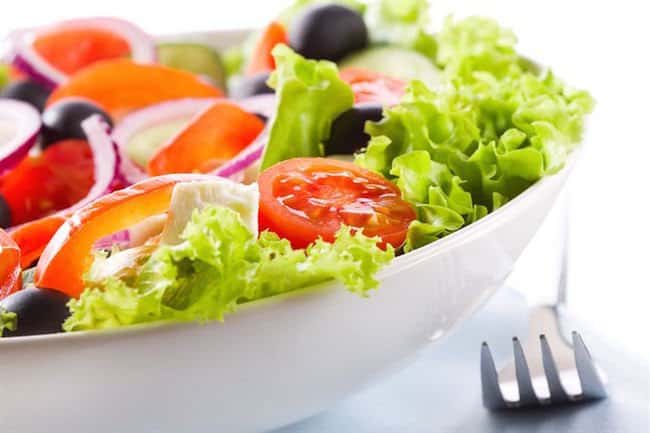 A practical way to make pasta more diet friendly is to pair it with a light salad.
A 2012 study (3) found when salad was served before or with a pasta meal, vegetable intake was increased and overall calorie intake for the meal was lowered about 11%.
Eating a salad with any meal can increase the volume of food you're eating while lowering the calorie density of the meal which is helpful for weight loss.
For optimal weight loss and health benefit, make the salad primarily with leafy greens topped with your choice of other veggies, legumes or lean protein toppings.
Keep the dressing to an oil based dressing instead of creamy based dressing.
Cook al dente, eat it cold or eat it reheated
How you cook your pasta can affect the glycemic index of pasta.  The American Diabetes Association (4) suggests cooking pasta al dete because this will have a lower GI than pasta cooked well done.
Cooking food is one way that GI can be effected; cooking longer can break food down more which can effect how easy a food can break down in the digestive tract.
You could also take it a step further and eat your pasta cold, as this could lead to less absorption of calories according to Dr. Robertson, senior nutrition scientist from the University of Surrey in England (5).
According to research from Dr. Robertson, when people ate cold pasta, they had lower spikes in blood sugar levels compared to when they ate hot, fresh pasta.
Does this mean you should forgo hot pasta? 
Actually, reheated pasta that had been heated, chilled and heated again had the lowest effect on blood sugar levels.  So, re-heated leftovers may also be a diet friendly way to eat pasta.
Mix it with veggies and legumes
Instead of just eating a pile of pasta for a meal, add different low calorie, nutrient dense foods with the pasta.
Add in a variety of vegetables either to the sauce or the last minute the pasta is cooking.  Add in some healthy protein options such as: wild seafood, lean poultry or red meat, legumes or tofu.
Like eating a salad with the meal, adding these foods to your pasta dish will increase the volume of the meal without drastically increasing the calorie amount.
Choose diet friendly sauces
What you put on your pasta can greatly effect the nutritional value of the meal.  For the best diet friendly options, choose tomato based sauces, small amount of pesto or a drizzle of olive oil.
Avoid the use of heavy cream sauces like Alfredo sauce.
If you want to have a meat sauce, choose lower fat options.  If you add ground beef, try cutting back just a little the amount you usually add to your sauce and add in its place more vegetables.
For the healthiest options, make your own tomato based sauce or check the labels of commercially made sauces.  They can often be a source of added sugar and salt.
Conclusion
Regardless of its bad reputation, eating pasta can fit into a diet friendly meal plan.  The key is to include pasta in a Mediterranean style diet and keep the portion size to a modest serving.
Research studies suggest eating pasta as part of a Mediterranean diet may help lower risk for being overweight.
Eating pasta with other nutrient dense foods like vegetables, legumes and lean proteins can add volume to a pasta dish without drastically increasing the energy amount in the meal.
Pairing pasta with a salad before or with the meal can also help lower calorie intake.  Top pasta with a tomato based sauce, preferably homemade, instead of heavy cream sauces and high calorie meats.
Other considerations for diet friendly pasta include: cooking pasta al dente instead of mushy, eating cold pasta or reheating It from leftovers.
Incorporating these methods can keep the GI value low for pasta dishes.