It's safe to say pizza is one of America's favorite foods.  Approximately 350 slices of pizza are eaten every second (1).  Approximately 13% of the population eats pizza on any given day, but this increases to 22% of the population when children and teens are included.
Unfortunately, most of the pizza consumed in the USA tends to be from a restaurant or as a pre-frozen meal.
Pizza can be high in calories and fat content which is a concern for weight regulation and disease risk.
The amount of calories pizza provides will depend greatly on choices of toppings, how much cheese, pizza crust, etc.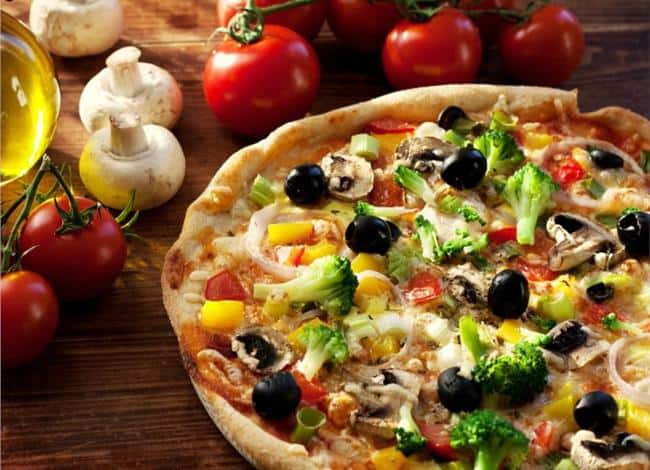 According to a 2014 BBC article (2), health experts suggest pizza isn't necessarily bad for your health.
The concern is more how and when you eat it.  Making pizza at home can offer a different nutrition profile than getting pizza from a fast food restaurant.
If you still want to enjoy pizza but are trying to eat healthier, don't worry.
Pizza can still be part of a healthy eating plan.  You may need to just tweak a few things.  In fact, pizza could be considered a complete meal that includes: whole grain, vegetables, dairy and protein.
Just add some fruit as a side or for dessert, and you really could have a balanced meal.
#1 – Use a high fiber crust
In order to make pizza healthier, first start at the base: the crust.
Most pizza crusts are made from white, refined flour which does not have much nutritional value.
To make pizza crust healthier, you can use whole grain flour instead of refined white flour.
Using whole grains increases the fiber, vitamin and mineral content of the crust.
Using a whole grain crust doesn't have to be complicated; The Kitchn (3) has 5 recipe suggestions for making your own whole grain crust.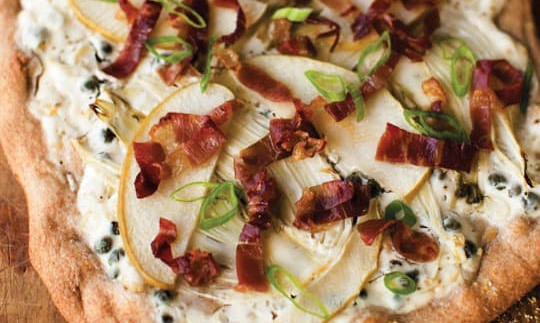 Some examples of whole grains that could be used for a pizza crust include: whole wheat flour, teff flour, spelt flour, corn meal or quinoa.
Another alternative for a higher fiber crust is using a vegetable as a base.
Using cauliflower (4) as a base for a pizza crust is becoming more popular, as it can be a high fiber and gluten free alternative for traditional white flour.
Other alternatives for a higher fiber pizza crust include using sweet potatoes (5) or chia seeds (6).
Adding whole grains, vegetables and/or seeds to your crust will not only increase the fiber content, but these foods also add more antioxidants, vitamins and minerals to your pizza meal.
Using a high fiber crust can help make you feel more satisfied after eating because fiber helps keep you feeling full.
#2 – Use a nutrient dense sauce
The most common sauce for pizza is a tomato sauce.  Using a tomato based sauce can be an excellent source for the antioxidant lycopene.
So, don't be shy when adding the tomato sauce on your pizza!
Research studies (7) have shown eating foods high in lycopene may help lower risk for certain cancers including: prostate, lung and stomach.
Processed tomato products like tomato paste, sauce or juice have the highest amount of lycopene.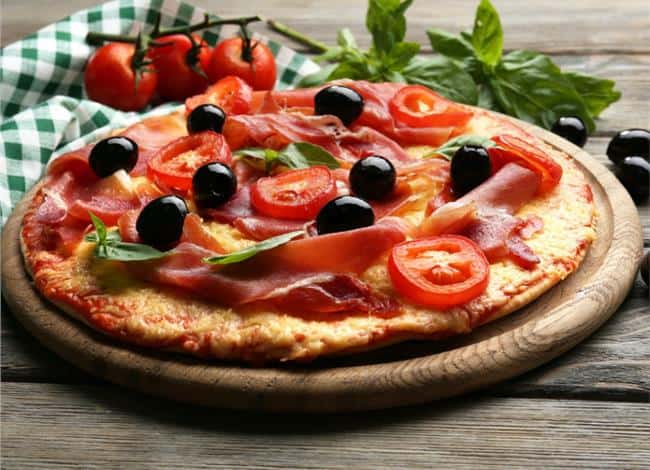 You can buy pre-made tomato sauce for pizza, but this can also have added sugars in it.
Check ingredient labels for sauces that have minimal or no added sugars.
You can also very simply make your own pizza sauce (8) from plain tomato paste, water and Italian seasoning herbs.
Using pesto can also be a nutrient dense sauce for pizza.  Try making your own pesto with fresh basil, or you can even make pesto from spinach, arugula, sun dried tomatoes, red peppers, etc.
The addition of olive oil to pesto adds heart healthy fats and antioxidants.
Avoid using cream based sauces for pizza, as these sauces are higher in calories and fat.  Choose a tomato based sauce or pesto for higher nutritional value.
#3 – Don't go overboard on the cheese
Cheese is a higher calorie and fat food, but that doesn't mean you can't have any cheese on your pizza.  The cheese on pizza also provides a source of calcium.
Whatever cheese you decide to use, use a moderate amount.  Don't go overboard with the cheese.
A healthy idea for using cheese on a pizza is to use fresh mozzarella.  Cut the mozzarella into slices and place on the pizza.
It's ok to leave some space not covered by the cheese like a classic Italian margarita pizza.
See also: Best Diet Friendly Cheeses
#4 – Load up on the veggies or add a salad on top
One way you can really make pizza healthier is to load up on the veggie toppings.  It is recommended that half your plate should be filled with fruits and vegetables at all meals.
Eating pizza take out rarely provides half your plate with fruits and vegetables.
When you make your own pizza, you can load up on the veggies to be closer to the recommendation from My Plate (9).
Sautéed or fresh mushrooms, onions, peppers, tomatoes, garlic, eggplant, olives and fresh basil are just some ideas to get started for pizza toppings.
You can also think about getting more veggies in your meal by pairing your pizza with a salad.  Or, as Eating Well (10) suggests, make a pizz'alad by putting your salad on top of the pizza.
After the pizza comes out of the oven or off the grill, add your tossed salad on top of the pizza after it's cooled a little.
What if you want some protein on your pizza?
Adding some meat can be healthy.  Just make sure there are a decent amount of veggies to go on top, and the protein sources are lower in fat.
Minimize the use of processed red meats for pizza toppings like pepperoni, sausage or ham.
Processed red meat is considered a carcinogen (11), so it is advised to limit your intake of these foods.