According to NBC Today, a report from the Center for Science in the Public Interest found Americans have gone from eating about 8 pounds of cheese per year in the 1970's to eating about 23 pounds per year per person.
Cheese was once considered a luxury item that was used in small portions, but now cheese is considered a modest price condiment you can put on almost anything or eat by itself.
Most people don't consider cheese as part of a diet friendly plan because cheese is higher in calories and saturated fat.
However, some research studies have suggested including cheese and other dairy items as part of a lower energy diet could be beneficial for weight loss.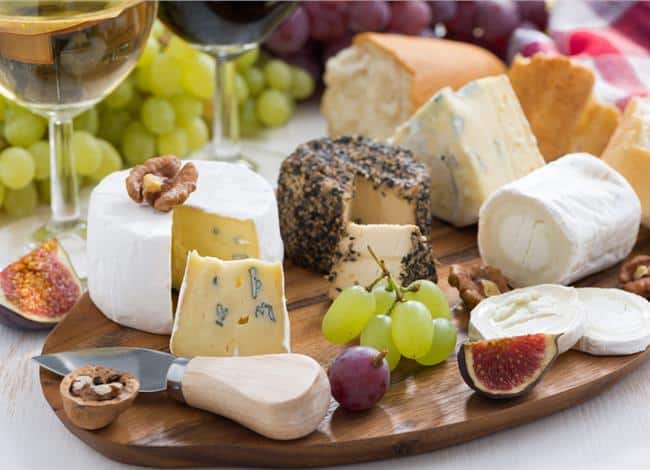 A 2006 study (1) with more than 19,000 women found constant intake of cheese or whole milk of at least one serving per day was inversely associated with weight gain.
However, this study's result does not mean eating more cheese will automatically account for more weight loss.
What may be more important is how your cheese intake compares to the rest of your diet.
Eating cheese, as long as it's part of a balanced, low energy diet, could be helpful for weight loss.
However, just adding cheese to your diet won't equal weight loss and could increase risk for weight gain.
A 2012 review (2) concluded increased cheese intake without energy restriction wasn't associated with weight loss, but cheese intake with a low energy diet could significantly benefit weight loss.
If you're looking for the best diet friendly cheeses, choose ones that are considered lower in calories and have a higher percent of protein.
You could add in any cheese to a diet as long as it is moderate portion size and part of an overall healthy, low energy diet.
Feta cheese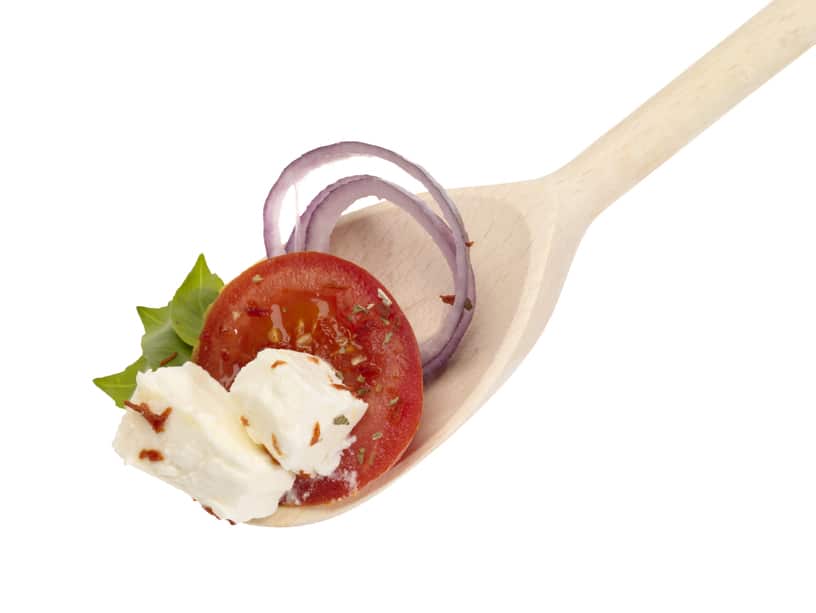 Feta is a salty, crumbly cheese that can offer a lot of flavor for a small portion size.
Since it has a salty flavor, you can incorporate feta smartly into a meal as a salt seasoning and skip adding extra salt to the meal.
Using just an ounce of feta provides under 100 calories, and about 20% of calories in feta are coming from protein.
An ounce of feta also provides about 15% DV for calcium.
Using feta in place of some other cheeses will probably give you a lower calorie option as feta is lower in calories than other cheeses.
Feta is versatile; it can be crumbled on a sandwich or salad, melted on top roasted vegetables or over roasted lean proteins.
Ricotta or cottage cheese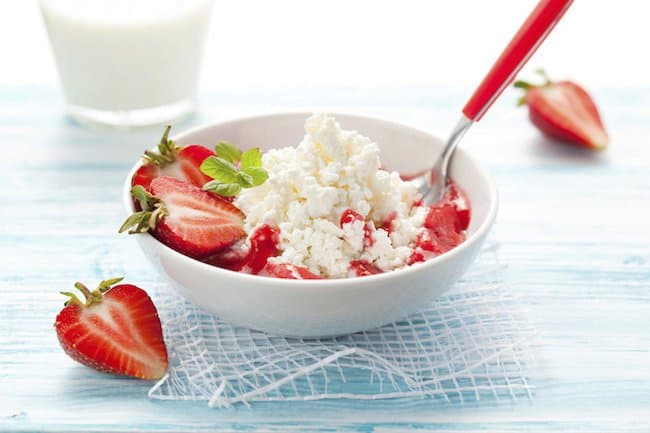 Ricotta cheese was traditionally made from the whey left behind when making Mozzarella or Provolone cheese.
Ricotta cheese has a mellow, creamy texture that can be used as a spread or part of a dish to add some cream.
According to Bon Appetit (3), adding ricotta to dishes can help add creaminess to dishes without adding moisture and can help highlight ingredients in a dish instead of fighting with them.
A half cup of ricotta provides about 200 calories, 14 grams of protein, 25% DV of calcium, 11% vitamin A and less than 10% DV for B vitamins and magnesium.
Cottage cheese is another softer cheese that can be a diet friendly choice.  Cottage cheese has larger curds compared to ricotta cheese, and it is not spreadable like ricotta.
However, cottage cheese can be eaten with fruits and/or nuts to provide a filling snack or light meal.
A half cup of low fat cottage cheese is less than 100 calories, has 14 grams of protein, 13% DV calcium, 23% DV vitamin B12 and 10% DV vitamin B6.
Neufchâtel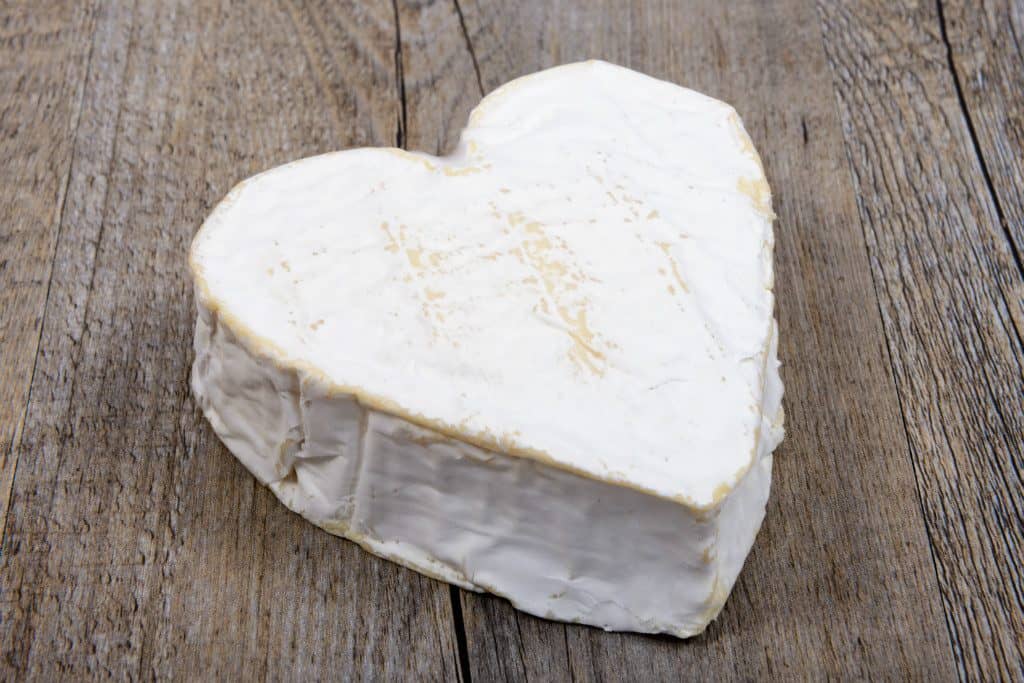 Another diet friendly spreadable cheese option is Neufchâtel.  This is an unripen soft cheese that is similar to cream cheese.
The main difference is Neufchâtel is lower in fat and lower in moisture compared to cream cheese.
One ounce of Neufchâtel is about 70 calories.
Chances are, if you are used to cream cheese, you probably won't be able to detect the difference between cream cheese and using Neufchâtel.
Neufchâtel can be used in place of cream cheese on whole grain crackers, toast, bagels and even for making baked goods.
Parmigiano-Reggiano (Parmesan)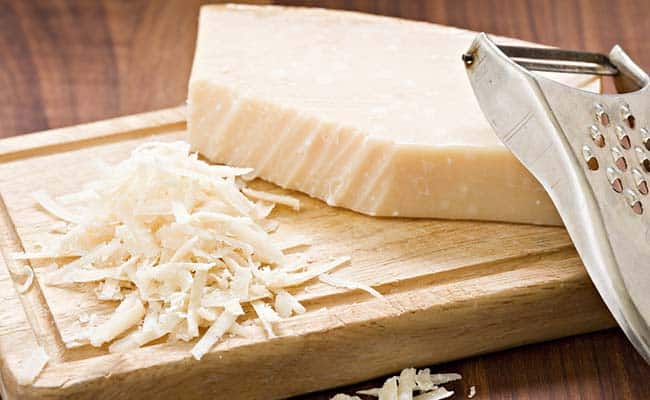 What if you like hard cheeses?  Can they be diet friendly?  The answer is yes they can, as long as you incorporate them smartly into your meal plan by having moderate portion sizes.
Use Parmesan cheese as a sprinkle of flavor enhancement.  A health benefit to using hard cheeses is a little can go a long way in terms of flavor.
Sticking to a smaller portion size for any hard cheeses, like real Pariagiano-Reggiano, can be considered diet friendly.
What's the difference between Parmesan or Parmigiano-Reggiano cheese? 
They are considered loosely the same thing by many people, but Parmigiano-Reggiano is specifically made in the Emilia-Romagna region of Ital and is strictly regulated how the cheese is made and processed.
Generic Parmesan cheese doesn't necessarily undergo the same regulation for production.
Because of the long aging process for Parmesan cheese, the proteins get broken down and become more digestible.
Parmesan has a very low level of lactose, so most people who are trying to avoid lactose may be able to eat Parmesan or other harder cheeses.
Conclusion: Balance and moderation
These diet friendly cheeses are all a good source of protein which can be beneficial for following a weight loss diet.
The creamier cheeses like ricotta, cream cheese and Neufchâtel are also on the lower end of calories.
Besides being a source of protein, these cheeses also provide important nutrients like calcium, vitamin A, B vitamins and magnesium.
Cheese can add a depth of flavor, texture and satisfaction from a meal or snack.
A little can go a long way for flavor, and that is the key to remember for making cheese part of a diet friendly eating plan.