Consuming a high amount of many types of fruits and vegetables is associated with many benefits including: lowering blood pressure, lowering risk for cardiovascular disease, lowering risk for certain cancers, lower risk of eye and digestive problems and positively affect blood sugar levels.
Most people would recognize these as nutritional super stars, but the way fruits and vegetables are processed can influence their nutritional value.
For example, French fries have a different nutritional profile than roasted baby potatoes.  Eating many types of both fruits and vegetables that are minimally processed is recommended.
Can you eat the skin of a fruit? Most peels on fruits and vegetables are considered to have high amounts of nutrients.  The nutrients in the peels contribute to the many health benefits of fruits and vegetables. Removing some peels can lower their nutritional value.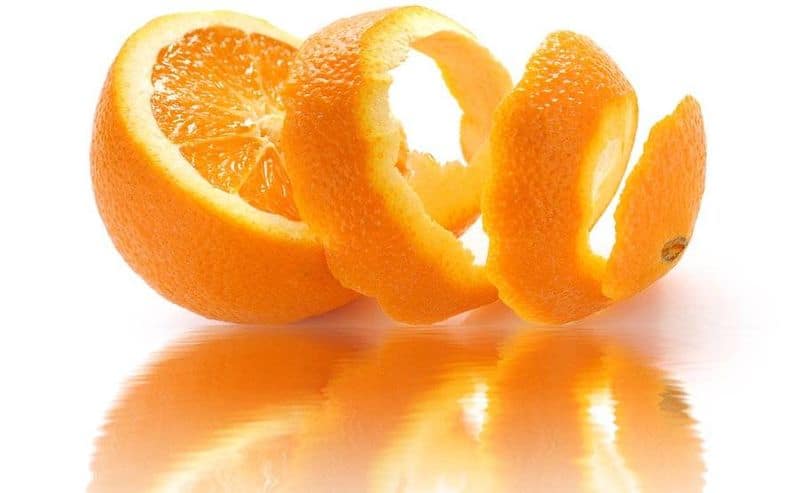 Therefore, consuming peels that are safe to eat is recommended for optimal health benefits.
Benefits of peels
According to Berkeley Wellness (1), the pigments in fruits and vegetable peels give them vibrant colors.
These pigments in peels can be good sources of antioxidants, vitamins and fiber.  Fruits and vegetables are good sources of fiber, and the peels in particular can provide fiber.
Peels are more likely to provide insoluble fiber which is beneficial for preventing and treating constipation.
Because peels tend to have bright colors, sometimes more than the flesh of the fruit/vegetable, they can be high in antioxidants.
Berkeley Wellness suggests eating the peels of apples in particular may be beneficial for lowering risk for certain cancers.
Some research has shown eating whole apples had a greater effect on fighting cancer cells compared to peeled apples.
Which peels are safe to eat?
Any peels that are considered edible such as: apples, pears, stone fruit, berries, tomatoes, zucchini, cucumber, potato, etc. are considered safe to eat.
Other peels that we usually consider as inedible such as banana, kiwis or citrus peels can technically be eaten but taste bitter and can be harder to digest.
Instead of biting into an orange or lemon, you can incorporate peels a different way into your diet.  You can zest peels of citrus to add flavor and nutritional value.  You can also dry or pickle citrus peels.
Banana peels, like citrus, is also bitterer but still nutrient rich.  Instead of eating a whole banana peel, try adding a small amount of a ripe banana peel to smoothies.
You could also boil banana peels or dry them to add to sautés or use like a tea.  According to a 2010 Daily Mail article (2), researchers in Taiwan suggest banana peel extract is rich in serotonin which may have an effect on depression.
Boiling banana peel and incorporating it blended up or using the water from boiling banana peels can be ways to get nutrients from banana peels.
The peel on garlic is considered safe to eat, but most people peel garlic before eating it.  However, eating peels from garlic contain antioxidants.
When roasting whole garlic in the oven, you can add the whole garlic bulb to roasted vegetables and/or meat.
Dirty dozen and clean fifteen fruits and vegetables
Washing fruits and vegetables with water is recommended for food safety reasons as well as to remove, if any, pesticide residues.
The Environmental Working Group (EWG) has a list of top fruits and vegetables with the highest levels of residues from various pesticides called the Dirty Dozen (3).
Washing these fruits and vegetables according to the EWG did not remove all the pesticide residues.
Eating the peels of the fruits and vegetables on this list is still recommended for health benefits, but the EWG recommends choosing organic when possible for fruits and vegetables on this list.
Produce on this Dirty Dozen list includes many fruits including apples, pears, berries, leafy greens, peppers, potatoes, tomatoes and celery.  All the produce on this list has soft, edible peels.
The EWG also has a Clean Fifteen list that includes fruits and vegetables that have the lowest levels of pesticide residues.
Fruits and vegetables in the Clean Fifteen list with edible peels include: cabbage, peas, asparagus, eggplant and cauliflower.
Which peels are not safe to eat?
Peels that are hard like melon rinds and hard squashes can be hard to eat and digest.  Potato peels are considered nutrient dense and contain many of the nutrients attributed to potatoes.  However, if the peel on a potato is green, it should not be eaten.
In general, peels on most fruits are safe to eat because they are soft and edible.  One exception is pineapple because the peels are very hard.
If you have any other questions about if you should eat a certain peel of a fruit or vegetable, you should speak with your healthcare team first.
Conclusion: should you peel your fruits and vegetables before eating?
In general, the peels of fruits and vegetables provide many nutrients and can be a major component for the health benefits related with eating a variety of fruits and vegetables.
Because the peels can be brightly colored, they can be good sources of antioxidants.  They can also be a good source of fiber.
According to the EWG, there are some fruits and vegetables that have higher residues of pesticides even after being washed.
These fruits and vegetables are still nutritious, but if you are concerned about lowering your pesticide residue level you may want to consume organic from the Dirty Dozen.
Even if a peel is considered to have nutritional benefit but is usually not eaten, be wary of increasing intake drastically.
Some peels may be hard to digest and may cause irritation to the digestive tract.