The word chia means strength in Mayan which is where these little black seeds originated.  Chia seeds were used in ancient Mayan and Aztec cultures to provide strength and long lasting energy.  Recently, chia seeds have recognized again as a nutritional power house and rightfully so.
A 30 gram (3 tablespoon) serving provides: 150 calories, 9 grams of fat, 13 grams of carbohydrates, 11 grams of fiber, 5 grams of protein, 20% DV calcium, 15% DV iron and is also a source of minerals manganese, magnesium, zinc, B vitamins and antioxidants.
Serving size for chia seeds is usually around 1-3 tablespoons or between 10-30 grams.  Because chia seeds are a popular superfood, there are many creative ways you can find to consume chia seeds. 
They are soft in texture and also absorb water to form a gel like consistency.  This gel like consistency forms because chia seeds are high in fiber.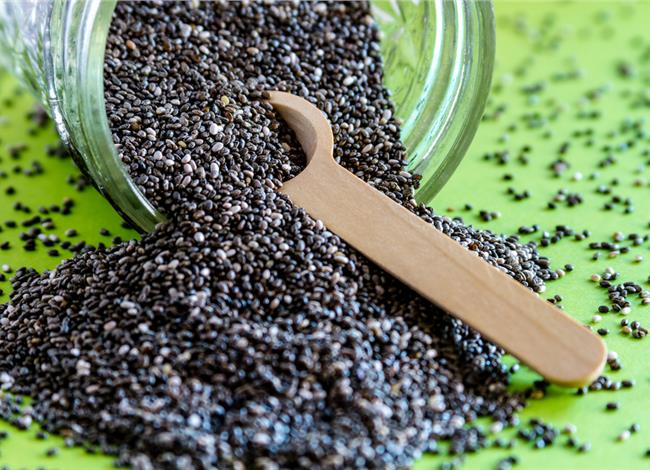 If you consume chia seeds, it should be accompanied by water or as part of a liquid base.
Eat Chia pudding
One of the most common ways to consume chia seeds is in a pudding like form.  A pudding texture forms when chia seeds are left in a liquid base, and the chia seeds absorb the liquid to make a gel like consistency.
You can combine chia seeds, desired liquid like water, dairy or dairy alternative, optional sweetener like honey, maple syrup or fruit and add optional toppings like cinnamon, nuts or more fruit.
Combine ingredients and leave several hours or overnight in the refrigerator to combine all ingredients and for the chia seeds to absorb liquid.
How much chia seed you need for chia pudding can vary, but generally chia seed to liquid is used in a 1:4 ratio respectively. 
For example, if a recipe calls for ½ cup of chia seeds, there will be about 2 cups of liquid for the chia pudding recipe.
Sprinkle chia seeds as a topping
If you don't like the gel like consistency of chia pudding, you can consume chia seeds another way.  You can sprinkle chia seeds on top of: salads, oatmeal, cereal or yogurt.
Sprinkling them on right before eating will ensure they are crunchier instead of absorbing liquid.  If you prefer a crunchier texture, eat dishes with added chia seeds right away.
Using chia seeds as a topping can be done with about 1 tablespoon or less per meal, but personal preference may vary.
Chia seeds in smoothies
Adding chia seeds to your smoothie can be an easy way to get the nutritional benefits of chia seeds in your diet.
You can add a tablespoon or two with your smoothie ingredients depending on how much liquid you are using and texture preferences.
Most chia seed smoothie recipes call for 1-2 tablespoons of chia seeds for a smoothie recipe that has about 1-2 cups of liquid. 
If you are blending your smoothie a few hours before consuming it, note this will give chia seeds time to absorb liquid and will make your smoothie into a thicker consistency.
Drinking your smoothie right after blending will leave it liquidier.
Chia fruit jam
Chia seeds can take the place of pectin in jam recipes.  Adding in chia seeds absorbs the liquid and takes the place of adding pectin and extra sugar.
Most chia jam recipes still call for adding in liquid sugar like honey or maple syrup, but the amount is less than traditional jam recipes.
Add a few tablespoons of sweetener and lemon juice to taste.  This amount will make about 1.5 cups if jam which should be stored in the refrigerator.
After you have added initial chia seeds, you can always slowly add small amounts of chia seeds if you want a thicker consistency.
However, the consistency of chia jam will be more liquid compared to traditional jams.  If you want a smooth consistency without noticeable seeds or fruit chunks, you can blend your jam.
Chia seeds in baking
Chia seeds can be added to pancakes, muffins, breads or other baked good recipes.  You can use chia gel in place of eggs for baking recipes by substituting 1 tablespoon mixed with 3 tablespoons of water for 1 egg.
Let the chia seed and water set for a several minutes before adding to the recipe to ensure the chia seeds absorb the water.
Chia water
Perhaps the simplest way to eat chia seeds is just to add them to your water.
If you carry a water bottle, add a tablespoon to 8-16 ounces of water depending on desired texture. 
You can also add slices of fruit to add some flavor to your water.
Note adding chia seeds to your water bottle will increase the thickness and alter texture.  However, if this doesn't bother you, it can be an easy solution for getting more chia seeds in your diet.
In fact, you can find commercially prepared drinks with chia seeds already added in most grocery stores in the US.
Chia energy gels
If you are training for long distance events, you may be familiar with energy gels that are sold as sports supplements.  These gels are meant to be easy, quick fuel you can consume before, during or after exercise usually with water.
Chia energy gels, like Huma have chia seeds added to these gel products.  You can also make your own chia energy gels (1) by freezing them ahead of time and placing in the refrigerator to thaw before using.
If you are interested in using a chia gel during exercise, experiment with use before using at a race.