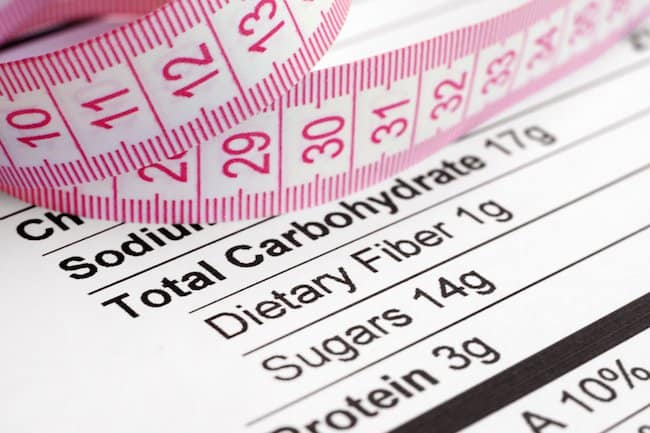 Many food products are promoted as healthy choices and are often advertised as 'low fat', 'sugar free' or 'high in fibre' to quote just a few.  Unfortunately, just because a product makes one food claim, doesn't mean it is the best or the healthiest choice.
A product labelled as 'low fat' for example may still contain a huge amount of calories from sugar.  Similarly a product that is claimed to be 'cholesterol free' may still be high in fat.
Fortunately, it is mandatory for food manufacturers to put a nutrition information label on all their products, a development that has made it easier for shoppers to make informed choices about what they are really eating, and to choose the healthiest options for general well-being as well as weight loss.
The importance of a food label
Even with mandatory nutrition labels, there are still tricks used by food companies to make a product seem healthier than it really is.
One such example is individual tubs of yogurt, which list nutritional information for a 100g serve of the product, when in fact a tub is 200g.
It is unlikely that many consumers leave half the small container, so the majority of people are consuming twice as many calories, fat and sugar than the label states.
For this reason it is important to know how to read a food label correctly.
It is also important to know what to aim for when choosing a product.
How much fat is too much fat?  How much fibre is in 'high fibre' product?  How many calories are in the serve size?
Knowing the answers to these questions can make it easier to choose the healthier options when faced with the multitude of products available to us today.
How to read a nutrition label
Serving Size
This is usually the first thing you will see on the label and tells you what size portion of the food is considered a serve. It is usually a weight or in the case of a product such as biscuits may be a number of biscuits.
It is important to relate this back to the size or weight of the total product as discussed with the yogurt above.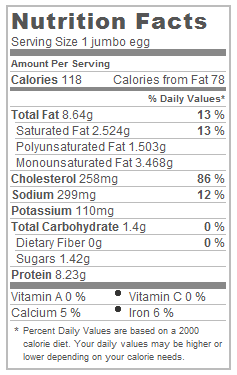 The number of servings per packet may also be useful in calculating the nutritional content of what you are eating.
For example if a packet of biscuits contains 10 serves, and you eat half the packet, you will need to multiply the nutritional information by five to find the total amount you have consumed.
When dieting it may be useful to measure out portions with a scale or cup, at least the first time, so that you know exactly what you are eating and what a serve size looks like in your bowl.
This is particularly important for foods such as breakfast cereals, when serve sizes can be a lot smaller than what the average person is used to consuming.
When comparing the nutrition values of two foods, it is essential to make sure the serve sizes are the same so that you are comparing like with like.
Some foods may also have nutrition content per 100g column which makes this job easier.
Calories and calories from fat
This lists the energy or calorie content of a serve of the product, and how much of this is derived from fat.
In this way we can tell if a product is high or low in fat.  It is important to remember that not all fats are created equal however, and a high fat product may in fact have a large amount of beneficial unsaturated fats.
To determine the type of fat in a product we must check the nutrient values further down on the label.  If an item has a low amount of calories from fat, but appears to have a high number of calories, check the sugar content.
1. Nutrients- Fat, carbohydrates, protein, sodium and fibre. 
This part of the nutrition label features quantities and types of fats and carbohydrates, as well as protein, sodium and fibre content of the product.
Fat
Total, saturated and trans fats are listed as well as cholesterol.  Look for products with less than 10g of fat per 100g, ideally with less than 3g of this from saturated fat and minimal to no trans fats.  Some products may also list other types of fats such as healthy omega 3s.
Carbohydrates
Total carbohydrates and sugar content are found on the label.  Look for products with less than 10g of sugar per 100g serving if possible, although if the product contains fruit this is likely to be difficult.  In this case aim for 20g or less.
Protein
The total protein content of a product is listed here.
Fibre
The fibre content of the product can also be found in this part of the label.  For carbohydrate based products such as breakfast cereals and breads look for more than 3g of fibre per serve.
Sodium
Many processed foods contain a high quantity of sodium.  Try to find products with less than 120mg of sodium per 100g for a healthy level of sodium intake.
2. Vitamins and Minerals
Information for calcium, iron, vitamin A and C are mandatory on food labels, but some manufacturers include other vitamins and minerals such as niacin, folic acid or other B vitamins if a food is particularly high in one of these.
3. Percentage of daily requirements
In addition to a weight for each nutrient in the product, labels also provide a percentage value based on daily requirements for that nutrient.
This can help you work out if a product is high or low in a certain nutrient.
For example, if an instant soup contains 90% of the daily requirement for sodium, it can be concluded that the product is high in salt and probably not a healthy choice.  These daily calorie requirements are based on a 2000 calorie diet and will not be correct for everybody, however, than can be used to get a general idea to determine whether the product is high or low in a certain nutrient.
4. Nutrient claims
To make claims such as 'low fat', high fibre' or 'sugar free', the product must meet certain guidelines set by the FDA1.
| | |
| --- | --- |
| Claim | Requirement |
| Fat-free | Less than 0.5g of fat per serve |
| Low fat | Less than 3g of fat per serve |
| Less fat | 25% less fat than comparable product |
| Saturated fat free | Less than 0.5g saturated fat and 0.5g trans-fatty acids per serve |
| Cholesterol free | Less than 2mg of cholesterol and less than 2g of saturated fat per serve |
| Reduced calorie | 25% fewer calories per serve than comparable foods |
| Low calorie | Less than 40 calories per serve |
| Lean | Less than 10g fat, 4.5g saturated fat and 95mg of cholesterol per 100g |
| Light (fat) | 50% less fat than comparable food |
| Light (calories) | 1/3 fewer calories than comparable foods |
| High-Fibre | 5g or more per serve |
| Sugar free | Less than 0.5g sugar per serve |
| Sodium/salt free | Less than 5mg of sodium per serve |
| Low sodium | Less than 140mg per serve |
| Healthy | A product low in fat, saturated fat, cholesterol and sodium with at least 10% of daily requirements for vitamin A, C, iron, calcium, protein and fibre |
5. Ingredients
All products contain a list of ingredients, starting with the one that is most abundant in the product and continuing to the ingredient which is in the smallest quantity.
This is most useful if you are trying to avoid a certain ingredient such as gluten or corn syrup.
What to look for on nutrition labels for health and weight loss
Fruit and vegetables
All fresh fruit and vegetables are good choices
Choose no added salt and sugar varieties of canned fruit and vegetables.
Read also about Low GI foods and how they can help you lose weight
Breads and Cereals
3g of fibre or more per serve
less than 120g of sodium per serve
Less than 10g sugar per 100g (20g if the product contains fruit)
Choose multigrain or wholegrain varieties
Choose untoasted muesli
Drinks
Fats and oils
Choose oils and spreads made from olive, canola, peanut, soy, sunflower or safflower.
Dairy products (excluding cheese)
less than 3g total fat per 100g
less than 1.5g saturated fat per 100g
Cheese
Buy the variety with least fat and sodium per 100g.
Meat, chicken, fish, nuts, legumes
10g total fat or less per 100g
less than 3g of this of saturated fat
less than 120mg sodium per 100g
Choose no added salt varieties of tinned products
Choose unsalted nuts
Snacks and treat foods
less than 145 calories per serve
Compare products and choose those with the least saturated fats and sodium.
Following these guidelines for label reading makes it easier to choose healthier food products lower in fat and calories for weight loss.
It is also easier to compare products to find the healthier choices for your body.  Make sure that you also read our Weight loss tips for general guidelines on how to switch to a healthier lifestyle.
References used for this article.