This is a topic that needs no special introduction; you are dieting but not getting any results and you are wondering why. From my experience this is because you are doing one or more of the following mistakes.
1. You are dieting and not living
It may sound contradictive but losing weight is not about dieting but about living.  In the minds of many people the word 'diet' refers to restrictions and torture but in reality it doesn't have to be this way. A successful diet should change your attitude towards food and help you switch to a healthier lifestyle. Following a diet plan loaded with restrictions will only make you obsessed with calorie counting and in the best scenario you will lose some pounds only to put them back once you stop following that plan.
What you should do?
Our approach to dieting and weight loss is different. A diet is one of the tools to use part of your journey to a healthier life. It's a guide for making better food choices and avoiding exaggerations. So, if you are currently 'dieting' but feeling like you are trapped then it's probably the time to stop and start thinking about your eating style and activity habits. Are you eating the right foods? Do you live an active or a passive lifestyle? Read our 50 weight loss tips for a healthier lifestyle to get an idea of what we mean and also download the Calorie Secrets diet to understand what is a non-restrictive but flexible diet plan.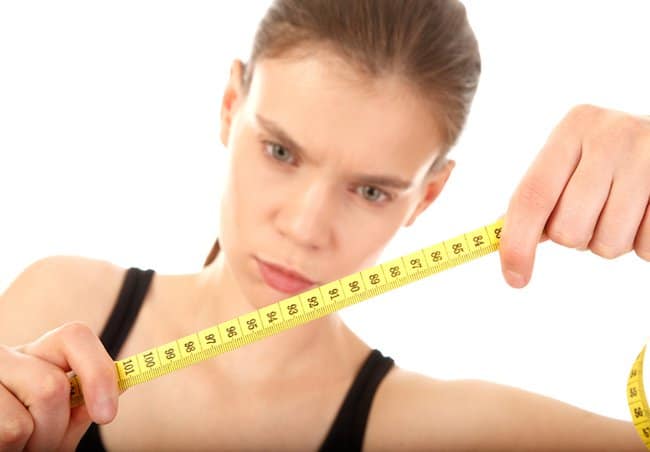 2. You are doing too many changes too fast
A big mistake that many people do is trying to change too many things about their eating habits at the same time. They wake up one morning and they decide to go on a diet by eliminating everything they used to eat and drink the last 5 years (or more) and try to follow a completely new diet plan. Think about it this way, if you are used to eating fast foods, soft drinks or sweets is it easy to switch to fruits and vegetables overnight? Of course not, it will be a torture because you are addicted to those foods.
What you should do?
Take one small step at a time and introduce changes to your daily diet slowly.
Concentrate on changing your eating habits.
Learn to eat smart by adding more healthy foods to your diet and cheat wisely.
Look at the big picture and aim for long term changes and not just losing pounds.
3. You are obsessed about calorie counting
Counting calories has a number of benefits but these hold true until it becomes an obsession. If you are always thinking 'I cannot eat this because its 90 kcal and I am only allowed 65 kcal until lunch time', then stop counting calories altogether, it simply won't work.
What you should do?
Instead focus on more important things like eating nutritious food at the right quantities. Learn how to read the food labels correctly and find out what are considered low fat or low calorie foods.
4. You do not have enough muscles
The only tissue in the body that burns fat is muscles. When you cut calories too much and doing very intense workouts you are most likely to lose muscle and not fat and this is highly undesirable.
What you should do?
Make sure that you are losing fat and not muscle by avoiding very low calorie diets and intense cardio workouts. Add resistance training to your weekly schedule; eat foods that promote muscle building and find out how long to exercise for optimum results.
5. You are not exercising enough
Dieting is only part of the weight loss equation; the other equally important part is exercise. Restricting your daily calorie intake without changing your activity levels will not take you far. The secret for long lasting weight loss is exercise.
What you should do?
Include exercise as part of your weekly schedule. If you are not a 'gym' type person then there are many other fun ways to get fit; try Zumba or pole dancing!
6. You are not eating enough calories
It's a big mistake to believe that by eating very few calories per day you will lose weight faster. On the contrary if you push too hard weight loss will slow down.
What you should do?
Calculate your basal metabolic rate (BMR) and try to stay within this calorie range. As a rule of thumb you should never go beyond 1200 calories per day unless instructed otherwise by your doctor or nutritionist. Also monitor the number of pounds you lose per week and ensure that this is not more than 2-3 pounds. Finally, follow a balanced diet that does not exclude any food groups including fats.
7. You do not have a plan or realistic goals
You jumped into the diet wagon without knowing what you want to achieve and when. You want to lose pounds and thought that by following a diet (or worse a very restrictive diet) is the way to go.
What you should do?
Create a realistic weight loss plan with clearly defined SMART goals. Ensure that you know how many pounds to lose, when and most important how (what type of diet to follow, when and how to exercise).
8. You lack knowledge about weight loss matters
If you read the above 7 mistakes again you should realize that all of them are related to lack of basic knowledge about weight loss matters. Knowing the factors affecting weight loss can prevent these mistakes.
What you should do?
Get informed. Subscribe to our newsletter or visit other reliable web sites and read about the basic weight loss principles. Don't believe in anything that you read especially if this is too good to be true. Stay away from fad diets or scams and prefer to read articles or opinions that are backed up by research.
9. You are not trying enough
You start a diet for 2 weeks and then quit. You enroll into an aerobics class but you only go once a month. If that sounds familiar then you are not trying enough and it's no surprise that you are not getting any results.
What you should do?
Find out the real reasons you want to lose weight and identify your motivation sources. Trust your abilities and stick to your plan and goals until you get the results you want.
10. You have a medical condition
There are cases of people not being able to lose weight due to a medical condition. Sometimes this is not something you can identify without the help of a specialized doctor.
What you should do?
If you believe that you are doing everything you can but still not losing weight then it's time to seek professional advice.
In summary, you are not losing weight because you are…
| | | |
| --- | --- | --- |
|   | Wrong approach | Correct approach |
| 1 | Dieting | Change your attitude towards food |
| 2 | Making drastic changes | Take one small step at a time |
| 3 | Being obsessed about calorie counting | Concentrate on making lifestyle changes |
| 4 | Doing too intense workouts | Build more muscles |
| 5 | Being passive throughout the day | Get up, move and exercise |
| 6 | Restricting your calorie intake below normal | Follow a balanced diet |
| 7 | Following a diet without a plan | Create a long term plan with realistic goals |
| 8 | Believing everything you read | Get informed from reliable sources |
| 9 | Get disappointed and quit | Get motivated and continue till the end |
| 10 | Not seeking professional assistance | Get professional help and advice |
What is your take? Why do you think some people cannot lose weight even though they are dieting.