Worldwide, about 1.6 billion cups of coffee are consumed each day.  On average in the US, people drink between 2-4 cups of coffee which equates to about 300 mg of caffeine per day.
According to Mayo Clinic (1), drinking up to 400 mg, or about 4 cups of coffee per day, is considered safe for most people.
However, sensitivity to caffeine can vary.  Therefore, some people may only be able to tolerate less than 400 mg of caffeine without negative side effects.
Coffee has been shown to have both positive and possibly negative health benefits.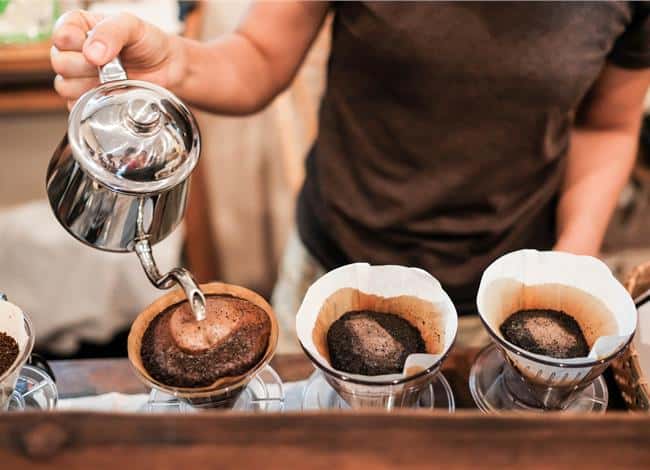 Coffee can be a source of antioxidants that may help lower risk for cardiovascular disease, and coffee intake has been associated with better glucose tolerance in people with diabetes (2).
Some research also suggests coffee consumption is associated with a lowered risk for dementia.
Does this mean everyone should drink coffee for health benefits? 
Not necessarily.  Some people may have a heightened sensitivity to caffeine in coffee that may cause negative side effects.
In these cases, it may be better to avoid drinking coffee or drinking less than the 400 mg per day of caffeine.
Side effects from drinking coffee may include: insomnia, pregnancy complications, interference with oral contraceptives, irritability, rapid heartbeat or digestive complications.
Caffeine metabolizes at different rates in people which is one reason why there are conflicting effects from coffee.  Genetics, certain medications and lifestyle factors can influence caffeine's effect on the body.
See also:
Interference with oral contraceptives, pregnancy and postmenopausal hormones
According to a 2011 review (3), pregnant women or women with postmenopausal problems should avoid excessive caffeine intake.  Caffeine may interfere with oral contraceptives or postmenopausal hormones.
According to Medical News Today (4), some research also suggests consuming 300 mg or more of caffeine per day may increase risk for low birth weight babies.
Women who are pregnant, on oral contraceptives, breast feeding or with postmenopausal problems should speak with their doctor about individual recommendation for coffee consumption.
Insomnia
Many people drink coffee in the morning or throughout the day to increase alertness.  This is because the caffeine in coffee acts as a stimulant to the central nervous system which help you feel more alert and may help with mental focus.
One of the draw backs for drinking coffee may be causing insomnia if consumed before trying to fall asleep at night.
Individual response can vary for how much coffee can interfere with sleeping at night.
How much coffee and when you drink can vary on impact of interfering with sleep.  Caffeine may increase alertness 15 minutes after consuming coffee to up to 6 hours after drinking.
Irritability or restlessness
Another side effect from caffeine may be increased restlessness, nervousness or irritability.
This may especially be noticed if someone consumes excessive coffee and gets more than 400 mg of caffeine per day.
However, if someone is more sensitive to caffeine, they may notice some heightened irritability or restlessness even after small intake of coffee.
If you notice after drinking coffee you feel restless, nervous or irritable, you may want to cut down on your coffee intake.
Fast heart rate
Another side effect coffee may have for some people is increasing heart rate.
University of Iowa (5) suggests caffeine is a common substance associated with heart palpitations.
Eliminating or lowering your caffeine intake will alleviate the symptom of fast heart rate associated with caffeine intake.
Chocolate, alcohol, some over the counter medications, fatigue or stress may also factor into fast heart rate.
Occasional heart rhythm irregularity usually doesn't cause damage to the heart, but long term heart rhythm irregularities may increase risk for heart enlargement or heart failure.
Heartburn or stomachache
Drinking coffee may cause heartburn or stomach ache for some people.  WebMD (6) suggests different components in coffee can actually stimulate acid secretion in the stomach.
Irritation in the stomach from coffee is most likely the combination of caffeine, catechols and a substance called N-alkanoly-5-hydroxtryptamides.
There is also a component called N-methylpyridium found in coffee that may actually counter act stomach acid production.
Roasting can increase the amount of N-methylpyridium in the coffee beans.  Therefore, darker roasted coffee may be easier on the stomach compared to light roasted coffee.
Kids and adolescents and caffeine
It is generally recommended children and adolescents should avoid caffeine intake.  One of the main concerns with caffeine intake with children and adolescents is it's not fully known what the effect caffeine has on the developing brain.
Coffee and medication use
If you take certain medications, drinking coffee or consuming other products with caffeine may interfere with medication.
Speak with your doctor if you are wondering if caffeine interacts with any medication or supplement you are taking.  Mayo Clinic suggests caffeine from coffee may interfere with epinephrine based medications, theophylline based medications to open up airways and the supplement Echinacea.
Conclusion: Coffee may have positive or negative side effects
Coffee has been associated with lowering risk for cardiovascular disease, certain cancers, type 2 diabetes, Parkinson's and Alzheimer's.
More research is needed how coffee may offer positive health benefits, and it is important to remember drinking coffee doesn't guarantee you won't develop these chronic diseases.
There are many factors that impact chronic disease risk.
A general guideline for consuming about 4 cups or less of coffee per day can be considered safe for most people.
However, some people may be more sensitive to caffeine, and their suggested intake may be less.
Negative side effects from coffee can vary and may include: insomnia, irritability, rapid heart rate, risks for pregnancy, interference with oral contraceptives, heart burn or stomach ache.
Drinking dark roasted coffee may help lower coffee's effect of stimulating stomach acid production.
The bottom line is coffee may offer some positive health benefits in moderation, but if you experience negative side effects from coffee, you may want to avoid or limit your intake.