The answer to this question depends very much on the how frequently and in what way you are cheating.  If you are eating healthily all day, but 'cheating' every night by consuming a cheeseburger, chips and thick shake, you are unlikely to be able to get away with this and still achieve your desired weight loss.  However, if your cheats are occasional and controlled, the odd splurge may in fact help you to stick to your diet in the long term.
It is important to remember that nobody is perfect and you are unlikely to be able to stick to a very strict eating regime 100% of the time.  Don't beat yourself up over the odd slip; it may in fact make it easier to choose healthy options the rest of the time.  Very restrictive diets can be antisocial and depressing, so by allowing a few controlled treats, you are likely to be happier and a better dining partner.
Top 10 Diet Cheat Tips
The following tips outline good ways to minimize cheating, as well as how to cheat in the healthiest way possible.
1# Identify your absolute favourite treats
If you're going to cheat, make sure it's worth it.  There's no point sabotaging your weight loss regime if you don't really enjoy it, so stick to your absolute favourites.  Before indulging, think about if the food on offer is something you could take or leave, or if it's something you can't resist.  By taking this extra moment to think about your choice, you are less likely to eat mindlessly, and will probably end up cheating less often.  Choose the best quality of your favourite treats and have small serves, for example a couple of pieces of luxury chocolate, rather than a whole block of the supermarket special.  If you pay more you are more likely to make it last longer.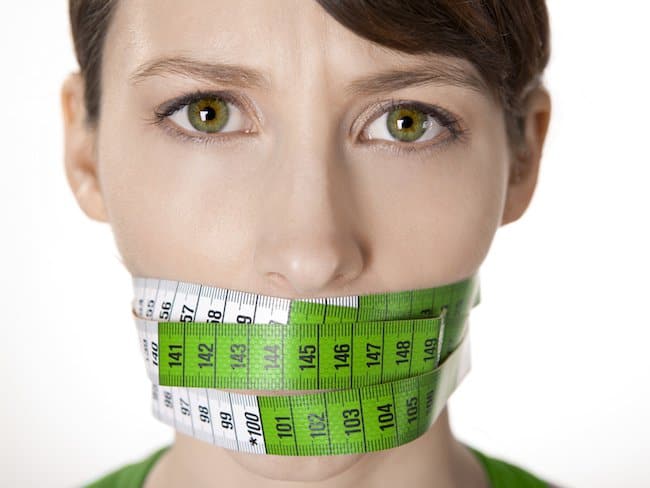 2# Control portions
The odd diet cheat won't do any harm as long as it is occasional and it is a small portion.  To control portion size, work out how much you are going to eat and separate this out, storing the rest of the food well out of sight, for example, instead of sitting down with a block of chocolate in front of the TV, break off a row and put the rest away for another time; If possibly tightly wrapped and hidden away, as this makes it more difficult to go back for more. It may also be helpful to buy portion controlled treats such as fun sized chocolate bars or small packets of chips, so that the portion control is done for you.  If you are unsure of how big a portion should be, check the label to the recommended serve size.  Then look at how many calories are in a serve.  This should help you decide how much to eat!
If you are out in a restaurant and tempted to cheat, share your food of choice with a friend.  Half a slice of cheesecake has a lot fewer calories than a whole slice, so while you can still enjoy the treat, you are helping yourself by doing this.  Similarly, instead of ordering a starter and entree each, share a starter or two with your dining companions.
3# keep a food diary
Sometimes you don't even realise you are cheating on your diet.  Mindless eating or a quick bite of this or a slice of that often don't even register in our minds.  Being aware that you are cheating is essential to control your treats, so write down everything you eat and review it at the end of the week.  If you find you are cheating more than you realised, make a goal for the following week to reduce your cheats to a lower numbers.
4# Cook or bake you favourite cheat foods yourself
This can work to help you cheat less in a number of ways.  Firstly, you have to go to all the trouble of making the food yourself.  If you only allow yourself to cheat with homemade biscuits for example, there is a lot more effort involved compared with opening a packet, and you will probably cheat less.  This works unless you are an enthusiastic home cook, in which case this approach may not be so successful.  It is also important to share the spoils (and the calories) of any home cooking session.  A whole batch of cookies is not an ideal diet cheat, so share them out at work or take the neighbours a present.
Making your own cheat foods also allows you to modify recipes to make them more diet friendly.  By changing, adding or replacing ingredients you can make a dish much lower in calories, more nutritious and still enjoy a great taste.  Have fun with recipe modifications and see what you can come up with.
5# Compensate for treats
If you indulge one day, or know you are likely to indulge later on, factor this into your eating and exercise for the rest of the day, rather than feel guilty.  If you are going out for dinner and know you will eat a lot, try to eat lower calorie, nutritious foods throughout the day to offset the calories.  It is not advised to skip meals however, as this tends to leave you hungry and likely to overindulge later on.  Similarly, in you eat a bar of chocolate in a moment of weakness, remember what's done is done and rather than wallowing in regret or guilt, run a few extra laps on your morning jog, or spend an extra fifteen minutes at the gym the next day.
6# Choose healthier cheat options
Usually when we cheat on our diet we do so with an unhealthy food choice.  However, there is a way to minimize the damage done by your cheat.  Try choosing healthier or lower calorie versions of your common cheat foods.  You may find they satisfy the craving just as well. For example if you feel like chocolate, try a low fat chocolate flavoured dairy dessert or a sugar free chocolate ice cream, some of them taste surprisingly like the real deal.
Alternatively, try to combine your cheat treat with healthier foods, meaning that you eat less and are still getting some valuable nutrition, for example a banana dipped in dark chocolate.  A further option is to substitute unhealthy foods for healthier alternatives, like swapping chips for air popped popcorn, or hot chips for baked vegetable chips cooked with a little olive oil.
7# focus on your food
Make sure when you do cheat you savour and enjoy every mouthful of food.  If you rush, you are more likely to find yourself reaching for more food, or craving another treat, so sit down, focus on what you are eating, switch off the television and enjoy.
8# Don't let a small slip up get you off track
If you cheat once in a while, don't use it as an excuse to write off the day as a complete diet failure.  Instead, try to rectify any damage you feel you have done by eating very healthily for the rest of the day or doing a little more exercise.  It is a lot easier to burn the calories of one food slip up, than a whole day's worth.
9# Choose intense flavours and mix and match
By choosing a food that packs a flavour punch, a little is more likely to satisfy you; hence you are likely to do less damage when you cheat.  Think about the flavours you are craving when you do cheat and try to satisfy these cravings in a healthier manner.  If it's salt you're after, try adding it to a healthy food such as tomato or roasted vegetables.  If you fancy some chocolate, add a little cocoa powder to a healthy banana smoothie.  Adding sauces to foods can also help to satisfy a flavour craving.  Rather than adding tomato sauce to a burger, add it to a low fat chicken sandwich, your body will still get part of the flavour it is looking for, but you're not cheating on your diet.
10# Don't keep cheat foods in the house
If you are prone to cheating, the easiest solution is to keep cheat foods out of sight and mind, which generally equates to out of the house.  This can be difficult if you live with others so try to make sure that they keep their treats hidden away from you if possible.  Making it difficult to cheat is the best way to cut back, and if you need to do a supermarket run to pick up the food you are more likely to stay home and tuck into a nice healthy apple.