Settings goals is very important for everything you want to achieve in life and weight loss is no exception. The secret for achieving your goals in the end lies at the beginning. In other words you need to ensure that the goals you set are realistic and achievable.
How do you ensure this and most importantly what actions are you taking towards the fulfilment of your targets? Let's find out.
In summary, the 10 steps for setting realistic weight loss goals are:
Set SMART goals
Set life goals not weight loss goals
Knowledge, plan and research
Find out your style
Find your motivation sources
Think positive
Take action
Get support
Recognise your achievements
Evaluate, refine and repeat
1# Set SMART goals
Simple, Measurable, Achievable, Realistic and Timely, these are the characteristics of a smart goal. When it comes to losing weight this is translated as: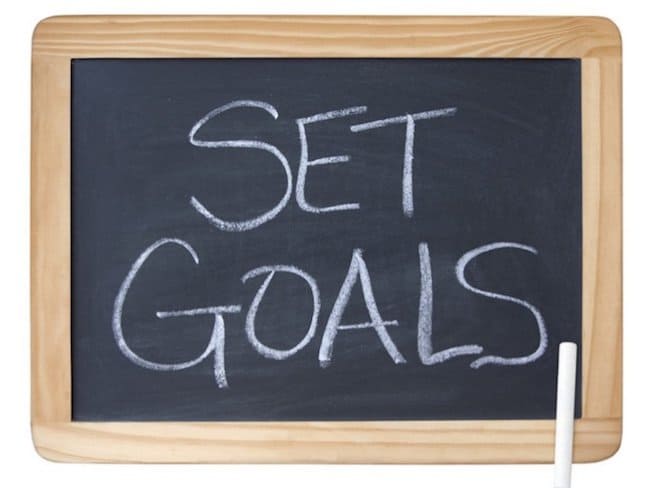 Specifying how many pounds to lose and when taking into account that the maximum weight you can lose per week is 2 pounds.
Identifying the methods to use (which diet to follow and which exercise program)
Include as many details as possible by creating both short term and long term milestones.
Here are some examples of both realistic and unrealistic weight loss goals
| | |
| --- | --- |
| Unrealistic Goals | Realistic Goals |
| I want to lose weight | I want to lose 20 pounds by the end of this year and will lose 2 pounds per month |
| I will exercise 3 times per week | I will walk 20 minutes per day (Mon, Wed, Fri) and on Thursdays will follow a Zumba class |
| I will eat less calories per day | I will reduce my calorie intake to 1500 calories per day and will use the free caloriesecrets calorie counter to keep track of the foods and drinks I consume. |
| I will follow a diet until I lose those extra pounds | My ideal weight is 80kg so I need to lose 5 pounds by following a 1400 calorie diet. |
2# Don't just set weight loss goals but life goals
If this is your first attempt to lose weight then most probably you won't understand the difference between weight loss goals and life goals.
People who have tried to lose weight before (and succeeded) can tell you that weight loss is not just about counting calories or dieting but about making lifestyle changes that last in the long term.
At the end of the day weight loss is the easy part but changing your habits is the difficult part.
When setting your goals, set targets to change your eating habits and create specific steps to break from your sedentary lifestyle. Read our 50 tips for weight loss for more ideas.
3# Knowledge, Plan and Research
To be able to achieve something (in general) you have to do 3 things:
Be knowledgeable about the subject and understand the success factors.
Be informed of other indirect factors that play a role in the process.
Have a solid and detail plan
For points 1 and 2 you do not have to worry too much.  Follow our weight loss blog and we will make sure to inform you about the latest developments and everything else you should know regarding dieting, fitness, weight loss and healthy living in general.
For point 3 planning, you have to do a bit of work. Once you have specified your SMART goals (as explained above) you need to break down the long term goals into short term milestones.
Approach this as a big project plan that has milestones and risk factors.
Identify what is important and write this down on a piece of paper.
Set easy to achieve milestones at the beginning and more difficult at end when you are more experienced.
4# Find out your style
Some people like exercise but some people hate it. Others can live with diet restrictions while others cannot. When specifying your goals make sure that these match your lifestyle.
If you are not the type of person that can go to a gym 3-4 times per week then do not set a goal to exercise in a gym.
There are many alternatives like going after a hobby or fitness activities that you enjoy (think about Zumba or Pole dancing or even rock climbing!).
This is the same about dieting as well. If you cannot withstand following a restrictive diet for a long time then go for a balanced diet or a calorie cycling diet.
Find your style and make sure that this is reflected in your goals.
5# Find your motivation sources
Motivation is what keeps you going even at difficult times. What are the real reasons that you want to lose weight? Why is this so important for you and how it can change the rest of your life?
Find out all the answers and write them down. By actually making the effort to write your thoughts on paper, you have already made the first step.
Get motivated from friends and family and get inspired by other people's stories.
6# Think positive
You can meet your goals only when you really want and positive thinking is there to help you.  Think and visualise your success and sooner or later you will get there.
Hard work, discipline and patience are the secrets of a successful weight loss and people who have managed to stick to their plan for a long time have succeeded.
7# Take action
You did your homework, you have set up your smart goals based on your style and found your motivation sources. Now it's time to take control and implement your plan.
There is no reason to delay it any longer and there is no reason to make it look more difficult than it really is.
Hide the 1000s of excuses you can think off and start living a healthier lifestyle.
Start today, not tomorrow, not on Monday not on January 1 or after your birthday or anniversary but now.
8# Get support
What happens when you did your best but did not get any results? Certainly you do not quit, you can either try again by identifying and improving your mistakes or you can get some professional support.
Professionals like personal trainers, dieticians, nutritionists and doctors are there to help you.
Maybe there is a problem with your health that you did not know about or maybe the diet you followed was not right for you. There are many questions and they can give you answers.
9# Recognise your achievements
Recognising your achievements regardless of how small they are is important. These small victories can keep you going after bigger victories and help you achieve your goals at the end.
Think about it this way, you cannot lose 20 pounds if you don't lose 2 pounds first.
Reward yourself for every success and stay focus on your long term targets.
10# Evaluate and refine
Goals are by nature dynamic. Things change, our life can change by many factors outside our control so it's important to evaluate our goals and progress, refine them and continue.
Until you are satisfied with the result access your progress, refine your milestones and change your techniques.
Are your weight loss goals realistic?