The weekends are where many people can let go on their healthy eating and exercise routines.  People tend to relax more, eat on the go, drink more on the weekends, and this can sabotage weight loss efforts as a result.  If your weekends are getting you off track, by Monday morning you can feel sluggish and heavy.
If you stick with eating clean on the weekend, you will feel refreshed for the work week and won't have to drastically change your eating patterns.
The weekends don't have to get you off track of your healthy eating and exercise routine.
Following some easy ways for eating on the weekend can help you stay on track without feeling like your weekends are stale.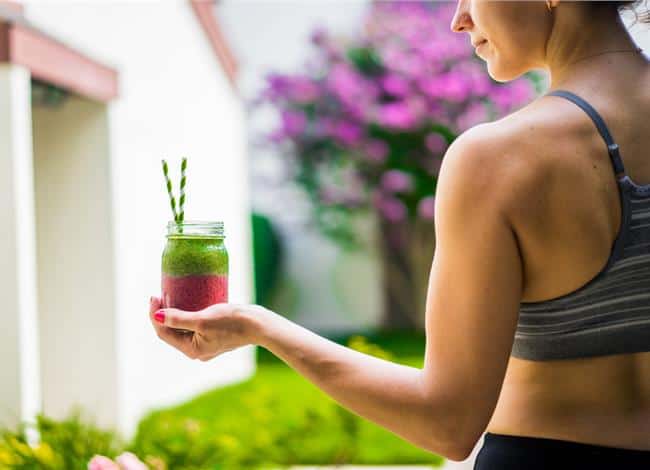 #1 – Keep a healthy snack with you on the go.
If you're like most people, weekends can be crazy, hectic times of running around for errands or appointments.
If you are constantly on the go for the weekends, hunger can creep up on you when you are out and about.
This could fuel the temptation to choose unhealthy fast food or overeat at a meal because you are so hungry.
Instead of being unprepared when you are away on the weekends, prepare yourself by bringing a healthy snack with you.
It can be as easy as taking a healthy energy bar, small bag of nuts and dried fruit or grabbing a piece of fruit as you head out the door.
By doing this small step on the weekends you can make sure you will have a healthy snack if you are away from your house for a long period.
This can help you make a healthy choice when you get hungry instead of feeling like something quick from a fast food place is your only option.
#2 – Start the day with a healthy breakfast.
Weekends can mean a tradition of a breakfast with pancakes, bacon, donuts or other sugary splurges.  Instead of splurging on an unhealthy breakfast, focus on getting a lean protein, heart healthy fat, fruits and vegetables first thing.
Having a healthy breakfast can help set you up for making healthy choices later in the day.
If you are craving pancakes or French toast, find a way to make it healthier.  That way you can still enjoy what you want, but it's not setting you off track.
For example, instead of traditional pancakes, you can blend together oats, cottage cheese and egg whites for a higher protein and fiber pancake.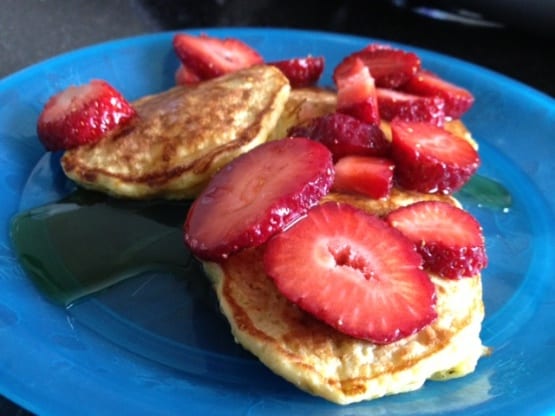 Source: Food.com
If you want an omelet on the weekends, add in a lot of veggies to boost the nutrient value.
On the other hand, maybe you skip eating breakfast on the weekends so you can splurge pater in the day.
Some research (1) suggests eating a higher protein breakfast can help lower appetite and food intake later in the day.
This doesn't mean you need to load up on bacon and sausage on the weekends.  Combine lean proteins like eggs, plain yogurt, whole grains, nuts, seeds with fruits and vegetables.
#3 – Keep the drinks simple.
It's important to stay hydrated during the weekend.  If you are running around, make sure you bring your water bottle with you in the car or in a bag.
If you choose to drink alcohol, stick with a simple drink, like a glass of wine, and stay within moderation guidelines.
Skip the fancy cocktails, as these are usually a source of hidden calories.
See also: Low calorie alcoholic drinks.
If you go out for a coffee, keep the drink simple.  Many coffee drinks can be high in calories and sugar.
Drinking coffee has been associated with some health benefits, but by drinking a high calorie coffee drink you won't be helping out your body.
See also: How to make your coffee healthier
#4 – Plan your meals.
Meal planning can go smoothly through the week day routine.  However, meal planning on the weekends can be harder if you're trying to coordinate moving schedules.
Try to still plan your meals, like you would during the week.  This can help lower the need for making a quick decision of what or where to eat when you are really hungry.
#5 – If you eat out, split a meal.
The weekends can mean a meal out planned with friends or family.  Just because you are eating a meal out doesn't mean it has to ruin your healthy eating for the weekend.
If you know you are eating out for a meal, make sure you eat healthy the rest of the day and weekend.
Trying to pick the healthiest meal at a restaurant doesn't have to be a salad.  Restaurant meals can be really high in calories, but you can get around this by splitting a meal with someone.
Before you go out, you can also eat a light snack, like some fruit, so you are not starving by the time you get to the restaurant.
#6- Make time for exercise.
Some people have a hard time fitting in exercise during the week and exercise only on the weekends (called weekend warriors).
However, some people get lax about their exercise routine on the weekends and find it easier to exercise with more routine during the week.
If this describes you, carve out time on your weekend for exercise!
This can help you stay on track with your weight loss goals and keep your momentum.  Maybe you can also plan to do something different on the weekends besides your normal run or gym workout that can include friends or family.
Examples could be: rollerblading, biking, dancing, hiking, skiing, etc.
Conclusion
The weekends don't have to sabotage your weight loss efforts.  You don't have to sit at home all weekend, but you just need to plan ahead and make healthy eating the easy choice.
Take healthy snacks with you while you're out, eat a smart breakfast and plan your meals so you're not caught off guard.
Find time to fit in exercise, and be smart about your drink choices. Stay hydrated by drinking enough water, and skip the fancy alcohol or coffee drinks.