Cottage cheese is a low calorie food that is high in protein and calcium. Both of these nutrients may be beneficial for weight loss, so eating cottage cheese while trying to lose weight may be a good idea.
A cup of low fat cottage cheese has about 160 calories, 2 gm of fat, 6 gm of carbohydrate, 28 gm of protein and provides about 14% of the Daily Value for calcium.
Here is more information on why cottage cheese may help with weight loss and some different ways to add cottage cheese to your diet.
High in protein
A moderate to high intake of protein during weight loss has been shown in some research studies to have an advantage for weight loss and keeping lean mass.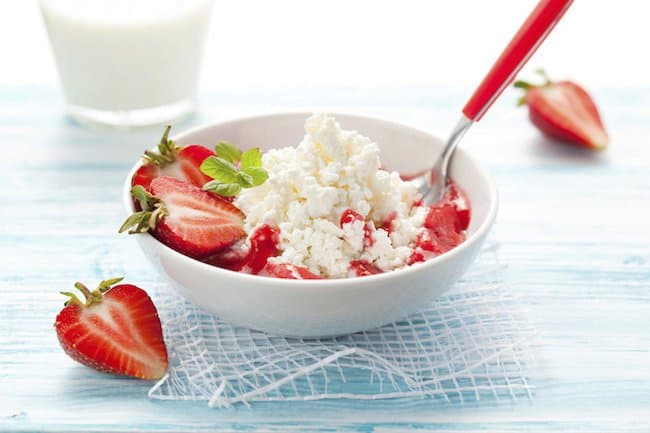 The distribution of protein throughout the day may also be more important than once thought for weight regulation.
Eating protein in equal amounts throughout the day may be more advantageous than not eating much protein during the day but eating a large protein dinner.
Eating cottage cheese for breakfast, lunch or a snack can be an easy way to incorporate a high amount of protein anytime of the day.
Protein also has the highest satiety meaning it keeps you feeling full after you eat. Because of this, eating meals higher in protein could help lower overall calorie intake.
Besides weight loss, cottage cheese could also help with weight maintenance according to a 2004 study.
Research participants who had a higher intake of protein after weight loss had a reduced rate of regaining weight compared to participants who ate a lower amount of protein after weight loss.
Hint: How much protein do you need per day?
High in calcium
Getting adequate calcium in the diet is important for bone health, especially for women. Besides bone health, calcium may also help lower blood pressure and be beneficial for weight loss.
Some research studies have shown that a high calcium or high dairy intake can increase fat loss.
For example, a 2005 study had obese research subjects going through a 24 week weight loss protocol on either a standard diet, a high calcium diet from calcium supplements or a high dairy/high calcium group.
Researchers found that the participants who were in the high dairy group lost significantly more fat mass, especially around the trunk region.
Based on these research findings and from other studies, eating a high amount of dairy foods could be advantageous for weight loss.
(If you don't eat dairy try these ways to increase your calcium intake without dairy)
Low in calories
Cottage cheese is relatively low in calories, and is also high in protein. Because of this, you can eat cottage cheese and it will keep you satisfied for not that much energy. Cottage cheese can come in full fat to non-fat versions.
While the health benefits of cottage cheese could be applied to any type of cottage cheese, choosing to buy a lower fat version of cottage cheese could be beneficial during weight loss.
There are many lower calorie options for people to choose who are trying to be healthy, but not all of them also provide nutrients with the calories.
Many lower calorie snacks are sugar based and have no nutritional value. With something like cottage cheese, you are getting protein, calcium and other nutrients from this food.
Check out this delicious cottage cheese waffle recipe.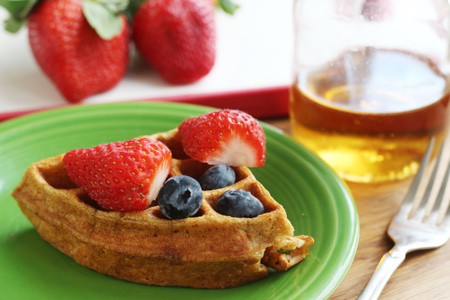 Easy to add sweet or savory flavor
If you don't like the taste of cottage cheese, it's ok to add some healthy ingredients to it to change the texture and taste of it. You can even add cottage cheese to some recipes and you won't even know it's in there.
For example, you can add cottage cheese to a smoothie or use cottage cheese to make high protein pancakes.
Either for a snack or as a meal, add a fiber and healthy fat source to cottage cheese. Adding fresh or dried fruit can add some sweetness or adding a dusting of cinnamon and nutmeg.
Adding in nut butter or nuts can add a healthy fat source to complete the meal or snack.
You can use cottage cheese in place of cream cheese or sour cream. Spread cottage cheese on some whole grain toast and top with a tomato slice and avocado. Add cottage cheese on top of a salad or in other savory dishes to add a creamy element.
Conclusion
Cottage cheese is relatively low in calories, high in protein and a source of calcium.
Because of this combination, it can be a healthy choice during weight loss.
There is some research to support a high protein diet may help with weight loss, and specifically a high dairy diet may add an extra advantage to losing fat mass around the mid-section.
Cottage cheese can be eaten numerous ways and can be enjoyed as is, sweet or savory.
Pair it with a fiber source and a healthy fat for a balanced, nutrient dense meal or snack.
References used in this article