Energy or protein bars can be an easy, portable convenient snack (or meal) on the go.  The problem with energy bars is they can be quite expensive.  They can also range in nutritional profile; some are very high in calories, sugar and artificial ingredients.
Making your own healthy energy bars is an easy solution for enjoying the convenience of bars without paying high prices.  Making your own energy bars can be very economical, and you may never want to go back to buying bars again.
Another perk for making your own bars is you can control what goes in them.  You don't need to add extra sugar or preservatives.  You can use whole grain sources, fruit, nuts and even add in optional ingredients like chia seeds, matcha powder, cocoa powder, coconut or dark chocolate.
There are many easy recipes online for making your own healthy energy bars.  Follow these simple tips to ensure you are getting a healthy nutritional profile for making your own bars.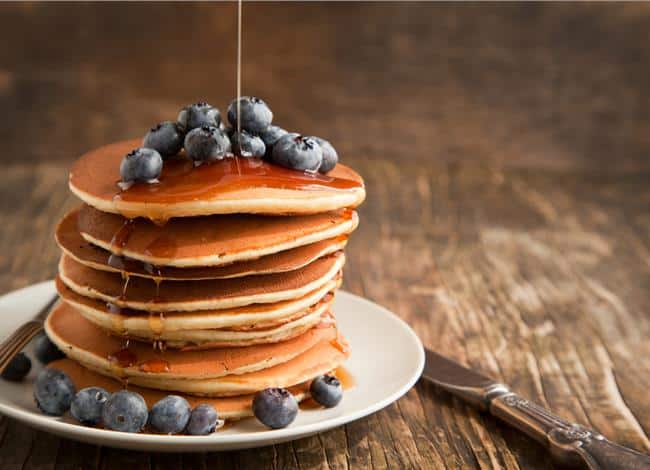 Homemade granola bars
Commercially made granola can be high in added sugars and can be pretty calorically dense.  Granola bars can also be high in added sugars and often provide little fiber or protein.
Making your own granola bars can ensure you have a quick, portable snack but free of excess sugar.
Granola bars can be easy to make with minimal ingredients.  For example, Minimalist Baker  has a granola recipe that has only 5 ingredients: oats, dates, honey, peanut butter and almonds.  Optional ingredients that can be added could be dark chocolate chips or other dried fruit.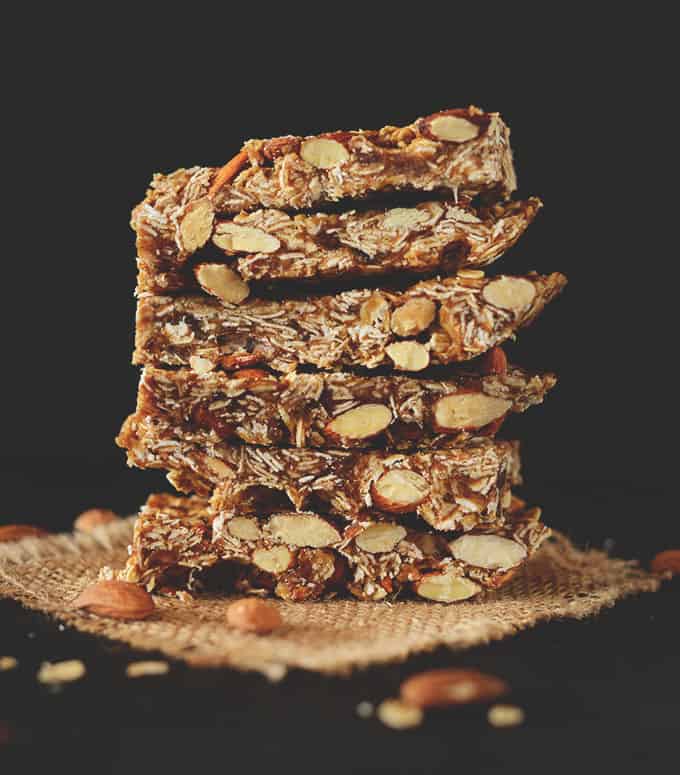 These bars, like many other bar healthy bar recipes, doesn't require cooking.  There is no flour, eggs or leavening agent that needs to have heat added to it.
Instead, you simply need to combine ingredients and place in the refrigerator or freezer so the bars can harden.
When looking for healthy granola bar recipes, look for recipes that use a short list of natural ingredients.  Ideally a recipe should include whole grains like oats, some sort of nuts or nut butter and some sort of dried fruit.
You shouldn't need to use sugar in a recipe as the fruit, honey or maple syrup can be a sweetener.
A granola bar should be a source of fiber, healthy fats and protein to provide a balanced source of energy.
Fruit and nut bars
If you want a recipe that is grain free, no problem.  There are many ways to make a simple, healthy recipe for bars with just fruits and nuts.
Using just fruits and nuts will provide a nutrient dense source of carbohydrates and healthy fats.
Many pre-packaged health bars can contain just dried fruits and nuts, but they can be expensive.
Dates and/or raisins that are blended with nuts can provide an easy base for a fruit/nut bar.  You could also add optional cocoa powder to make a chocolate fruit nut bar.
By using dates or raisins, you don't need to add more sweetness from added sugars.
If you decide to make a bar using just fruit and nuts, realize these bars are naturally high in carbohydrates than other types of homemade bars.
They can also be lower in protein but provide a decent amount of fiber and heart healthy fats.
Protein bars
If you want a bar with a higher level of protein, you can still find some easy recipes to use.  Many higher protein homemade bars can use added protein powder as an ingredient.
Other ingredients could include eggs or dried milk powder which would mean these bars should be baked in the oven.
A recipe for Triple Chocolate Protein Bars from Running to the Kitchen provides about 8 grams of protein per serving.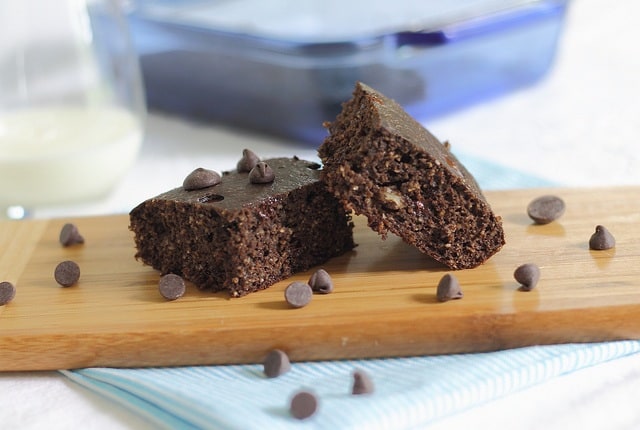 The protein from these bars comes mainly from the ingredients of 2 scoops of protein powder, Greek yogurt, 1 egg and the use of almond flour.
Raspberry Chocolate Protein Bars from Yummy Health Easy provide about 10 grams of protein per serving.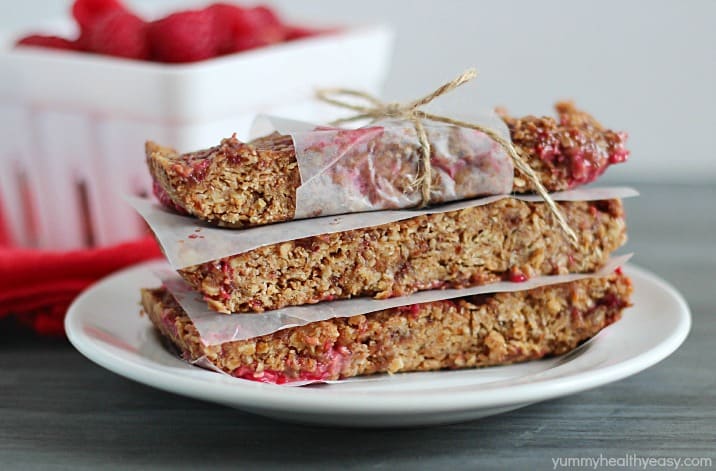 Ingredients include: peanut or almond butter, honey, rolled oats, protein powder, flaxseed and raspberries.
Use a slow cooker
If you are a fan of using a slow cooker, the good news is you can even make energy bars in the slow cooker.
One bar recipe from foodfaithfitness, is using the whole grain quinoa is easy to make because you put everything in a slow cooker for about 4 hours.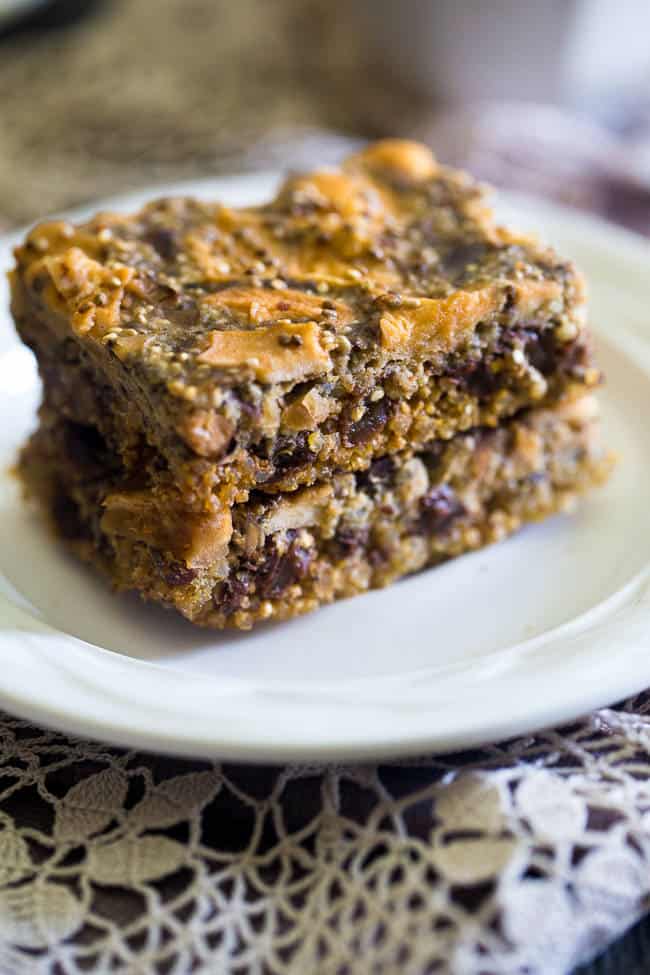 Try some new ingredients
If you want to add some nutritional boosts in your diet, making homemade energy bars can be an easy way to sneak in some nutrient dense foods.
For example, chia seeds, hemp seeds, cocoa nibs or matcha green tea powder are easy ingredients you can add in a recipe.  These foods are high in antioxidants and other nutrients.
Best ways to keep them fresh
Depending on if you bake or freeze the bars when you're making them will depend on how to best keep the bars fresh.
Usually homemade bars can be left in the refrigerator or freezer in individualized packaging.
This way you can easily grab one serving on the go whenever you need a quick snack.
Conclusion
Energy bars are available in all different forms.  Some are high in extra sugar, fat or preservatives.  Others are healthy options but can be expensive.
They are convenient to eat on the go because they can easily be thrown into a bag, brief case or eaten in the car.
An economical, and often healthier, way to enjoy bars is to make your own.
The options can be endless but should be a combination of fresh/frozen/dried fruit, nuts/nut butters, oats or other whole grain and optional additional nuts, seeds, cocoa, etc.