Breakfast options can vary greatly in terms of nutritional benefit. Your body is not going to get the same nutrients in a bowl of sugary cereal the same as an egg and veggie omelet. Eating breakfast can boost mental performance in children and helping everyone meet their daily recommended intake of vitamins and minerals.
A 2009 study in British Journal of Nutrition concluded that eating protein for breakfast can help keep you satisfied throughout the day especially when on a reduced calorie diet.
Getting a source of protein, whether vegetarian or animal based, paired with a fiber and healthy fat source is a winning combination for breakfast.
Eating a balanced, nutrient dense breakfast can seem challenging when you are trying to save time and money, but these breakfast ideas can be made ahead of time, or in a hurry, for an easy healthy breakfast option.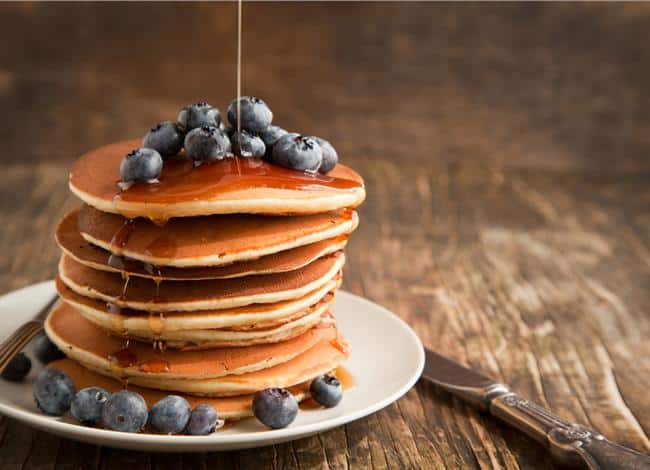 Smoothie
A smoothie can combine fiber, protein, vitamins, minerals and healthy fat all in one. There are many recipes and versions of smoothies, but choose a base for a smoothie that provides a variety of fruits and vegetables.
Add in a liquid such as ice, dairy or non-dairy milk, a tablespoon of nut butter or a few slices of avocado and optional protein powder.
This combination can keep you feeling full for hours and only takes a few minutes to blend up. You can sip it while getting ready or while you are driving.
Oatmeal or quinoa
Eating a whole grain like oats or quinoa can provide a boost of satisfying fiber in the morning.
Look out for packaged oatmeal that has added sugars, as some options can be very high in sugar. You can eat oats or quinoa for breakfast year round because they can be eaten hot or cold.
Traditional oatmeal can be topped with fresh or dried fruit, nuts, cinnamon, ginger, chia or flaxseed and/or with a scoop of plain yogurt. Quinoa can be used in place of oatmeal for a higher protein content and a gluten free option.
Don't have time to make oatmeal in the morning or want a cold option? Make over night oats! Mix oats with a liquid like milk, some type of fruit and sprinkled with nuts. Let everything soak together in the fridge and eat in the morning.
Another reason to have oatmeal in the morning is because they are a source of the antioxidant avenanthramide. This antioxidant has been shown to lower risk for atherosclerosis.
Breakfast sandwich
Instead of going through a fast food drive through, make your own breakfast sandwich. These are especially easy to make the night before and heat up in the morning.
For example, you could fry and egg with a handful of spinach the night before and put in between a whole grain English muffin. Top with a slice of cheese and tomato, then heat up in the morning in a toaster oven or microwave. Add an optional slice of turkey bacon or other veggies for variety.
Avocado, nut butter or coconut oil toast
It doesn't get much simpler (or delicious) than this. Add to avocado toast a thick slice of tomato, sprinkle of shredded cheese, black beans, an egg or salsa for some variety.
Add some fresh fruit, like berries or a banana, to nut butter or coconut butter toast for a boost of antioxidants.
Parfait
Parfaits can be made ahead of time for an easy, healthy option in the morning. Layer dairy or non-dairy based yogurt with fresh or frozen fruit, nuts and/or granola.
Using frozen fruit can make parfaits more affordable, especially during off season months. If you use granola, use a small amount- just enough for an added crunch.
Portable foods: hard boiled eggs, yogurt, nuts, leftovers etc.
Make a batch of hard boiled eggs to keep on hand for a portable breakfast on the go. Pair with some nuts and fruit or veggies for a balanced breakfast you can eat without a fork or spoon.
Keeping dried fruit or nuts with you in a back pack or in the car can provide a reliable part of your breakfast you can eat on the go.
Remember, breakfast doesn't have to be "breakfast" foods. Eating leftovers or food you would normally eat for lunch or dinner is totally acceptable!
Conclusion
The benefits of eating breakfast are many, and eating a protein source for breakfast can help keep you satisfied throughout the day.
Pair together a protein source (vegetarian or animal based), healthy fat and fiber source.
Blending a smoothie or a bowl of oatmeal or quinoa in the morning can be an easy way to sneak in more fruits and veggies in your diet.
You can also make overnight oats, a breakfast sandwich or parfait the night before so you can eat it quick the next morning.
References used in this article