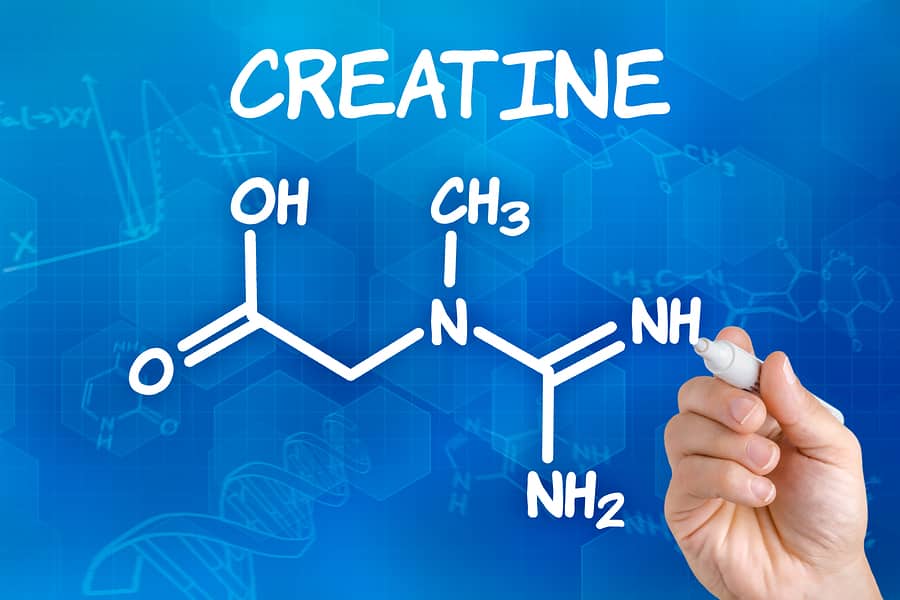 Creatine is one of the most popular supplements athletes take. It is a rare example of a supplement that has a lot of research behind its health claims. Many studies have shown taking creatine properly can increase muscle mass and strength.
Creatine may offer another surprising benefit according to research: benefiting brain health and protecting against neurological diseases.  Creatine may positively affect other conditions such as diabetes, arthritis or depression but more research is needed.
Despite popular opinion, side effects from taking creatine per guidelines are minimal.  Contrary to most supplements, long term use (3-5 years) has been shown to be safe for most populations.
Should you take creatine?  Read more to find out the benefits, side effects and considerations for taking creatine as a supplement.
Topics covered in this creatine 101 guide:
What is creatine?
About 95% of creatine in the body is found in muscle cells.  Muscle cells use creatine as an immediate energy source.
Creatine is used in the first few seconds of movement and is an important fuel source in high intensity, quick bursts of energy.
For example, jumping, shot put or sprints all rely on creatine as a main energy source.
Why would someone take creatine as a supplement? 
Providing your body with a higher level of creatine should translate to more energy being available for muscle cells for quick bursts of energy.
Bodybuilders also supplement creatine to increase muscle mass.
You can get creatine naturally in the diet from red meat and seafood.  Eating more of these foods will also naturally provide the body with more creatine.
The body can also make creatine from amino acids arginine and glycine.
How much creatine do you need?
A 2017 review (1) on creatine supplementation and sport suggests the body needs between 1-3 grams of creatine per day to maintain normal muscle creatine levels.
The amount needed can vary depending on muscle mass size and exercise level.  The more muscle mass you have or more you exercise, creatine needs may be higher.
In general, most people get some creatine naturally in their diet and can make creatine from amino acids.
Even if you don't get a lot of red meat or seafood in your diet, the body can make creatine from stored amino acids in the liver.
Bottom Line

Creatine is naturally found in muscle cells for an immediate energy source.  Red meat and seafood primarily provide creatine in the diet, and the body can also make creatine from amino acids.
Creatine health benefits
Many studies have shown creatine supplementation can improve exercise performance and training adaptations.
Creatine may be beneficial for exercise recovery and injury prevention.
Supplementing with creatine increases muscle creatine stores.  This in turn increases energy reserves in muscles which mean you can exercise longer/further/faster before running out of energy.
Creatine can also stimulate protein synthesis and prevent protein degradation which can be beneficial for bodybuilders and others trying to increase muscle mass.
Sports that require shorter bursts of energy, like soccer, basketball, track and field can benefit more from creatine that sports that are considered endurance sports.
Besides muscle/sports gains, studies have shown a potential surprising benefit of creatine: brain health.
Some research has shown creatine may offer protection against some neurological diseases.
Creatine and exercise
One average, a normal diet provides enough creatine to keep muscle creatine stores 60-80% saturated.
Creatine supplements can add an additional 20-40% to muscle stores.  This extra store of creatine can translate to exercise performance gains.
An example of creatine's exercise benefit is seen from a 2000 study (2).
This study found supplementing with 5 grams of creatine a day for 5 days (then 2 grams a day) increased arm flexor strength and muscle mass significantly greater than non-supplementation group.
Both study groups underwent a 6 week strength training program, but the creatine group had significantly greater strength gains.
The International Society of Sports Nutrition (ISSN) concluded creatine monohydrate is the most effective supplement for increasing high intensity exercise capacity and lean muscle mass.
Creatine, protein and body building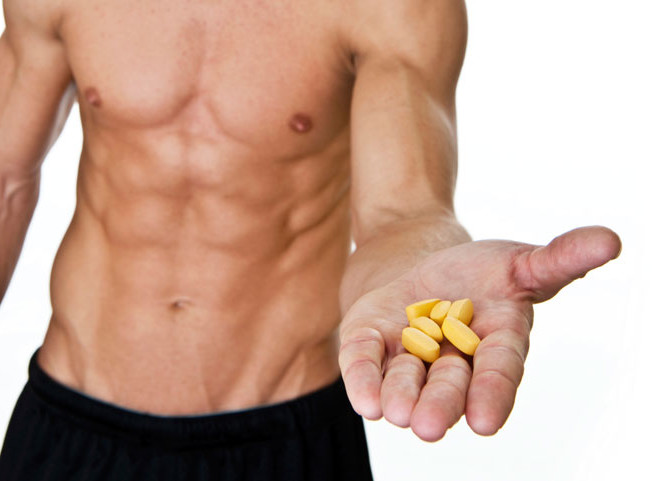 Creatine can stimulate protein synthesis and inhibit protein break down (3) along with increasing muscle force and power.
Therefore, creatine is a common supplement for body builders to aid in gaining muscle mass.
Exercise can tear down muscles.  Muscle growth happens after exercise if enough nutrients are available to rebuild the muscle.
Over training or under nutrition can lead to a lack of muscle growth.
Combining the proper amount of exercise, rest, nutrition and creatine supplement may be optimal for maximizing muscle growth.
Can taking creatine prevent injuries and dehydration?
Some studies have shown taking creatine during training or competition can help lower risk for muscular injury, dehydration or muscle cramping.
However, not all studies have shown creatine to have a protective role against injury.
A 2003 study (4) examined the effects of creatine supplementation on the incidence of cramping and injury in American collegiate football players.
Researchers found players who supplemented creatine had significantly less incidence of dehydration, muscle injury or heat illness.  There was no difference between groups for contact related injuries.
Why can creatine affect hydration levels?  Creatine has some osmotic properties meaning it helps retain body water to a small extent.  This "hydrating" effect may help prevent dehydration and heat injury in athletes.
This is in contrast to some popular beliefs that creatine can increase dehydration and muscle cramping.
Bottom Line

Creatine's main benefits are from exercise performance, strength and muscle mass gains.  Some evidence also suggests creatine may offer some benefit for lowering risk of muscle injury, dehydration or cramping.
Side effects of creatine
One of the main consequences of taking creatine is weight gain.  However, this is not necessarily considered a bad thing because it should be muscle mass.
If you are taking creatine for athletic performance, you WANT to gain muscle mass and strength.
However, some associate creatine with increasing excess water weight.  Any water weight gain with creatine supplement should be minimal compared to muscle gain.
For most people, there are minimal negative side effects of taking creatine despite some popular opinions.
Many studies have shown taking creatine to be safe when taken under recommended guidelines. 
In fact, the International Society of Sports Nutrition creatine may help lower the following:
blood cholesterol and triglycerides
fat accumulation in the liver
homocysteine blood levels (a risk factor for cardiovascular disease)
risk for certain cancer growths
Creatine has also been shown to act as an antioxidant, aid in blood glucose regulation and positively affects bone strength.
Does creatine make you gain weight?
According to the International Center for Sports Nutrition (5), average weight gain from taking creatine supplement is between 1.5-3.5 pounds in the first week of the loading phase.
Those taking creatine for longer than 3 months may gain between 2.5-6 pounds total of lean mass.
Therefore, taking creatine does and should make you gain weight.  However, it should be muscle mass, not fat mass.
Whenever you take creatine for exercise benefit, you should pair taking the supplement with an appropriate exercise program for maximal muscle gains.
Bottom line

Creatine supplementation does not have many (if any) negative side effects.  In fact, studies have shown positive side effects from taking creatine.  Weight gain is a side effect, but it is lean mass.
Is creatine good for the brain?
Most (about 95%) of creatine in the body is found in the muscles.  The other 5% is mainly found in the brain.
Therefore, taking creatine may not only just impact muscles: creatine can benefit the brain and neurological system.
The brain uses about 20% of the body's total energy needs.  Therefore, the brain needs a constant source of energy like from the creatine system.
This is one reason why the creatine energy system may influence brain function and may offer benefit (6).
More research is needed in this area, but some studies have shown creatine may lower risk for certain neurological diseases.
Brain and spinal cord protection
The risk of brain or spinal cord injury can be high in some contact sports.  Besides offering strength and muscle mass gains, taking creatine offer some protection against brain and spinal cord injury.
Most of the research in this area has been done in mice or rats, so more research is needed in humans.
Rodent studies suggest creatine supplements may help lower risk of brain trauma or injury by 36-50%.
Therefore, this suggests athletes taking creatine and playing a contact sport may have some protection against brain/spinal cord related injury.  However, more research is needed.
Creatine and neurodegenerative diseases
Neurodegenerative diseases involve losing neurons or neuron functions in one or more area of the nervous system.  The causes of these diseases are still being studied.
Currently, researchers suggest ATP (energy) depletion in neurons may contribute, at least partially, to neuron cell death or loss of function.
Creatine may have a role in lowering risk for neurodegenerative diseases because it can provide a source of energy for neurons.
More research is needed for understanding the relationship between creatine and neurodegenerative diseases.
Alzheimer's disease
There are many factors that contribute to Alzheimer's disease (AD) risk, and the cause of this disease is not well known.
However, research suggests getting adequate creatine earlier in life may help protect against AD.
Stroke
A result of a stroke is decreased oxygen to brain cells which can lead to neuron death.  There is some animal research to suggest creatine may offer a protective role in neuron death associated with ischemia (lack of oxygen to cells).
Parkinson's disease
Neurons deteriorate in Parkinson's disease, and much research focus has been on preventing the onset of Parkinson's.
There have been studies with creatine in treating and preventing Parkinson's disease, but currently there is not a strong link between creatine intake and lowering risk for Parkinson's.
A 2015 study (7) looked at the effect creatine supplement had on slowing Parkinson's progression compared with a placebo.
Researchers concluded treatment with creatine for at least 5 years did not significantly improve outcomes compared to the placebo group.
Huntington's disease
Study results are mixed for creatine benefit on Huntington's disease risk or prognosis.
A 2006 study (8) concluded supplementing creatine 8 grams a day for 16 weeks was safe and well tolerated in patients with Huntington's disease.
Creatine supplement lowered an indicator of oxidative injury which suggests it may have a beneficial role in treating Huntington's.
Bottom line

Creatine may have a beneficial effect on brain function, lowering risk for or treating some neurodegenerative diseases.
Types of creatine supplements
The most commonly studied and verified type of creatine supplement is creatine monohydrate.  There may be other types of creatine supplements available, but consuming the monohydrate form is recommended.
Protein powder and creatine
Protein supplements are consumed by many to increase muscle mass and maximize strength.
Combining protein with creatine supplementation can provide additional strength gains than consuming either alone.
Research has shown consuming creatine (5grams) with carbohydrate (95 grams) increased creatine and glycogen storage in muscles.
Other research has also shown consuming creatine with carbohydrates AND protein can also provide further benefit.
If you are wondering if consuming creatine with carbohydrate and/or protein can provide further sports performance benefit, speak with a sports dietitian.
The performance benefits found from taking creatine alone may not be increased with additional carbohydrates and protein.
How to take creatine supplements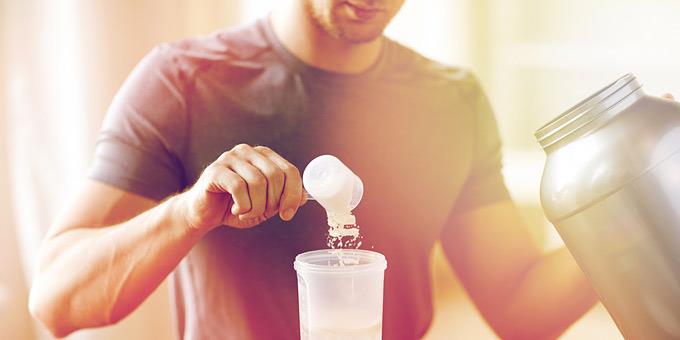 When first starting to take creatine, there is a loading phase to go through for about 1 week.
In general, this loading phase should consist of 20-30 grams of creatine per day in about 4-5 doses per day.
Some protocols suggest taking 1 gram of creatine every 30 minutes 20-30 times that may offer a better way to saturate muscle creatine stores.
After this initial loading phase, a maintenance phase consists of taking 2-5 grams of creatine per day.  This phase can last for weeks/years depending on why you are taking creatine.
Another option for creatine supplement dosing is: daily single dose of creatine of 3-6 grams of creatine (or 0.03-0.1 g/kg/day).
However, this dosing may take longer to reach maximum benefits between 21-28 days.
Some clinical populations have taken creatine supplements in the range of 21-56 grams per day for years.
The best dosing and timing for creatine will vary based on your goals, health status and reasons for taking creatine.
Bottom line

The most researched type of creatine is creatine monohydrate.  There is a weeklong loading period followed by a maintenance period that can be maintained weeks or years.
Are creatine supplements safe?
There are more than 1,000 studies on creatine since creatine became popular supplement in the 1990's.
Both short and long term studies in diseased and healthy populations, old and young- from doses 0.3 to 0.8 g/kg/day for up to 5 years has been shown to be safe
Some people associate taking creatine supplements with causing kidney damage.  While there have been a few case studies that highlight creatine intake causing renal dysfunction, the vast majority of studies do not show creatine supplementation to cause renal dysfunction from long term use (up to 30 grams/day up to 5 years).
If someone already has or is at risk for renal dysfunction, consult your healthcare team before taking creatine supplement.
For healthy people, taking creatine long term (up to 5 years) is considered safe with no to little concern for adverse side effects.
It is important to note the safety and benefits associated with creatine are limited to doses in studies, specific population along with the type of creatine used.
Taking other supplements or medication with creatine may influence creatine's affect on the body.
It is not known what the long term effects of creatine supplementation are longer than 5 years.
Therefore, use caution for taking creatine longer than this or at higher doses than 30 grams per day.
Can young people take creatine?
There is generally much caution and hesitation for giving children and teenagers supplements because their bodies are still forming.
Long term use of athletic performance supplements is generally not recommended for young populations. 
However, the International Society of Sports Nutrition concludes sports performance studies with adolescents (and the elderly) have consistently shown no adverse side effects with long term creatine intake.
In fact, some researchers promote the idea of taking 3 grams creatine per day throughout the lifespan for general health.
Research studies are underway to further analyze the effect of creatine supplementation in infancy, as breast milk is a natural source of creatine for infants.
More research is needed for how creatine supplementation may or may not influence infant health and during pregnancy.
Does the body stop making creatine if you take a supplement?
Unlike some other supplements, taking creatine does not down regulate your body's production of creatine.
Creatine levels can stay high after stopping regulation but should return to normal levels.
Should you take a creatine supplement?
Most studies show positive benefits associated with taking creatine supplement.  Does this mean you should take it?
While current research suggests there may be some positive side effects from creatine, more research is needed if it should be taken for general health.
Should you take creatine for improved exercise performance?  If you want to improve strength, muscle mass and possibly glycogen stores, taking creatine has been shown to improve these outcomes if taken in proper dose.
However, most recreational athletes who are aiming for general fitness and/or weight loss may not benefit most from creatine.
A 2017 study (9) analyzed the effect creatine supplement had on recreational women engaging in high intensity interval training (HIIT) exercise.
Participants performed HIIT three times a week for four weeks and were randomly assigned to a placebo or creatine supplement.
Researchers found no extra benefit from creatine supplement for improvements in exercise performance in recreational women. 
This suggests creatine supplementation in recreational athletes may not translate to significant improvements above benefits gained from general exercise.
Some studies show creatine supplement may offer benefit for certain health conditions.  If you have questions if creatine supplements may benefit your health, speak with your healthcare team before taking a supplement.
Bottom line

Many research studies have shown creatine monohydrate to be a safe long term supplement even for the young and elderly.  Recommended guidelines are up to 30 grams per day up to 5 years.  However, recreational athletes may not benefit from taking creatine for additional athletic gains.
Creatine: Key Learnings
Creatine is one of the most widely taken and studied supplement in the sports nutrition market.  Many studies have shown creatine to be a safe supplement for healthy people.
Surprisingly, to date creatine supplements have not shown negative side effects in most people- even young and elderly populations.
Creatine is mainly stored in muscles to provide quick sources of energy.  Creatine is mainly taken for increasing strength gains, muscle mass and improving performance in high intensity exercises.
A small amount of creatine is also stored in the brain, and some research has suggested creatine may offer protection to neurons in the brain and protection against some neurodegenerative diseases.  More research is needed to clarify this relationship.
We can get creatine from dietary sources like meats and seafood.  Taking creatine supplement is designed to saturated stores of creatine in muscles to maximize exercise performance.
If you have questions if you could benefit from taking creatine supplement, speak with your healthcare team first.