When time is of the essence, it can be difficult to find time to choose healthy, nutritious snacks throughout the day.  Many people who have demanding jobs, or busy home lives have enough trouble finding time to fit in three healthy balanced meals a day, let alone adding snacks to the equation.  Far too often, busy people ignore their hunger and end up reaching for the nearest thing to snack one, which often is not the healthiest choice.
Healthy snacks are important in order to get optimum nutrition in the diet, and also prevent unwanted weight gain over time, which can easily become a problem if snacks are high in calories and low in nutrition.
Snacking between meals may not be necessary for everybody, however, if you are very active, or often find you do not have time for complete main meals, snacks may be a good way to keep you going and get added nutrients that you need.
Having a healthy snack between meals can also help to reduce overeating caused by extreme hunger if gaps between meals are very long.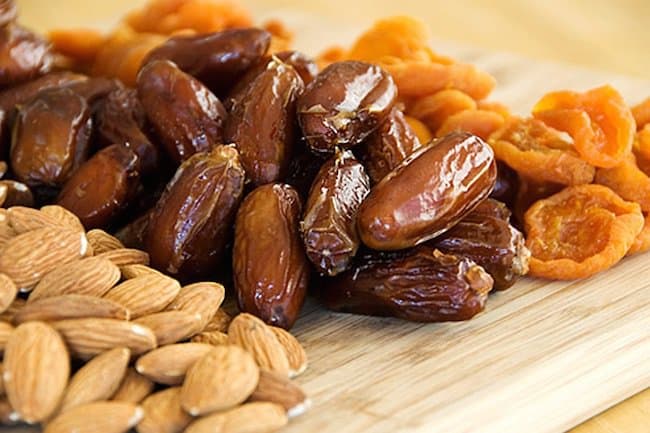 Here are some tips to make healthy snacking feasible and easy in spite of a busy schedule.
Get organized
This applies to any aspect of healthy eating, a little organization can go a long way when it comes to having healthy options to hand, meaning that it is a lot easier to make more nutritious choices.  If you shop once a week, plan your weekly intake on the weekend, including healthy snacks options that will last the entire course of the week.
If you shop more frequently but in smaller bursts, think about how long you require snacks for and cater accordingly.  Although there are plenty of healthy snack options available ready to go at the supermarket, to vary your diet and include more interesting options you may wish to get creative in the kitchen making snacks for the week.
Healthier baked goods such as small homemade high fibre savoury muffins make an excellent portable snack and have the added benefit of being freezable, so they can be stored for later use and grabbed quickly in a snack emergency.
Another good idea is to portion out small quantities of dried fruit and nuts into individual bags that can be quickly added to a handbag at a moment's notice.
Remove temptation
It is a lot easier to make healthier snacking choices if the healthy option is the only option.  By keeping tasty but unhealthy foods like chocolate, potato chips and other high calorie snacks in the house or office, you are setting yourself up to choose these over a healthier option such as fruit.
Stock up your larder and work place with healthier snack options so you are less likely to turn to calorie laden treats when hunger hits.
Look for portable, healthy options
If you are lacking in time, it may often be necessary to eat on the run.  Although this is not an ideal situation, sometimes it may just have to be done when the other option is skipping food all together.
By coming up with a variety of portable, yet healthy options, it will be easier to eat well, rather than reaching for a more traditional transportable snack such as chips.
Good healthy, portables snacks include:
Fruit:  Choose varieties that travel well such as apples, as these are less likely to end up in a bruised mess at the bottom of your bag than other softer options.
Dried fruit:  This can easily be carried around and requires no special storage.  However it is important to keep portion sizes small are dried fruits are fairly calorie dense.
Nuts:  High in protein, fibre and other nutrients, these make an ideal snack on the go.  As with dried fruit it is important to keep portions quiet small as calorie and fat content is high, although they contain mainly healthy fat.  Avoid salted, roasted or coated nuts as these are less healthy than natural options.
Yogurt:  Although this requires refrigeration, this is a good snack to have at work as it can be eaten quickly and easily at your desk.  Yogurt drinks may be even more portable as these can be drunk whilst on the move and do not require a spoon.  Look for low fat and sugar varieties.  Greek yogurt is an excellent choice.
Breakfast cereal:  Although this may seem like a strange snack options, many breakfast cereals make a great high fibre nutrient dense snack that can be eaten dry and on the run.  Package a portion in a zip lock bag and you have a far healthier alternative to potato chips that is just as easy to pick at whilst doing something else.  If you have the time you could even add milk and eat them from a cup for a more substantial snack.
Hard-boiled egg:  with a little bit of organization, this makes a great high protein, nutrient dense snack that can be eaten quickly on the run.  (Are eggs good for you?)
Beef jerky:  Go for reduced salt brands, but this makes a great high protein snack that will travel well with not special treatment.
Chocolate milk:  although this is probably not advisable every day, as an occasional sweet snack, particularly after a workout it can be a good option.  Choose a small tetra pack of low fat dairy or soy flavoured milk for an easy to drink snack on the go that is far more nutritious and lower in calories than a chocolate bar.  (See also: 10 Healthy post workout snacks)
Sandwiches:  These are a substantial snack, and require a little forward planning, but can be good on the run.  Fillings don't have to be complicated, so keep it simple to avoid soggy bread or escaping lettuce leaves.  Choose whole grain bread for the most fibre and spread with a thin layer of nut butter, hummus or low fat cream cheese for some protein.
Learn how to choose healthier options when buying food out
There will always be situations when organization deserts you and you need to buy a snack on the run to keep up your energy to make it through the day.  In a coffee shop for example, rather than choosing a donut or muffin with your coffee, try fruit or wholegrain toast with a thin spread of margarine.  Fruit yogurt is also becoming a more common sight in shops and can make a healthier snack.  Alternatively, choose a fruit based smoothie over the coffee, but make sure it is made with skim milk and is the smallest size as these can have a lot of calories.
Don't wait too long before snacking
If you wait until you are ravenously hungry before eating, you are likely to reach for the wrong options.  Excessive hunger can lead to cravings for sugary or fatty foods and make it more difficult to have that healthy piece of fruit you have set aside.
Eating at regular intervals helps to keep blood sugar levels more stable, which keeps you from feeling hungry and craving sweet things.  Try to incorporate a snack between your meals as a habit; it will save you overeating later on.