The holiday season is usually filled with plenty of good food, little exercise and a general lapse in healthy habits, so it is important to get yourself back on track and boost your metabolism to avoid negative health consequences and weight gain.
What is the metabolism? Your metabolism is the rate at which your body burns calories, and varies greatly from person to person, depending on body weight, sex, muscle mass, age and genetics.  Although your rate of metabolism may be out of your control to some degree, there are things you can do to give it a boost and increase your calorie burning potential.
10 Ways to boost your metabolism
Start working out
If you don't already work out, the end of the holiday season is a great time to start a new regime.  If you have slacked off over the period, it's also a great time to kick start your workout and up the intensity.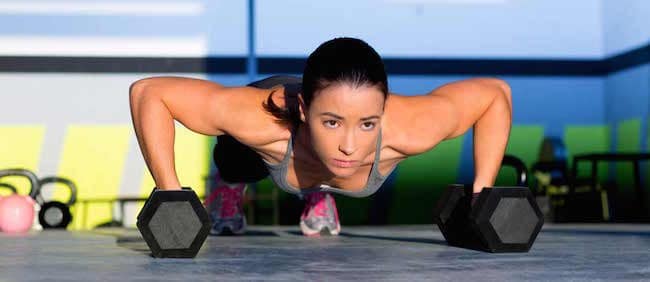 Not only does cardiovascular exercise burn calories whilst you are doing it, it also boosts your metabolism for a few hours after you stop working out.  High intensity work outs are thought to have a bigger effect on boosting metabolic rate after a session than lower intensity steady state workouts.
See also: Essential Exercise Tips for Beginners
Increase your muscle mass
Muscle tissue burns more calories at rest than fat, so it is in your best interest to hit the resistance training and add a little muscle to your frame to increase your basal metabolic rate.
Resistance training also tones and sculpts the body in contrast to popular belief will not cause excessive bulkiness to the female frame as women generally do not have sufficient testosterone levels to build huge muscles. See also: 10 benefits of strength training for women
Eat Breakfast
Eating breakfast kick starts your metabolism after the period of fasting overnight.  If you skip breakfast you will go for a very long time without eating, which can cause the body to reduce metabolic rate to conserve energy.
A good breakfast also gives you energy for the day and prevents you for making poor food choices due to excessive hunger later in the day.
See also:
What to eat for breakfast if you want to lose weight
Breakfast Mistakes that Can Cause Weight Gain
The Top 10 Healthiest Breakfast Cereals
Don't skip meals
As with missing breakfast, skipping other meals can also have a slowing effect on your metabolism.  Try to organise your day so that you have time to eat three healthy meals at regular intervals.  Plan ahead to make sure healthy options are available and keep healthy snacks on hand in case a meal is delayed.
See also: How Many Meals a Day Should You Eat to Lose Weight?
Get enough sleep
Studies have shown that those who sleep less tend to be more likely to be overweight.  Lack of sleep may slow down your metabolism and often also results in overeating due to tiredness.
To boost your metabolism try to get sufficient sleep every night and develop a routine for going to bed and waking up.
See also: Does sleep help you lose weight?
Drink more water
Being well hydrated is thought to have a positive effect on your metabolism, with one study finding that adults who drank eight glasses of water per day burnt more calories than those who drank only four.
Try to drink water before every meal and increase your intake of high water foods, such as fruit and vegetables, to keep yourself hydrated and remember that if you are working out or living in a hot climate you will need to drink even more.
See also:
Does water make you lose weight?
Should You Be Drinking Water While Exercising?
Spice up your meals
The addition of chilli to meals is thought to boost metabolic rate, although only for a short time.  Whether this is enough to really make a difference to your weight is questionable, but if you enjoy chilli there is no harm in including it in your meals on a regular basis.
See also: Health benefits of herbs and spices
Eat more protein
More energy is required to digest protein than for fat or carbohydrates, so it may be beneficial to eat a little more protein on a regular basis.  It is still important to include whole grain carbs and healthy fats as part of a balanced diet, but substituting a little lean protein such as fish, chicken, or soy protein may increase the calories you burn slightly.
Protein also has the effect of keeping you full for longer and so can reduce your calorie intake in this manner too.
See also: What to eat on a high protein low carb diet?
Snack regularly
Having a small snack between meals can help to keep your metabolism revved up so that you burn more calories.  People who snack may also eat fewer calories at mealtimes.  It is however, important to remember that snacking will increase your calorie intake, so if you are trying to lose weight you may want to reduce the portion size of your meals a little to compensate.
It is also essential to choose healthy snacks that provide a moderate amount of calories and are nutritionally beneficial, rather than commercial snack foods which are high in fat and calories and provide little nutritional value.
Drink coffee
Although it is only a short term metabolic boost, coffee, tea and other caffeinated beverages can increase the rate that you burn calories.  This is not really a long term solution to a faster metabolism and should be combined with other strategies such as exercise for best results.
It should also be noted that overconsumption of these foods can have detrimental to your health and should be avoided.
See also: Does coffee or caffeine help you lose weight?
References used in this article