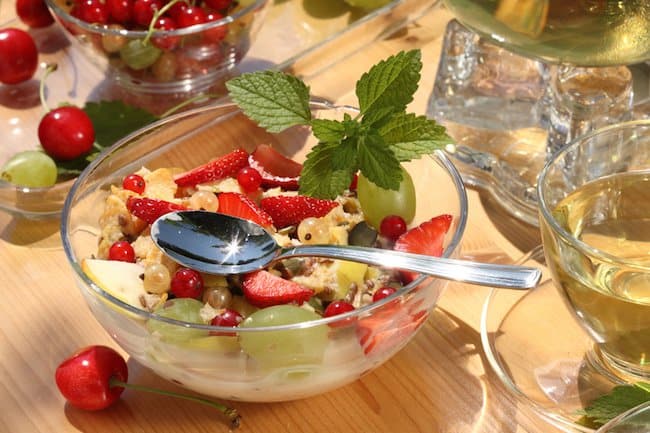 Breakfast cereals can be some of the most misleading food products when trying to determine the healthiest choice.  Whilst many cereals are marketed as healthy options, or boast claims such as 'low fat', 'high in B vitamins' or 'high in iron', these claims often mask the real nutritional value of the product.
A cereal that is advertised as low fat, for example, may be high in sugar and therefore calories, so not really a healthy option. Breakfast cereals can be an important part of a healthy diet, and many studies have shown that those who eat breakfast are less likely to be overweight than those who do not.  For this reason, it is important to know how to identify the healthiest options when choosing your breakfast cereal.
Important Nutrients
Fibre
Fibre is essential for a healthy digestive system, and is also thought to have a positive effect on heart health.  High fibre foods are usually low GI, meaning that they are digested more slowly as the high fibre content slows the process in the intestines.  This means that they result in a slower release of sugar into the blood stream, which can help keep you fuller for longer.
When choosing a breakfast cereal, aim to find one that contains at least three grams of fibre per serve, if possible more than five grams is ideal.  Usually a high fibre cereal will fill you up more, so smaller serves may be sufficient.
Sugar
Many breakfast cereals have high sugar content, generally because this makes them more pleasant to eat, particularly for children.  In general, it is recommendable to choose cereals which contain less sugar.  The exceptions to this are cereals which contain dried fruit, as the natural fruit sugar will result in a higher overall sugar content.  This does not make the cereal an unhealthy option as fruit also provides beneficial nutrients and fibre.
Aim to choose a cereal that has less than 5g of sugar or less than 25% of total calories per serving if it contains no fruit.  It can also be helpful to read the ingredient list and avoid those cereals which list sugar near the top, as this means it is a prominent ingredient.  Watch out for sugar under other names, such as high fructose corn syrup, honey, brown sugar, dextrose and glucose.
Fat
Many breakfast cereals are low in fat, but toasted cereals such as muesli can be reasonably high.  Look for the cereal with the least fat per serving particularly saturated fat.
Whole Grains
Whole grains provide essential vitamins, minerals, protein and fibre and cereals based on these are the best choice.  Many cereals these days are fortified with vitamins and minerals, but based on refined grains.  Whilst these are better options than unfortified varieties, it is always best to go with a whole grain option if you can.
Calories
If you are counting calories, it is advisable to choose cereals with less than 120 calories per serve.  By choosing varieties low in fat and sugar, you will often be choosing the lowest calorie option.  Remember, some cereals may contain slightly more calories due to fruit or nuts, but can still be healthy options that contribute more nutrition to your diet.
When choosing a cereal it is essential to compare like with like, as the serving size varies greatly from cereal to cereal.  Make sure you are comparing the same amount of cereal, or the amount you are planning on eating of each cereal to get the true nutrition comparison.
There are a huge number of ready to eat cereals available in the US, with new varieties hitting the shelves every day.  To choose the best option for you it is important to read nutrition labels and compare brands.  Below we have listed ten cereals that are high in fibre, as well as low in sugar, fat and calories.
Ten Healthy Cereal Choices (in no particular order)
1.     General Mills Cheerios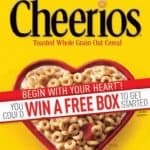 Serve size 1 cup
Per serve: 3g fibre, 1g sugar, 103 calories
This low calorie classic does not have a huge amount of fibre, but is very low in sugar and fat, making it a good choice.  Add some fresh fruit or mix with a bran based cereal for extra fibre.
2.     Kashi Go Lean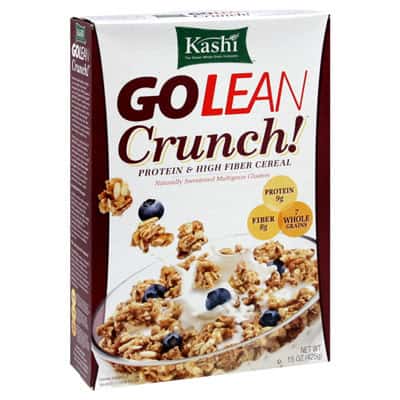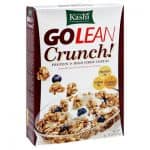 Serve size 1 cup
Per serve: 10g fibre, 6g sugar, 148 calories
This cereal is packed full of fibre and contains seven whole grains.  Producers claim in contains no artificial ingredients.
3.     General Mills Fibre One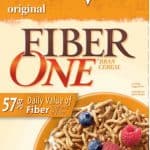 Serve size ½ cup
Per serve:  14g fibre, 0g sugar, 60 calories
Although this one is a bit of an acquired taste, it does contain very few calories, no suagr and a lot of fibre.  The serve size may seem small, but you probably won't be able to eat much more of this anyway due to the density of a cereal packed with so much fibre.  Try mixing it with a lighter cereal for a more palatable option. 
4.     Kellogg's All-Bran Buds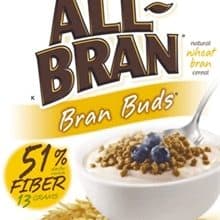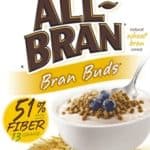 Serve size 1/3 cup
Per serve:  13g fibre, 8g sugar, 75 calories
A very high fibre option that provides about 25% of recommended daily iron requirement in one serve.
5.     Kellogg's All-Bran Original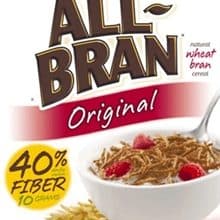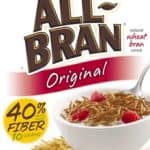 Serve size ½ cup
Per serve:  9g fibre, 5g sugar, 81 calories
A high fibre choice that is fairly dense, therefore filling you up with a smaller portion.  The taste is fairly bland, so mix with other cereals or add fruit and low fat yogurt to make it more interesting.  This is also fortified with high levels of iron.
6.     Post Raisin Bran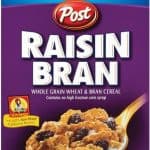 Serve size  1 cup
Per serve:  7g fibre, 17grams sugar, 187 calories
A whole grain cereal fortified with vitamins and minerals.  This choice is higher in sugar, but this is predominately due to the presence of dried fruit.
7.     Post Shredded Wheat Original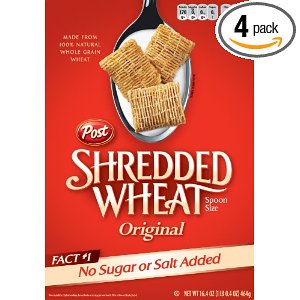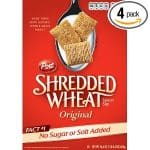 Serve Size 1 cup
Per serve: 6g fibre, 0.5 g sugar, 167 calories
A very low sugar alternative that is made from 100% whole-grain wheat.  It also has no added sodium, making it a very healthy choice.
8.    Quaker Life Cereal (plain)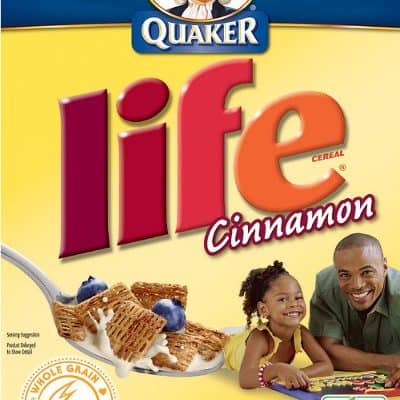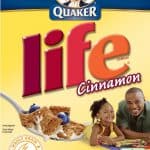 Serve size ¾ cup
Per serve:  2g fibre, 6g sugar, 119 calories.
This cereal is made from whole grain oats and is also high in B vitamins and low in calories.
9.     Kellogg's Frosted Mini Wheats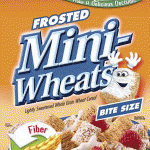 Serve size 24 biscuits
Per serve:  6g fibre, 12g sugar, 200 calories
With whole grains as the first ingredient, these are nutritious and high in fibre.  For the generous portion size, the calories and sugar contents are reasonable, making it one of the healthier choices for those with a sweet tooth.  Try mixing with a lower sugar cereal to reduce the sugar percentage a little. 
10.  Kashi Heart to Heart Honey Toasted Oat Cereal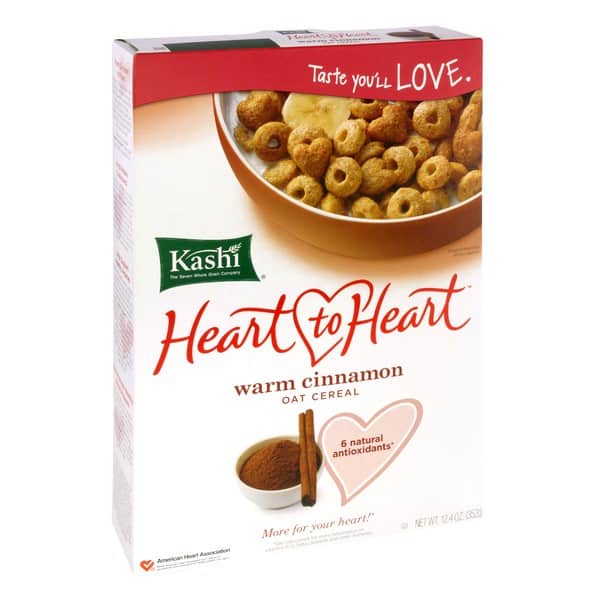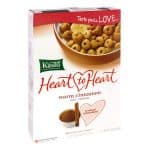 Serve size ¾ cup
Per serve:  5g fibre, 5g sugar, 110 calories
This is an oat based cereal with a high content of oat flour and bran.  A pleasant tasting cereal, that is higher in fibre than cereals such as Cheerios, but also slightly higher in sugar.