These days we are all so busy with our lives that it is difficult to get a good night's sleep.  Maybe you stay up later than you want to because you are working on something or maybe there is a TV show that you want to watch before you go to bed.  Or maybe you just aren't tired yet.  We have all had those days where we are so tired in the morning that keep hitting the snooze button and promise ourselves that we will go to bed earlier that night, but then something happens to prevent  us from following through on that promise.  Whatever the reason is for our lack of sleep, it can have an effect on our overall health.  But can lack of sleep prevent us from losing weight, or can getting a good night's sleep actually help us lose weight?
Evidence suggests that less sleep can cause weight gain
There is evidence that lack of sleep can cause us to have decreased activity levels.  A study, published in The American Journal of Clinical Nutrition, observed healthy, normal-weight men and whether sleep loss decreases physical activity while increasing food intake.  It was found that the restricted sleep did significantly decrease physical activity, but did not have any effect on food intake or appetite.
Another study, also from The American Journal of Clinical Nutrition, found that lack of sleep can cause us to eat a diet higher in calories and fat.  This study looked at normal weight men and women who generally sleep 7-9 hours per night.  They observed the difference in their food intake when they slept only 4 hours per night vs. when they slept their normal 7-9 hours.  The study found that on the nights of decreased sleep, that the participants had an increase in energy and fat intake, which would suggest that individuals who do not get enough sleep are at risk for obesity.
Why is this?
So, less sleep can cause you to eat a higher calorie diet and exercise less, but why?  According to Dr. Breus, "The Sleep Doctor", when you are sleep deprived, your hormones are affected.  Your body will make more Ghrelin, which is the hormone that makes your body want to eat, and your body will make less Leptin, which is the hormone that tells your body to stop eating because you are full.  Your body will also make more Cortisol, which can also increase your appetite.  He also stated that because of the REM stage of sleep, we might be able to burn more calories when we are asleep than when we are just lying in bed.   The brain is most active during this stage of sleep, which requires glucose for energy.   Your body must go through the other four stages of sleep before getting to the REM stage, and as you are asleep longer, the length of the REM stage increases.  When our sleep cycle is disrupted, or we get less than 6 hours of sleep a night, we are losing REM sleep, resulting in less calories burned.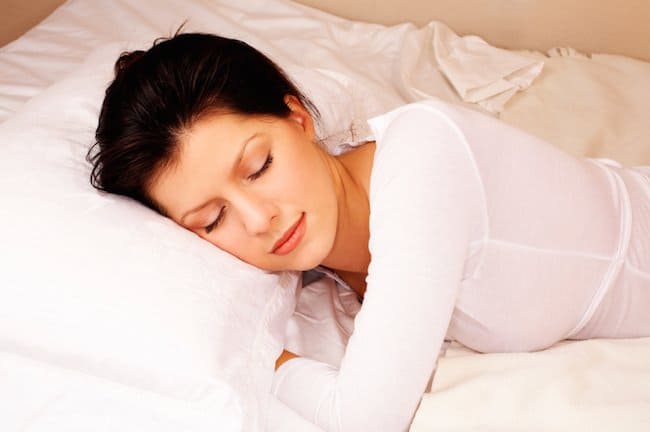 What is recommended?
In order to prevent weight gain, it is recommended to get 6-8 hours of sleep a night.  Research has shown that getting too little or too much sleep, anything out of the range of 6-8 hours, can lead to weight gain.  In addition to this, daily physical activity and following a healthy diet full of fruits, vegetables, whole grains, low fat meats/meat alternatives and low fat dairy products, can also prevent weight gain and promote weight loss.
What can you do to make sure that you are getting adequate sleep?
Maintain a regular sleep schedule, and stick to it.  This means picking a bed time and making sure you are actually going to bed at that time and getting up at the same time every day, even on weekends.  Dr. Breus also recommends setting your alarm for the last possible minute that you can get up, as hitting the snooze button can affect REM sleep.
Spend some time relaxing before you go to bed each night.  This might include reading a book, drinking some Chamomile tea, or taking a bath.  It is best to avoid watching TV or using any other electronics one hour before bedtime.  You can use that time to wind down and get ready for bed.  If there is a TV show that you like to watch at that time, consider recording it so you can watch it the next day.
Stop drinking alcohol within 3 hours of going to bed.  You might think that having a "night cap" helps you sleep, but the quality of sleep isn't as good and you are more likely to not sleep through the entire night causing you be tired the next day.
Don't exercise within 4 hours of going to bed.  Exercise increases your body temperature and makes it more difficult to fall asleep.  Try scheduling your workout in the morning.  It can help wake you up and improve your mood for the rest of the day.  If you can't do that, exercising in the late afternoon or early evening are ok too.
Stop drinking caffeine 4-8 hours before bed.  Caffeine can get in the way of your ability to fall asleep and stay asleep since it is a stimulant.
Make sure you have a comfortable, supportive mattress and pillows.  A quiet, dark and cool room is optimal for promoting good sleep.
Following these suggestions can help you develop good sleeping habits, which will result in better quality sleep.  And based on the evidence, can also result in improved eating habits and being more physically active.  It may help you lose weight and may prevent you from gaining weight.
References used in this article