Cutting out extra calories is beneficial for weight loss and improving health, but it can be hard and challenging to change eating habits.  Drastic diets may work for a week or two but usually don't provide lasting results.  In order for weight loss to occur, a change in long term eating habits has to occur.
These simple tips to eat less can be incorporated into anyone's routine and can be sustained for long term success.
#1 – Eat slowly and don't multi-task when eating
Americans and most first world countries are used to multi-tasking 24/7.  Most people rarely take a true lunch break and often eat at their desk while working.  Meals are often eaten in a car while rushing around or eaten in front of a computer or television.
Instead of eating and doing something else, eat your food without sitting in front of a screen.  Focusing on a meal and your food can actually make it more enjoyable and lower the urge to eat more.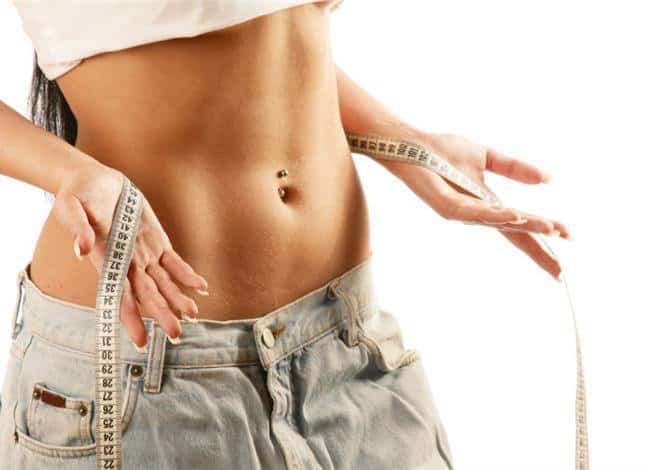 Eating your food slowly can allow time for the stomach to send a message to the brain signaling fullness.  When you eat too fast, you can over load your stomach before the full signal is sent to the brain.  Eating slowly can also help with feeling satisfied from a meal. (See also: Mindful eating)
#2 – Use small plates
Eating off a smaller plate can make your portion sizes look bigger which tricks the brain to thinking we're eating more than we actually are.  The opposite is true as well.  If you eat off of a large plate, you naturally will put more food on the plate to make it look full.
Downsizing your plate or bowl size can be an easy way to slightly adjusting your food intake without feeling like you are drastically dieting.
#3 – Drink water
We can mix up the need to hydration with the desire to eat something.  If you are running low on water intake, your brain may be telling you to increase fluid intake, but you may interpret it as a signal that you want to eat something.
If you feel the munchies coming on, drink a full glass of water first and wait a few minutes.  Chances are your body just needs more fluid, not a snack.
#4 – Eat protein at every meal
Numerous research studies have shown that eating protein at meals, especially for breakfast, can help lower calorie intake later in the day.  Protein has the highest satiety of the macronutrients, meaning that when we eat it we feel the most satisfied.
Instead of loading up on protein for dinner and skimping breakfast and lunch, aim to spread out your protein intake evenly with about 30 grams of protein at each meal.  This can also help keep muscle mass levels up.
More articles about Protein:
#5 – Fill up on nutrient dense foods first
Nutrient dense foods include fruits, vegetables, grains, legumes and lean proteins.  Nutrient dense means these foods provide many nutrients for not a lot of calories.  They also are high in density or volume, meaning they can fill you up without a lot of calories. The opposite of nutrient dense foods is empty calorie foods.
Before reaching for candy, chips, cookies, fried or fast food, reach for nutrient dense foods first.  If you're still hungry, have a small serving of higher calorie foods.  Your intake of higher calorie, less nutrient dense foods will be less this way.
You won't feel deprived because you will filled up with high volume foods.
#6 – Keep it out of sight
Whatever is your weakness, whether chips, cookies, etc., keep the container out of plain sight. When something is out of our normal line of vision or in a harder to reach area, we are less likely to eat as much.
Store junk food on the top shelf of a pantry behind other containers and keep snack jars out of plain sight.  Better yet, don't buy your favorite junk foods, and after a while you won't miss them.  Out of sight, out of mind.
#7 – Don't use food for an emotional outlet
Extra calories can come from using food as a source of comfort or when we try to use food to somehow relieve a stressful situation.  Food is not designed to be an emotional support, but many use it this way because of engrained behaviors.
Ask yourself why you are eating if you are not hungry.  Is it because you are stressed, bored, mad, happy, etc.?
Find healthier alternatives to do instead of eat when you are feeling these emotions, and you will be surprised how it can positively change your food intake.
#8 – Eat real food
Many diet or processed foods contain chemicals that can negatively affect our health.  They can also interfere with signaling to our brain a feeling of satisfaction from eating.
Instead of eating fake, artificially flavored food, eat real food.  You will feel more satisfied and also doing your body a favor by not giving it more harsh chemicals and preservatives.