In 2015, it is estimated over 97 billion servings of instant noodles were eaten worldwide. Most of the top instant noodle consuming countries are in Asia: China, Indonesia, Japan Vietnam and the Republic of Korea.
The United States is the top Western country for instant noodle consumption and was the 5th country for highest consumption in 2015.
Is there any concern with the world's high instant noodle consumption? 
Instant noodles could be incorporated as an occasional food on a balanced diet, but eating them as a main part of the diet can mean you are getting a higher number of calories and refined carbohydrates.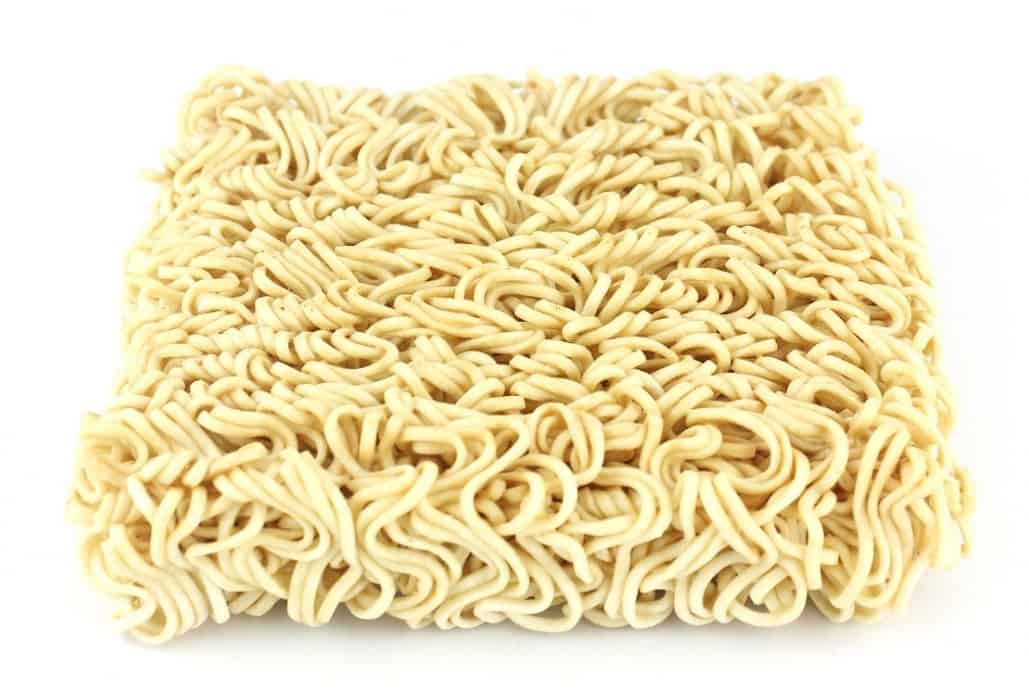 Some studies suggest eating instant noodles may increase risk for certain health conditions.
Instant noodles are high in calories, can be high in fat, high in sodium, low in fiber and low in other nutrients like vitamins and minerals.
This combination, when eaten often, may impact risk for being overweight and health consequences that go with it.
Instant Noodles are high in calories, fat and sodium
A typical package of instant noodles provides just under 200 calories per serving (1).
There are two servings in most standard instant noodle packages, so consuming a whole package of noodles can provide close to 400 calories.
Most of the calories are coming from refined, white flour and vegetable oil.
A serving of instant noodles provides about 7 grams of fat with half of that amount being saturated fat, 26 grams of carbohydrates and 5 grams of protein.
Because ramen noodles are made from refined flour, there is very little fiber from instant noodles: about 1 gram per serving.
In addition to being low in fiber, there are few other essential nutrients instant noodles offers.
When adding in flavor packets that come with instant noodles, the sodium content from these noodle packages is very high.
Most people get too much sodium in their diet from eating too many packaged foods.
Eating a diet high in sodium can increase risk for high blood pressure which is the leading cause of cardiovascular disease.
According to Harvard Health (2), high blood pressure is the leading cause of preventable deaths in China.
China also has the highest consumption of instant noodles.  The high intake of sodium from instant noodles could be one factor for the large amount of people with high blood pressure.
Instant noodles are low in nutrients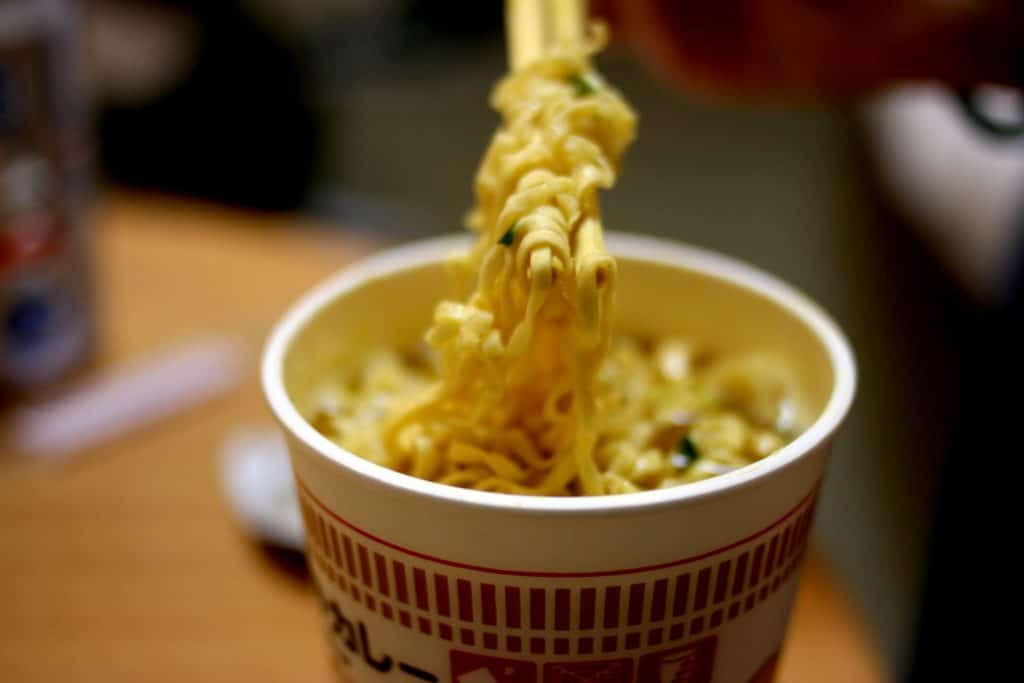 Instant noodles are not a source of many vitamins and minerals.
A serving of instant noodles can provide about 10% DV of iron.  Instant noodles are high in sodium and low in potassium.
Harvard Health suggests people who eat a diet high in sodium and low in potassium have a higher risk of dying from a heart attack or any other cause (3).
Because instant noodles are not a nutrient dense food, they shouldn't make up a large amount of the diet.
Eating a high amount of instant noodles can mean your diet is low in fiber, high in refined carbohydrates, high in sodium and low in vitamins and minerals.
Risk for metabolic syndrome
A 2014 study (4) analyzed the diet from more than 10,000 people from the Republic of Korea.
Researchers wanted to investigate if a higher intake of instant noodles was associated with cardiometabolic risk factors such as abdominal obesity, blood cholesterol and triglyceride levels.
These risk factors plus high blood glucose and blood pressure are components for the metabolic syndrome.
Researchers divided study participants' diets into two groups: a traditional diet high in rice, fish, vegetables, fruit and potatoes or a fast food diet pattern high in processed foods including instant noodles.
People with the fast food diet type had a higher prevalence of abdominal obesity, high LDL cholesterol, low HDL cholesterol and high triglycerides.
Researchers also found instant noodle intake had an impact on health in women.
Independent of other dietary factors, eating instant noodles more than twice a week was associated with a higher risk for the metabolic syndrome in women.
A 2009 study (5) analyzed the diets of over 1,700 Korean children.
Researchers found children who consumed instant noodles consumed more calories, fat and fewer fruits and vegetables compared to children who did not consume instant noodles.
This study suggests children who eat instant noodles may be eating a diet low in other nutrient dense foods, and children eating instant noodles may be at an increased risk for obesity.
Conclusion: How to make instant noodles healthier
These studies suggest eating instant noodles may increase risk for metabolic syndrome in women and can increase calorie intake in children.
What is important to consider is the frequency and portion size of instant noodles.
Can they fit into a balanced, healthy diet?  They can, but instant noodles should be eaten in small amounts and sparingly because they are low in nutrients and high in sodium and over all calories.
If instant noodles are part of your diet, keep in mind the serving size you are eating.
A typical instant noodle package is two servings.  Eating one serving as part of a meal with fruits, vegetables and protein can create a balanced meal.
On the other hand, just eating a packet of instant noodles (2 servings) provides a high amount of sodium, refined carbohydrates without much fiber or other micronutrients.
Incorporating more vegetables with noodles can also help bump up your potassium intake.
Instead of using instant noodles as one of your main dietary sources of grains, try to get a variety of grain sources in your diet.
The recommended intake for grains is to have half of your grain intake come from whole grains.
Instant noodles are not a whole grain.
Eating more whole grains in place of instant noodles and other refined grains can help bump up your fiber and micronutrient content.