What you may have suspected about weight loss is confirmed from research.  Consistency is key for weight loss according to a 2017 CNN article (1).  This is based on a study showing steady weight loss may be more beneficial for long term weight loss instead of drastic weight loss followed by regaining weight.
Drastic weight loss from a fad diet or weight loss supplement may last temporarily, but if the weight comes right back, it won't help you in the long run.
When weight keeps coming off week after week, this is encouraging to stay with healthy lifestyle changes.
However, when weight loss plateaus, it can be challenging to stick with healthy weight loss efforts.  However, sticking with weight loss efforts through plateaus may help you reach your goals long term.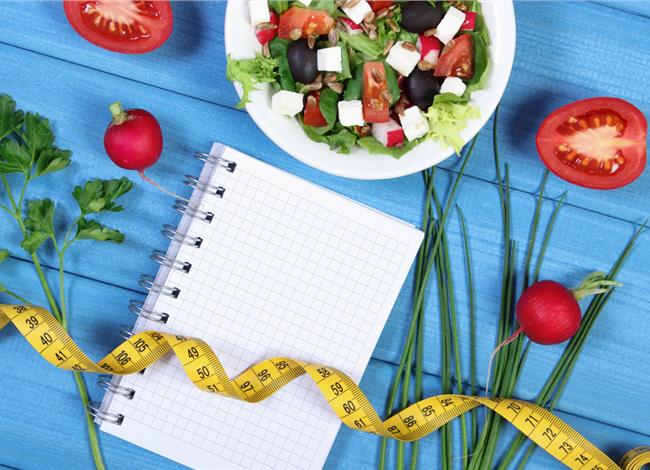 How can you consistently lose weight? 
Sticking with a healthy diet and maintaining an exercise program even when you don't feel like it or when it's not convenient.
 Consistency takes time and planning, but its impact on weight and overall health are worth it.
Here are some tips to help you stay consistent with weight loss through thick and thin.
Keep exercising
Incorporating exercise as part of your weight loss strategy can help maintain muscle mass and promote fat loss.
Everyone's amount for the "right" balance of exercise can look different.  In general, a variety of aerobic exercise and strength training are recommended.
Consistent weight loss and weight maintenance takes consistent exercise.
Your exercise routine is just as important when you first start your weight loss journey to after you hit your ideal weight.
The National Weight Control Registry (NWCR) records the patterns of people who have successfully lost weight and not regained it back.
Data (2) from the NWCR suggests physical activity is part of their routine even after initial weight loss.  Exercise can help you avoid re-gaining weight and can help you stay consistent in your weight loss.
Schedule your exercise in your planner.  Don't fit it in when you feel like it or only when you feel you have time.
Make it a priority to stick with not only for weight but for overall health reasons.
Spread out your protein intake
Controlling calorie intake while moderately increasing protein intake can be a successful strategy for weight loss.
Protein has a higher satiety value compared to carbohydrates or fat which means we feel full longer after eating protein.
This can help regulate appetite.  Eating moderately elevated protein can also help keep muscle mass in place during weight loss.
Eating about 1.2 grams of protein per kilogram of body weight can provide adequate protein; you don't need to go crazy with only eating protein.
A general rule of thumb is to eat between 20-30 grams of protein at each meal.  This can provide a spread out protein intake that may be beneficial for metabolism.
A 2005 study (3) found a protein intake of 18% of calories from protein compared to 15% of calories from protein resulted in improved weight maintenance in people who had just lost weight.
It can be easy eat a high protein dinner, but spreading out protein intake earlier in the day may be beneficial for weight regulation.
Higher protein breakfasts or snacks can include: smoothies, oatmeal with nuts or nut butter, eggs, Greek yogurt, cottage cheese or spreading hummus on sandwiches or as a dip.
If you have questions about which protein foods would be best for you or how much protein you need, speak with your healthcare team.
Eat high fiber foods
Besides protein, fiber can also help increase satiety.  Eating high fiber foods like fruits, vegetables, whole grains, legumes and nuts can provide the recommended daily fiber intake and keep you feeling satisfied after eating.
A 2001 review (4) suggests high fiber meals can increase satiety and lower hunger levels after eating.
Some research suggests increasing fiber intake an additional 14 grams per day while decreasing calorie intake by 10% can help with weight loss efforts.
Planning meals around natural protein and fiber foods can ensure you are feeling satisfied after eating, provides nutrient dense foods and can help regulate appetite.
Eat most of your food earlier in the day
Not only how much food you eat but WHEN you eat can also contribute to weight regulation.  Consistent weight loss can be supported by consistently eating most of your food intake earlier in the day instead of eating most of your calories later at night.
A 2013 study (5) those who were grouped as late eaters had a slower weight loss rate compared to those who were grouped as early eaters.
Energy intake, diet composition, appetite hormones and sleep duration were the same between groups.
This study suggests eating most of your food intake earlier in the day, like larger breakfast and a light dinner, may be helpful for consistent weight loss.
Conclusion: what are you going to stick with?
Consistency is key for weight loss, but how can you stay consistent?
There is no easy way around it: consistency takes time, effort and discipline.  As weight starts to fall off, it is not time to grow lax in your exercise efforts.
Data from the NWCR suggests even after people have successfully lost weight, their exercise levels stay high.
It's important to be consistent with your exercise routine.  If you are not seeing the same results with your normal routine, maybe you could change it up by varying your workout intensities or different types of exercise.
Consistently eating a diet that is high in fiber and protein can provide meals that leave you satisfied.
Spreading out protein intake throughout the day can provide support for keeping muscle mass and losing fat mass during weight loss.
Lastly, eating most of your food intake earlier in the day may help speed up weight loss efforts.  When you eat may be just as important as how much you are eating.