Filling up on nutrient dense foods can be a healthy, successful way to achieve your weight loss goals.  Instead of feeling like you're starving, weight loss plans like the Volumetrics diet (1) actually recommend you to eat large servings as food- as long as they are low in calories and high in nutrients.
Fruits, vegetables, whole grains, legumes and broth based soups are examples of foods that are low in calories, high in nutrients and can help fill you up.
Soup can either be a helpful way to fill up on nutrient dense foods or a way to consume high amounts of sodium and high calorie foods.
The formula for a healthy soup starts with a broth base + a variety of vegetables and herbs + some form of protein from beans, meat or whole grains.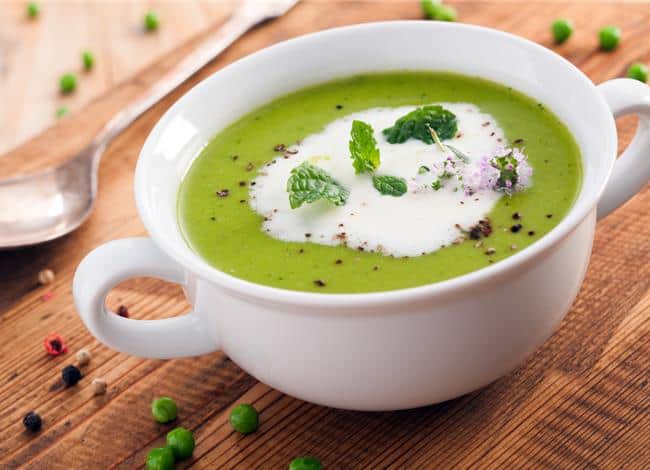 The possibilities are endless for creating delicious, low energy high nutrient soups.  The goal for any good soup for weight loss or overall health should start with using whole foods like real vegetables, broth and herbs.
Prepackaged soups can be a quick meal to make in a pinch, but they shouldn't be the majority of your meals.
Prepackaged soups are notoriously high in sodium and can have other preservatives in them.
Making your own soup and freezing it if need be, ensures you can control what goes into your soup.
Veggie soups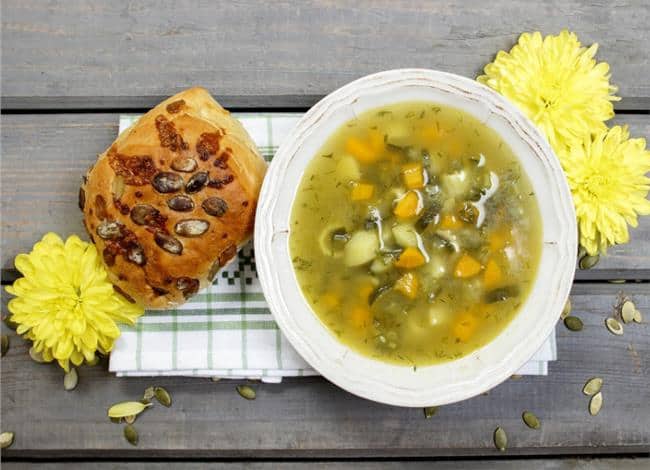 The best soup for weight loss is one that is filled with lots of different kinds of veggies and is broth or water based.
Filling up on this type of soup will provide a rich amount of vitamins, minerals, antioxidants and fiber to help keep you feeling full.
To help add flavor or texture to veggie based soups, add in fresh or dried herbs and optional whole grains or beans.
One way to eat veggie soups to help with weight loss can be consuming it before a meal.
A 2007 study (2) looked at the effect of eating a veggie based soup before a meal and how it effected what was eaten in the meal.
Researchers found when soup was consumed before a meal, there was a 20% reduction in food intake during the meal.
This suggests eating a low energy high nutrient dense soup before a meal could help lower your intake of higher calorie foods during a meal.
This study looked at any differences between chunky vegetable soups or pureed vegetable soups.
There was no difference between groups on how it affected meal intake.
Therefore, the good news is no matter if you like your vegetable soup chunky or as a smooth puree, both could help with weight loss.
Chili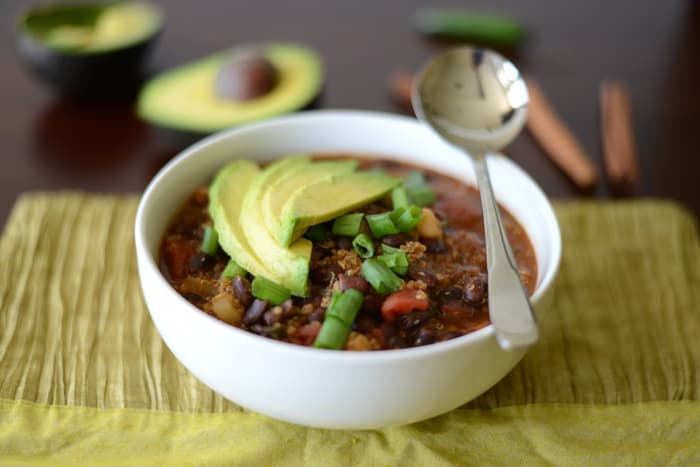 Image source: Fitfoodiefinds
There are many variations for making chili depending on where you live.  Chili can be a hearty, filling soup and it can also be filled with fiber.
The best chili for weight loss would be one that is rich in vegetables along with some sort of legumes to provide a significant source of fiber.
Traditional chili usually incorporates some type of ground meat.  Choosing lean meat options such as lean beef or turkey can also help keep the energy density low on chili.
Choosing wild or grass fed meat to add in chili can be leaner choices and also bump up the omega 3 content.
Another potential draw back for chili can be the toppings people put on chili.  To lighten up chili, avoid topping it with sour cream and cheese.
If you want to add some creaminess, put a spoonful of plain Greek yogurt on top instead of sour cream.
Clam Chowder or potato soup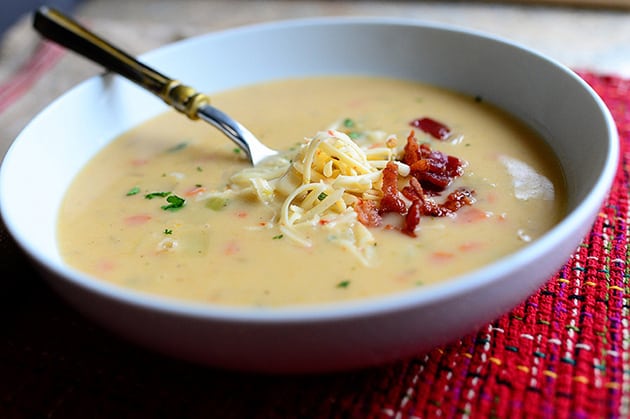 Image source: thepioneerwoman.com
Clam chowder or potato soup can be synonymous for cream based soup.  These types of soups can be really higher in calories, fat and lower in fiber.
A cup of clam chowder soup can provide about 250 calories, but it only provides 1 gram of fiber (3).
A cup of vegetable based soup can provide at least 2 grams of fiber plus several vitamins and minerals.
Cream based soups like clam chowder and potato soups could be considered worst for weight loss efforts.
If you still want to enjoy these soups while trying to lose weight, there are ways to make them lower in calories by subbing with low or non fat dairy products and bumping up the veggie content.
Broccoli and cheese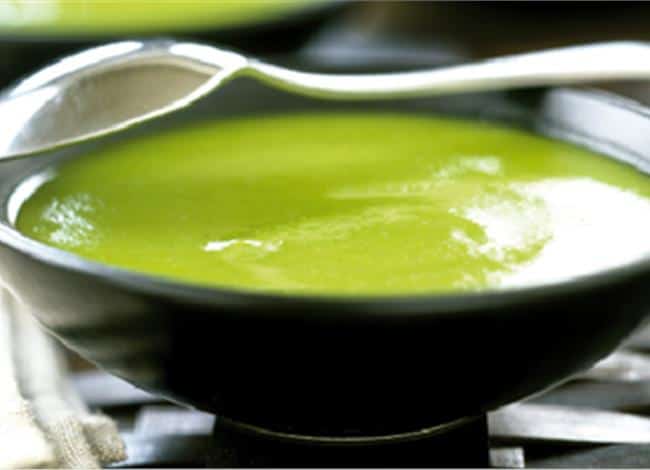 Like creamy soups, any cheese based soups are going to be higher in calories.
For example, broccoli and cheese soup from a restaurant could be at least 300 calories per cup.
Eating this before a meal won't have the same effect as eating a veggie based soup.
Remember, just because the soup is called broccoli and cheese, it doesn't mean it's filled with broccoli.
Chicken noodle soup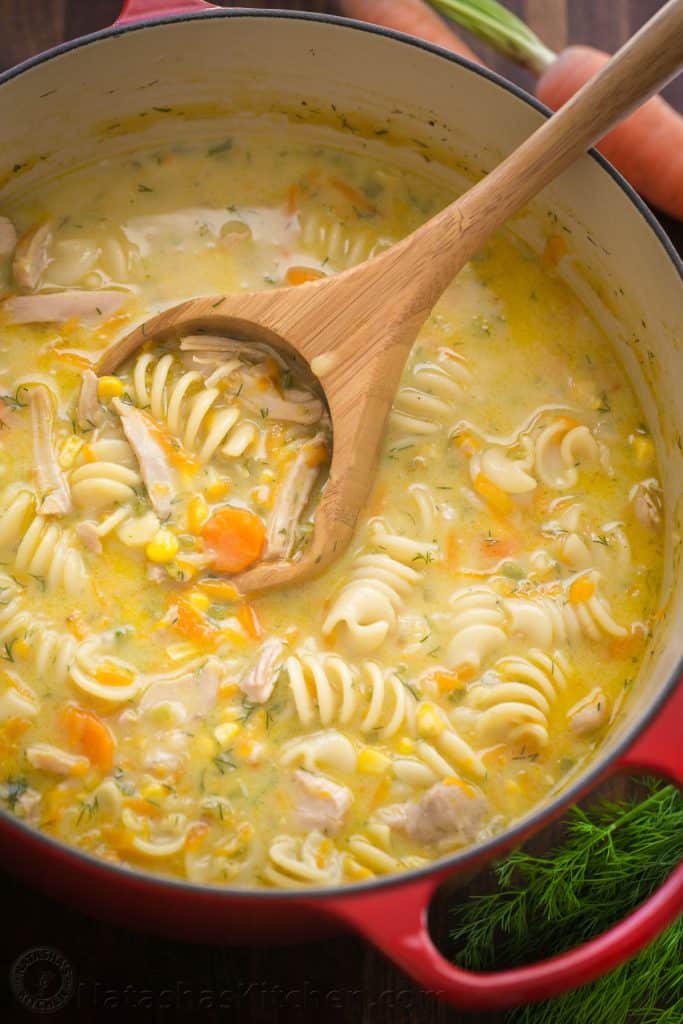 Image source: natashaskitchen.com
Chicken noodle soup may be one of the top foods people associate for a comfort food.  Since it is a broth based soup, this soup is naturally on the lower end of calories for soups.
According to University of Pittsburgh Medical Center (4), chicken noodle soup might really help your immune system fight off sickness by helping white blood cells stay in the area of the body that has infection.
Eating chicken noodle soup may also help with movement of mucus in the upper respiratory system.
To maximize health benefit, prepare soup from scratch instead of buying the high in sodium prepackaged soup from a store.
Health benefits associated with chicken noodle soup are from the old fashioned kind, not the quick heat up from a can.
When making at home, add to low sodium broth a variety of vegetables and herbs to increase fiber and antioxidant content.
Like veggie based soups, eating this before a meal could help lower calorie intake.