Most of us know what we should be eating and what we shouldn't.  We all know that it is not good to snack on potato chips or candy and that fruit or yogurt would be a much healthier choice, but when something tastes really good, sometimes it is difficult not to eat it.  Developing healthier eating habits and learning to make the right choices and actually wanting to make the right choices is something that will come with time. You have to make the decision that you want to start eating healthier and know that you are not going to do it temporarily, but that it has to be a lifestyle change.
How to develop healthier eating habits
1. Make a grocery list
Decide what you are going to eat for the week ahead of time, make a grocery list, and don't buy anything that isn't on your list.  This will prevent you from buying that bag of chips you walk by and throwing them in your cart because they look good.
2. Eat breakfast
Start each day with a healthy, well balanced breakfast.  This will give you energy and will control your hunger for the rest of the day.  It is best to choose something containing protein and carbohydrates such as a slice of whole wheat toast with almond butter and sliced bananas.
3. Avoid deprivation
Do not deprive yourself from any foods.  Doing this will make you more likely to binge.  You can eat the foods that aren't as good for you in moderation, and as long as you are eating foods that are good for you most of the time.  If you do choose to eat these foods, try to eat only one portion.  For example, if you are eating potato chips, and the serving size is 14 chips, actually counting out 14 chips.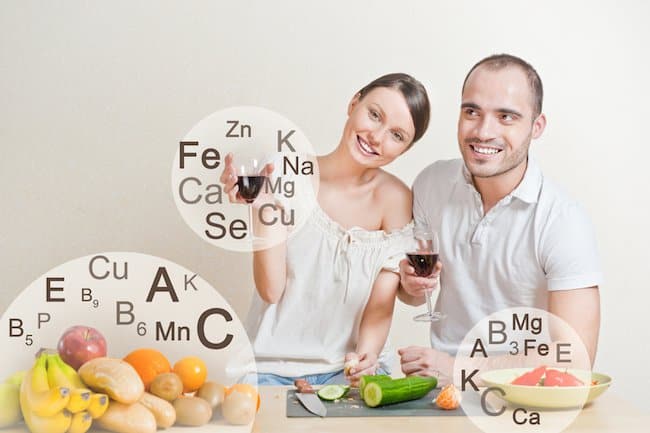 4. Listen to your body
Pay attention to how foods make you feel.  Many people eat foods that make them feel sick after they are done eating them.  For example, if every time you eat a piece of cake, and it leaves you in the bathroom the rest of the night, or laying on the couch with a stomach ache, is it really worth it to eat the cake?  By listening to your body, you can start to eliminate foods that you know aren't good for you by thinking about how they are going to make you feel before you eat them.
5. Make fruits and vegetables accessible
Keep plenty of fresh fruits and vegetables around for when you might be hungry.  You can slice up fruit and vegetables and leave it in the fridge for when you may be looking for something to eat.  That way it will be just as accessible as a bag of chips when you want a snack.
6. Choose wisely when eating out
When eating out, really pay attention to what you are eating.  Foods in restaurants often contain many more calories and fat than if the same food would have been cooked at home.  The calories can really add up especially if you are someone who eats out regularly.  Salads can even be very high in calories and fat.  Some restaurants have started posting nutritional information in their menus.  That is important to pay attention to.  But other tips when eating out are to order an appetizer instead of an entrée, or if you do order an entrée, putting half of it in a to go box right away.  You can always ask your server questions about how things are cooked or about different ingredients, and may even be able to make special requests such as asking for the dressing on the side.
7. Read the food label
Learn how to read nutrition labels if you don't already know how to.  By making it a habit to read the nutrition label before you buy something, you can decide if it is something you really want to buy.  It is good to look for foods that are low in calories and fat and higher in protein and fiber.  Also checking the sodium content is good as the current recommendation is to limit sodium intake to less than 2300mg per day.  Reading the ingredients too, as it is best to avoid foods that contain fewer ingredients and to avoid foods that contain ingredients that you can't pronounce.
8. Enjoy your food
Take time to actually sit down and enjoy your food.  Many of us are in such a rush that we shove our food down our throats and don't even take the time to chew it properly.  This not only can cause digestive problems, but it may also cause you to overeat because you won't feel full until much later.  So, try to sit down and actually chew your food, usually about 30 times, until you no longer have solid pieces of food in your mouth.  Also, put your fork down between bites.  When you are starting to feel full, stop eating.  It is much better to feel satisfied, rather than overstuffed.
9. Don't skip meals
Don't skip meals.  It is very important to make sure you are eating at least 3 meals per day, breakfast, lunch and dinner.  If you choose to have snacks between meals, that is up to you.  Skipping meals can make you hungry, and when you feel hungry, you are more likely to reach for the first thing that you can find to eat, rather than what you know you should be eating. It also will make you more likely to overeat at your next meal.
10. Watch your portion sizes
Watch your portion sizes.  Portion sizes have increased over the years, and not watching your portion sizes can cause you to overeat.  When you are eating meat, you should eat about 3 ounces, which is about the size of your palm or a deck or cards.  A serving of pasta, rice of hot cereal is only ½ cup.  A serving of nuts or seeds is ¼ cup.  Fruit and vegetable servings are about ½ cup, except for leafy greens, which is 1 cup.  Portion sizes for dairy products vary, so make sure you read the label first.  A fat serving is only 1 tsp.  You may want to start measuring your food just to get an idea of what the portion size should look like.  It may also help to use smaller plates so it will still seem like you are eating the same amount of food.
Take it step by step
These are just some suggestions on how to develop healthy eating habits.  Eating healthy is not something that will happen overnight.  You can try one of these, or you can try all of them, but you might not want to try all of them at once.  In order for your new eating habits to stick, it should be a gradual process.  Otherwise, you may get frustrated and give up.  Just like anything else, you will get more used to it, and it will get easier with time.  Good luck!
You can also read 50 more tips of a healthier lifestyle.