There are many benefits associated with eating a diet high in fruits and vegetables including lowering risk for cardiovascular disease and obesity.  Fruits and vegetables are a rich source of many nutrients including fiber, antioxidants, vitamins and minerals which is probably why they can provide so many health benefits.
Even though fruits and vegetables may lower risk for chronic diseases, Americans are not getting enough fruit in their diet.
In fact, only about one in ten adults in the US get the recommended 1.5 to 2 cups of fruit per day and 2 to 3 cups of vegetables per day.
Getting more fruit of any fruit in the diet can be beneficial.  It is recommended to consume a variety of fruits and vegetables, eating a rainbow of colors, to provide a wide array of nutrients.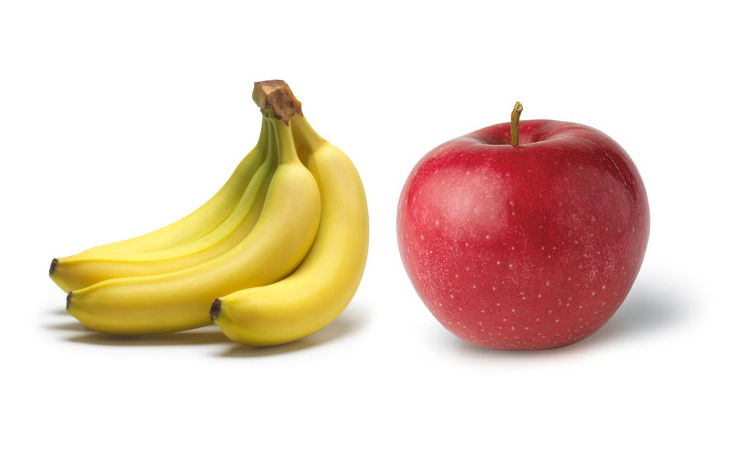 No single fruit or vegetable provides all the key nutrients in your diet.
Both apples and bananas provide health benefits and can be considered nutritional super stars.  Adding either to your diet can provide a wealth of nutrients.
In fact, adding both apples and bananas can be even better; why just choose one?
Antioxidants in Apples and Bananas
The phytochemicals in fruits and vegetables can play a key role in reducing risk for chronic diseases such as certain cancers, cardiovascular disease, asthma and diabetes.
All fruits can provide a wide array of different phytochemicals which act as antioxidants in the body.
Apples have shown to have strong antioxidant activity by inhibiting cancer cell proliferation and to lower cholesterol.
According to 2004 review (1), apples ranked second after cranberries for the highest amount of phenolic concentration in fruits.
Other research has shown both broccoli and apple intake were specifically associated with reduced cardiovascular disease risk.
The reduced risk is most likely due to a combination of apples providing antioxidants as well as soluble fiber.
Are apples superior to bananas in antioxidant amounts? 
Apples may provide different phytochemicals compared to bananas, but bananas are also a significant source of antioxidants. 
A 2002 study (2) found bananas are a good source of the specific antioxidant gallocatechin, and researchers concluded bananas should be a good source of antioxidants for foods.
Apples and bananas in risk of neurodegenerative diseases
Eating either, or both, bananas and apples may help lower risk for neurodegenerative disorders such as Alzheimer's, Huntington's or Parkinson's.
A 2008 study (3) concluded intake of fresh oranges, bananas and apples in the diet along with other fruits and vegetables may protect neurons from damage.
A diet including these fruits may lower risk for neurodegenerative diseases.
Therefore, eating either, or preferably both apples and bananas, can be useful for protecting neurons from damage.
Fiber in Bananas and Apples
A medium banana provides about 3.1 grams of fiber (12% DV), and a medium apple provides about 4.4 grams of fiber (17% DV).
Therefore, apples edge out bananas by a slim margin for providing more fiber. 
In order to get the most fiber from apples, keep the peel on. The peel provides a good amount of the fiber and vitamin content from apples.
Both bananas and apples provide both soluble and insoluble fiber which can provide heart health, blood sugar and digestive health benefits.
Apples VS Bananas – Vitamins and minerals
Both bananas and apples can provide a source of vitamins and minerals, but bananas slightly edge out apples for the amounts of some vitamins and minerals.
Vitamins and minerals in a medium banana: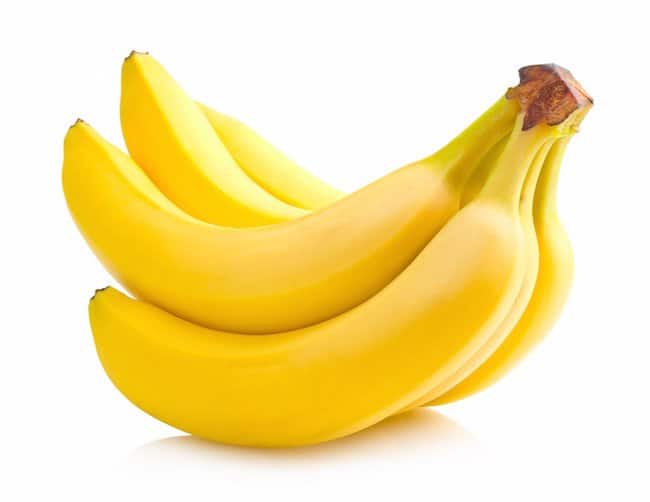 12% DV potassium
17% DV vitamin C
1% DV vitamin A
1% DV iron
20% vitamin B6
8% DV magnesium
Vitamins and minerals in a medium apple: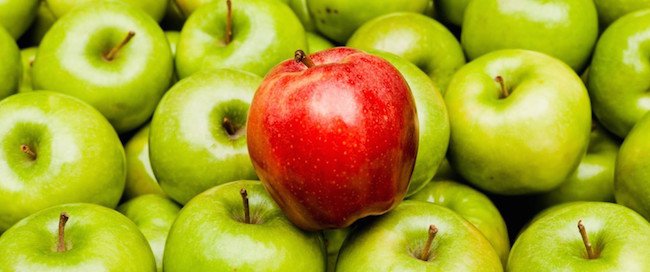 5% DV potassium
14% DV vitamin C
1% DV vitamin A
1% DV iron
5% DV vitamin B6
2% DV magnesium
Apple and banana effect on digestion
Bananas are a go to food for upset stomach.  Ripe bananas can be considered easy to digest and can provide a good source of electrolytes.
This is one reason why reaching for a banana before a workout can be a quick supply of energy and nutrients without causing a stomach ache.
Apples on the other hand are harder for the digestive tract to break down.  Eating an apple before a workout may cause stomach discomfort for some people, and eating an apple when the digestive system is off may not provide the same relief a banana could.
If the effect on digestion is not an issue, both bananas and apples can provide a good source of fiber.
Because apples are a little higher in fiber and provide higher water content, they can also help you feel full long after eating.
Apple and banana effect on blood sugar
As bananas ripen the amount of resistant starch and pectin changes.  Under ripe bananas have more resistant starch and pectin.  This slows digestion and release of sugar into the blood stream.
The more ripe a banana is, the easier it is to digest.  Therefore, consuming more yellow/green bananas can provide a low glycemic effect on blood sugar.
Eating riper bananas have lower resistant starch but the antioxidant value can be higher.  Riper bananas can also provide more soluble fiber than greener bananas.
Because both apples and bananas provide a good amount of fiber, the impact on blood sugar is low.  Yes fruits provide a natural source of sugar, but the fiber slows the release into the blood stream.
The glycemic index (GI) of an apple is about 36, and the GI of a banana is around 51.
Both fruits can be considered to have a low impact on blood sugar.  However, if you are at risk for type 2 diabetes or monitor your blood sugar levels, speak with your doctor about how much fruit you should be eating.