Peas can be put into both categories as a fattening food and a weight loss friendly food.  One of the main arguments for why peas may be considered fattening is based from a study (1) from Harvard Health.  Researchers found an association between increasing starchy vegetables (potatoes, corn and peas) and weight gain. Increasing non-starchy vegetables was associated with weight loss.
On the other hand, peas can be considered a weight loss friendly food.  They are naturally low in calories and fat while being high in protein, fiber and many vitamins and minerals.
Eating a diet high in fiber has been shown to be protective for weight gain (2).
Since peas are high in fiber and protein, they can help you stay full after eating them.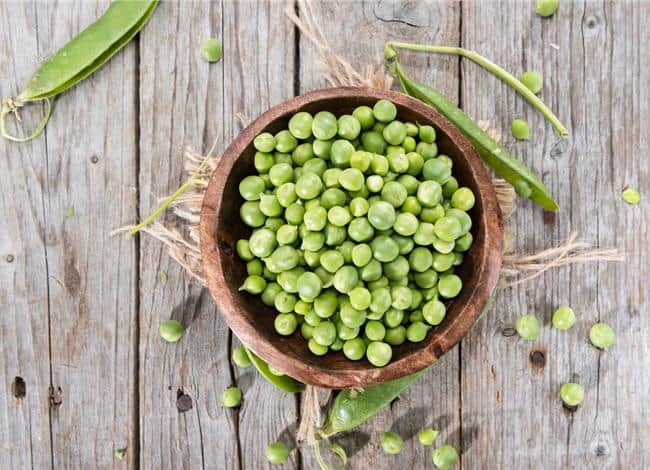 The bottom line is peas should not be feared as a fattening food.  Very rarely is one food responsible for weight gain.
Changes in body size and weight are a result from overall food intake and other lifestyle factors.
It is always recommended to get a variety of foods, so add other types of vegetables into your diet along with peas.
Nutrition of peas
According to WebMD (3), a ¾ cup serving of peas provides about 100 calories and provides more protein than ¼ cup of almonds or 1 tablespoon of peanut butter.
Peas are also a good source of fiber; One cup of peas provides 8 grams of fiber which is 28% Daily Value (DV).
Most Americans do not get enough daily fiber, so adding in more vegetables like peas can help meet your fiber goals.
Eating foods high in fiber and/or protein can benefit weight loss because these nutrients increase satiety after eating.
Besides being high in fiber and protein, they are also a good source of B vitamins, vitamin C, vitamin A as beta carotene, iron, magnesium and vitamin K.
Are peas fattening?
The Harvard Health study concluding a link between weight gain and increasing starchy vegetables makes it seem like peas can indeed be fattening.
This study used information from dietary questionnaires which are known to have errors in measurement.
Also, when someone increases intake of potatoes, corn and peas, it is important to also consider what they ate with those vegetables.
Was butter or other heavy sauces used?  That can factor into energy intake.
Peas can be associated as having a higher glycemic index (GI) meaning based on a certain serving size, peas can raise blood sugar levels higher than other foods.
In general, eating mostly lower GI foods is recommended for blood sugar regulation and weight control.
Also, besides looking at GI, you need to also factor in glycemic load.
Glycemic load takes into account serving size.  Foods like carrots, peas and watermelon may have higher glycemic index values, but the glycemic loads for these foods are low.
This means a realistic portion of these foods someone will eat really doesn't impact blood sugar levels much.
Harvard Health lists green peas to have a glycemic load of 4 which is considered low.
How peas could help with weight loss
Because peas are naturally low in fat, high in protein and fiber, they can be considered a weight loss friendly food.
Diets high in fiber are associated with lowering risk for weight gain.  Most Americans do not reach the recommended daily fiber intake, so bumping up your intake of fruits and vegetables, like peas, can increase your fiber intake.
Maybe to your surprise, peas are very versatile and aren't just for a mushy side dish at meals.
According to a 2015 Prevention article (4), adding more peas to your diet can actually be your secret way to weight loss.
Creative ways to get more peas in your diet
Peas can get a bad rap for being unappetizing.  You can eat peas many other ways besides just eating plain peas as a side dish at meals.
Peas can be eaten fresh, frozen, dried or freeze dried.
Dried peas could be a healthy, satisfying snack in between meals.  Just keep the serving size to a small handful.
Like other snacks, it can be easy to mindlessly munch on this snack.
You can also eat peas in their pod which can increase fiber, vitamin, mineral and antioxidant content.
Pairing peas with other vegetables, fruits, legumes, whole grains, heart healthy fats and lean protein sources can make a complete meal.
So, you can really get creative when pairing peas with different foods for a complete meal or snack option.
Pesto(5): Use peas as a base for a pesto like topping on your pizza, flat bread or pasta.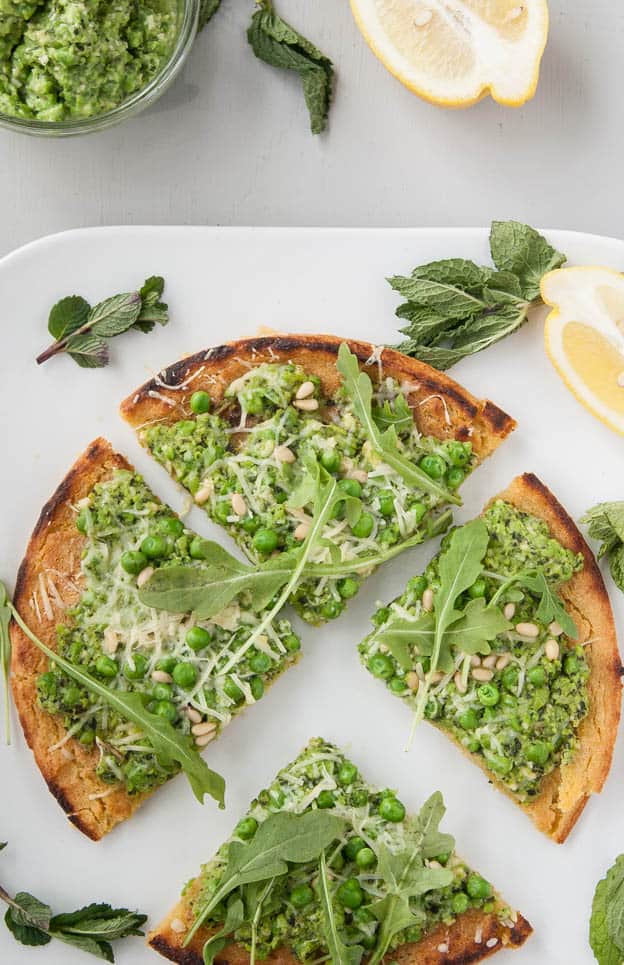 Peas pair well with mint in this recipe, and this can be a refreshing way to add flavor and enjoy the nutrients of peas.
Hummus (6): Hummus isn't just for chick peas!  Switch in peas in this quick and easy recipe to enjoy peas in a different way.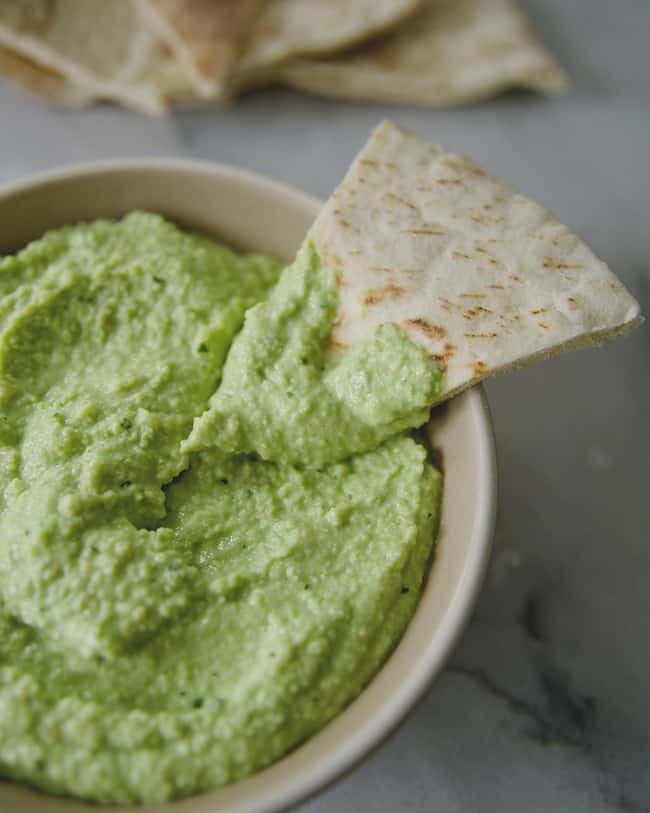 This recipe also includes Greek yogurt, so it will be higher in protein.
Adding fresh or frozen peas to pasta dishes and stir fries can be other easy ways to get more peas in your diet.
Don't forget about pea soup too!  Using a simple recipe of simmering dried peas with herbs, other vegetables and even some type of lean meat for flavor can create a highly satisfying meal.
Conclusion
There shouldn't be fear to adding peas to your diet.
Even though they may be touted as being starchy or higher on the glycemic index scale, they are also high in fiber, protein and actually low in glycenic load.
Although a study did find an increase in weight gain with an increased intake in starchy vegetables, other studies suggest a diet high in fiber is protective against weight gain.
Peas have much to offer nutritionally.  They can be used in a variety of ways, so get creative with how you incorporate more into your diet!