Diet plays a large role in body weight regulation, and what you eat can help or hinder efforts to get lean.  Some foods to help you get lean may seem surprising.  For example, higher calorie foods like nuts and avocados can actually help with weight regulation.
Here are some foods that can help you get and stay lean.  Keep in mind, there is no one magic food for a muscular physique.  The best approach is to keep a balanced diet and eating a wide variety of foods.
Nuts
Studies have shown an inverse relationship between nut intake and BMI (body mass index), meaning the higher the nut consumption people have, the lower their waistlines tend to be.  Nuts are relatively high in calories and fat, so how can they help someone stay lean?
Researchers are still in understanding the link between nut intake and a lower BMI.  However, one theory is that nuts are high in satiety, meaning once we eat them we do not feel the need to eat again for a long time.  Therefore, eating nuts could lead to a lower food intake later.  Some research also suggests nuts may increase resting energy expenditure.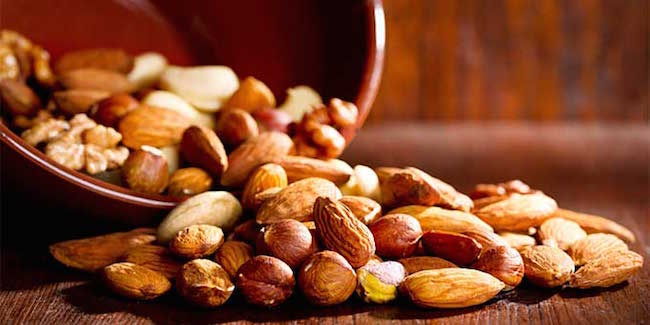 How many nuts should you eat per day?  Most health professionals recommend about an ounce of nuts per day for health benefits.
Avocados
Similar to nuts, avocados are relatively high in calories and fat content.  However, this doesn't mean they should be avoided when trying to get lean!  Avocados also have a high satiety level because of their fat and fiber content.  Therefore, they could help you eat less in the next meal after you eat them.
Avocados and nuts are a source of omega 3's and vitamin E which are beneficial for health and lowering inflammation in the body.
Dairy
Adding dairy to your diet may give an additional boost to weight loss, according to some research studies.  For example, a 2004 study concluded that calcium rich dairy products on a low calorie diet helped to increase fat loss in obese subjects more than a lower calcium diet. (See also: Is dairy good for you)
Other research studies have shown similar results; when dairy products are added to weight loss regiments study participants lose more weight.  Dairy products are high in calcium and protein, and it may be from these 2 nutrients the reason for the additional benefit in weight loss.
Dairy products could include milk, yogurt, cottage cheese or regular cheese.  The 2004 study had participants eat 3 servings of dairy per day.
Fish
Fish is a low calorie, high protein food source.  Because of this, fish is a common go to food for people trying to build and keep lean mass.  High protein foods are high in satiety, so eating fish could also help regulate appetite.
Eat a variety of fish to lower risk for mercury contamination, and try to eat wild caught fish for the highest levels of omega 3 fats. See also: Best Fish for weight loss
Vegetables
Besides the fact that vegetables are low in calories and high in fiber, they are also beneficial for getting lean because they are a rich source of vitamins and minerals needed for muscle growth and metabolism.  The key for vegetable intake is try to get as many as you can and as many different colors per day as you can.
Vegetables are full if fiber and water meaning they also will help keep you satisfied longer.  By combining protein and fiber, you can help maximize controlling your appetite levels without depriving your body of key nutrients.  Try to get extra servings of vegetables by adding some in breakfast and munching on them for snacks.
Green Tea
Many research studies have indicated there is a relationship between tea and weight, especially green tea.  A 2009 meta-analysis concluded that the combination of caffeine, catechins and a compound ECGC all found in green tea can have a small beneficial effect on weight loss and weight maintenance.
Green tea is also known to be high in antioxidants which can help protect the body from cancer cell formation and cell damage.
Keep in mind that high amounts of green tea also mean high amounts of caffeine, which can have some negative health effects.  Also, research thus far shows the association between green tea intake and weight loss is marginal, meaning just because you drink green tea doesn't mean you will automatically drop 10 pounds.
Conclusion
There are many foods that can help you get lean, the key is variety and balance.  Healthy fats from foods like nuts and avocados can help with weight maintenance and appetite because they are high in satiety.  Protein foods can help keep lean muscle mass, and fish especially is a concentrated source of protein while being low in calories.
Vegetables are an important source of vitamins, minerals and fiber and can also help fill you up without packing on excess calories.  Choose a variety of vegetables that are different colors to get the maximum health benefit.  Some research has indicated there could be a small positive effect of green tea on weight loss and weight maintenance.  Therefore, drinking green tea on top of eating a healthy diet and exercising could assist with getting lean.
References used in this article