There are three primary types of fat (specifically triglycerides) found in food: saturated, monounsaturated and polyunsaturated fats.  The names of these different types of fats refer to the chemical structure of the fatty acid and amount of hydrogens on the carbon bonds.
What is saturated fat?
Here are some unique characteristics of saturated fats and what separates them from other types of fats.
Fats are essentially named after their chemical structure and the bonds between the carbon atoms.  The name saturated fat means the carbons in the fatty acids have all their chemical bonds filled with hydrogen; they are saturated with hydrogen.
Monounsaturated fats have one carbon in their structure that has a double bond to another carbon.  Not all their bonds have hydrogens.  Polyunsaturated fats have more than one double bonds between their carbons.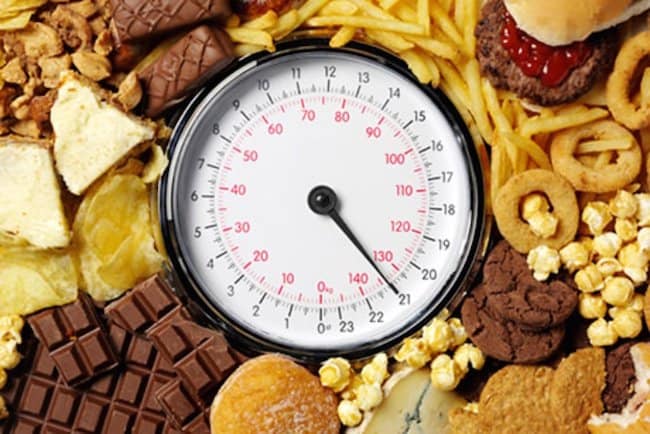 The degree of hydrogen saturation on the carbons in fatty acids determines their name and physical characteristics.
Where are saturated fats found?
Saturated fats differ from mono or poly unsaturated fats in that they are solid at room temperature.  Mono and poly fats are liquid at room temperature like the consistency of oil.
All foods contain some traces of fat, even most vegetables.  Foods have a mix of saturated, poly and monounsaturated fats. Foods high in saturated fats include coconut oil, butter, palm oil and the white fat found around cuts of meat.
Examples of foods rich in saturated fats include meats, chocolate, baked goods and coconuts.  Foods high in mono or polyunsaturated fats include oils, avocados, nuts and fatty fish.
See also:
Saturated fats and heart health
According to the American Heart Association, saturated fats can increase cholesterol levels and increase risk for heart disease.  To decrease risk for heart disease, standard advice is to lower saturated fat intake.  However, some current research concludes saturated fats may not have as adverse effects of heart health as previously thought.
A 2010 review article from The American Journal of Clinical Nutrition concluded that there was not significant evidence for associating saturated fat intake with heart disease risk.  This review analyzed over twenty previous research studies with saturated fat intake and heart disease.
A 2013 article from Advances in Nutrition also suggests saturated fat intake and heart disease risk may not be negatively associated as before.  Researchers concluded more research needs to be done regarding saturated fat intake and the effects on heart health.
Research suggests polyunsaturated and monounsaturated fats have positive effects on heart health.  Therefore, replacing saturated fats with poly or monounsaturated fats may be recommended for lowering heart disease risk until further research clarifies saturated fats and heart health.
Even though recent research suggests saturated fats may not have as negative effect on heart health as previously thought, replacing most saturated fat with mono/polyunsaturated fats is still recommended.
Differences in saturated fats
According to Harvard Health, there are different types of saturated fat, and they may not all have the same effect on the body.  For example, saturated fats from chocolate and coconut oil may not have the same effect on heart health like saturated fat from dairy or animal products.
Stearic acid found in chocolate does not impact cholesterol levels like other saturated fats might.  Once metabolized, this saturated fat is converted in the body to oleic acid, which is a monounsaturated fat.
How much saturated fat?
Limiting saturated fat intake is still recommended, but the amount of total fat in the diet can be up to around 30-35% of calories.  Saturated fat should be limited to less than 7% according to the American Heart Association.
Choose saturated fats that have been shown in research to have a neutral effect on heart health like the ones on chocolate or coconut oil.
Even though recent research suggests saturated fat may not be as harmful to heart health as once thought, most scientists caution to still limit saturated fat until more conclusions are known about the relationship between foods high in saturated fat and heart health.
Replacing saturated fat with unsaturated fats can have positive health benefits.
Examples of replacing saturated fats with unsaturated fats include:
replace butter with avocado or olive oil
trim meat of excess fat before cooking
replace shortening or lard in baking with coconut oil
If you are unsure of how much saturated fat you are getting in your diet, talk to a health professional.  If you have questions related to your heart health and fat intake, follow recommendations from your physician.
People who have a history of or at an increased risk may want to further reduce their intake of saturated fats.
Conclusion
Saturated fats mean their carbons in the chemical structure have all the bonds filled with hydrogens.  This is how saturated fats differ from other unsaturated fats.  Replacing foods high in saturated fats with unsaturated fats is beneficial for heart health.
References used in this article