According to data from the CDC (1), about ¾ of American adults don't meet the daily recommended fruit intake.  Many health campaigns are focused on getting Americans to eat more fruits and vegetables in their diet because eating a diet high in fruits and vegetables has been associated with lowering risk for heart disease, stroke, certain cancers.
Eating fruits and vegetables can also be helpful for weight maintenance when they are eaten in place of higher calorie foods.
Fruits are a good source of fiber, antioxidants, vitamins and minerals.
The Dietary Guidelines have highlighted certain nutrients of concern for Americans that include: fiber, potassium, calcium and vitamin D (2).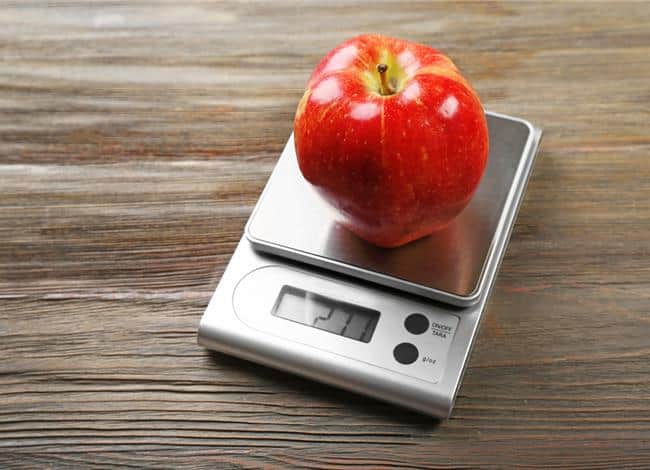 These nutrients of concern are nutrients Americans typically do not get enough of.
Eating more fruit can help reach recommended intakes of fiber and potassium along with providing antioxidants that can protect body cells from damage.
Eating foods high in fiber, like fruit, can help you feel full after eating and help steady the release of glucose into the blood stream.
These can be beneficial for weight loss, and eating fruit can also provide a source of potassium which may help lower blood pressure.
Therefore, eating fruit for weight loss shouldn't be feared.
Some programs encourage cutting out fruit for weight loss, but actually eating at least the recommended intake for fruit can have many health benefits.
Recommended fruit intake
How much fruit should you eat?  According to the USDA, adult women over 30 years old should get 1.5 cups of fruit per day, and adult men should get 2 cups of fruit per day.
Most Americans do not reach this recommended intake, so starting at this amount for a goal for fruit per day is a good place to start whether you're trying to lose weight or not.
At meal times, half your plate should be fruits and vegetables.
Adding fruit at meal times can help boost your intake of potassium, fiber and antioxidants plus add some beautiful color to your plate.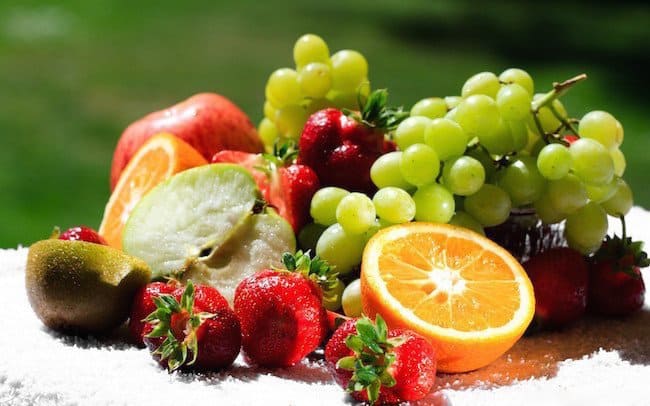 Having fruit as a dessert or on top of salads are easy ways to get more fruit at meal times.
Eating more than the recommended 1.5-2 cups per day of fruit can be a positive thing for health and weight loss.
However, keep in mind going to the other extreme and eating mostly fruit is not a balanced diet either.
Fruit should part of a balanced diet with a variety of foods including: lean proteins, heart healthy fats, vegetables, whole grains and legumes.
Watch hidden sources of sugar
Fruits are sometimes shied away from because they are a natural source of sugar.
However, because fruit has fiber and many other nutrients, the sugar from fruit shouldn't be feared.
Something to note about fruit is they are not all processed equally.
If you are eating canned fruit, they can be packed in light syrup or fruit juice.
Even though the fruit juice is natural, it is still adding extra sugar to the fruit.
Therefore, if you eat canned fruit, drain it before eating it to cut down on the added sugar content.
Dried fruit can also count towards your recommended fruit intake.
The serving size with dried fruit is usually smaller because dried fruit is concentrated.
Sometimes sugar may be added to dried fruit as well.  Therefore, if you eat dried fruit watch out for added sugar content.
Other healthy sounding foods like: fruit parfaits, fruit flavored yogurt or fruit flavored oatmeal can be high in added sugar.
Stick with getting your fruit intake from real fruit, not fruit flavored foods.
Limit fruit juice
One hundred percent fruit juice technically counts towards your recommended fruit intake.
However, health experts recommend choosing real fruit over fruit juice because the way the body handles juice is different than real fruit.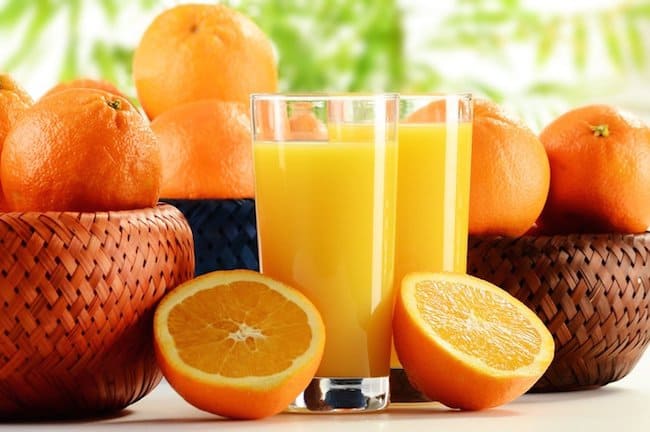 Juice doesn't have fiber to slow the absorption of glucose into the blood stream like fruit does.
Foods or beverages made with fruit juices can be high in calories and sugar content.
For example, commercially made smoothies may rely primarily on fruit juice instead of using real fruit juice.
The consequence is some smoothies are high in calories and may provide as much sugar as a soda.
Fruit and risk for type 2 diabetes
Consuming sweet beverages, even if it's juice, may increase risk for type 2 diabetes.
However, eating fruit does not increase risk but instead can lower risk for type 2 diabetes.
This was the conclusion of a 2008 study (3) looking at data from over 70,000 female nurses.
Researchers found consumption of green leafy vegetables and fruits were associated with a lowered risk of type 2 diabetes, but consuming fruit juice was associated with an increased risk for type 2 diabetes.
This study, and others, suggests adding fruits and vegetables to your diet do not increase risk for type 2 diabetes and may have some benefit for weight regulation.
If you already have pre-diabetes, type 2 diabetes, take insulin or have another medical condition your medical team may advise you to for a fruit intake that is different than the general recommendation.
If you have questions related to your blood sugar level, health condition and fruit intake, speak with your doctor.
Which fruits are best to eat?
The best fruits to eat are the ones that you will actually eat.
There is no one superior fruit; all fruits have health benefits.  As mentioned above, keep your fruit intake to pure fruit instead of processed fruit that has added sugar as much as possible.
Eating a variety of colors of fruits is important to get multiple sources of antioxidants.
However, the most important thing is in general eating more fruits and vegetables.
A 2015 study (4) suggests quantity is more important than variety of fruits and vegetables for lowering risk for cardiovascular disease.