Salad can be an extremely healthy choice especially during weight loss. However, sometimes salads can be high in calories, fat and low in nutrient density. At some restaurants, don't assume the salad is the healthiest thing on the menu; sometimes they are higher in calories than other entrees.
When looking for a healthy salad option, avoid cream based dressings, using a lot of cheese and croutons. Eat salads that have a variety of colors, textures and provide carbohydrate, healthy fats and lean proteins.
Also, make sure to use vibrant colored greens as a base for a salad instead of iceberg lettuce for a higher nutritional option.
Avocado
Unlike most fruits, avocados are high in fat. However, the fat they contain is monounsaturated fat, which is heart healthy.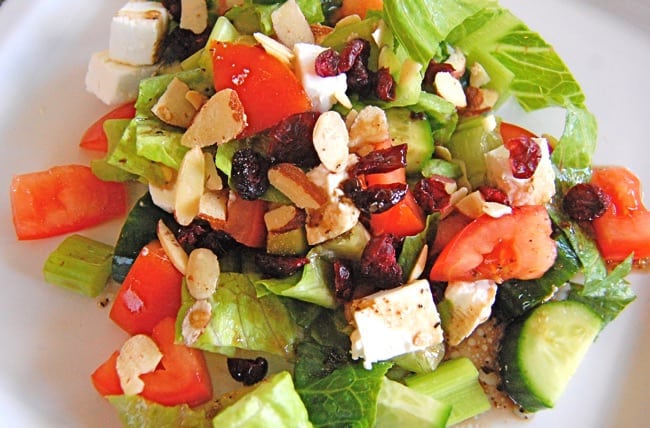 Adding avocados to salads can make them more satisfying and give you a healthy boost of vitamin E, monounsaturated fat and omega 3 fatty acids.
Don't be afraid to have dietary fat during weight loss; some fat is beneficial especially if it is from monounsaturated fats.
Nuts
Similar to avocados, nuts are very high in monounsaturated fats. Nuts are high in calories, but maybe surprisingly they don't have a negative effect on weight loss according to a 2008 review article on nut intake and weight loss.
One reason may be that because nuts are so satisfying, they may curb food intake after eating them.
Roasting nuts can add a rich flavor on salads. Vary the kinds you try: almonds, peanuts, pistachios, cashews, pecans or macadamia nuts can all add a slightly different flavor and texture on salads.
Lean proteins
Sometimes salads get a bad rap for not being filling. If you eat a salad that doesn't fill you up, you may be tempted to eat again soon which isn't helpful during weight loss.
If a salad is only made of vegetables, it won't be near as filling as if it had some protein on it.
Protein offers the highest satiety rating, meaning it tends to keep us feeling full the longest compared to carbohydrates and fat.
Choosing lean options can be beneficial for weight loss and could include white meat poultry, eggs, legumes, seafood, tofu or lean red meat. With a combination of protein and fiber from the produce in the salad, it can add up to a satisfying meal.
Fruit
Adding fruits can add color, natural sweetness, antioxidants and a boost of vitamin C. Try to contrast colors and textures for a nutrient packed salad that is also delicious.
Fresh berries can go well when they are in season, and dried berries can be just as good any time of year.
Sliced apples or pears can add some acidity and texture especially when there is cheese on a salad.
If you want to go more citrus, oranges or pineapple can add sweetness and pear nicely on a salad.
During the winter, adding pomegranate seeds on a salad can also add a healthy sweet crunch to a salad with a burst of antioxidants.
Different colored vegetables
Incorporating a variety of vegetables in a salad no brainer to make it healthy, but the challenge is in using a variety and not getting stuck in a rut. Try to have as many colors from the rainbow on your salad as possible for the highest amount of nutrients.
The higher the volume the better. Vegetables take a long time to chew and are rich in fiber. Like protein, fiber is naturally filling and satisfying.
Bell peppers, tomatoes, olives, carrots, cucumbers and carrots are common salad toppings that may come immediately to your mind.
For something different, roast beets, winter squashes or sweet potatoes to put on a salad or mix up the leafy greens you use as a base. Any vegetable you like has health benefits, but try experimenting with different vegetables you usually don't try.
Adding fresh herbs to a salad is another way to bump up the nutrients and flavor in a healthy way.
Olive oil based dressing
For the healthiest option, avoid cream based dressings and use extra virgin olive oil based dressings. Other oils high in monounsaturated fats can be an equally healthy choice, but try to not always use store brands that have soybean oil as the first ingredient.
Soybean oil isn't as high in omega 3's as olive oil, and most Americans could use more omega 3's in their diet.
Especially when eating out, have your dressing on the side and dip your fork in the dressing before taking a bite.
Conclusion
Salads don't have to be boring; spice up the variety and nutrition of salads during weight loss by choosing healthy toppings such as varied nuts, fruit, different colored vegetables and lean proteins.
Avoid the cream based dressings and dumping on cheese and croutons as toppings. The more color the better!