Soybean oil is made from heating soybeans and extracting the oils. Soybean oil is a common oil used in processed foods and in food service because it is relatively cheap and has a mild flavor. Soybean oil is made up of primarily polyunsaturated fats, provide both essential fatty acids and is a source of vitamin E.
These are some reasons why soybean oil is considered healthy, but there are also considerations that could make soybean oil not the healthiest choice. Here's a closer look at the pros and cons of soybean oil.
Cooking
Soybean oil has a high smoking point meaning it can withstand high temperatures before breaking down. Because of this reason, soybean oil is a common oil to cook or bake with. Some other oils, like olive or coconut oil, cannot withstand as high temperatures and will start to breakdown. (See also: Is it safe to cook with olive oil?)
Heart health
Soybean oil is considered a polyunsaturated fat source, meaning most of the fats in soybean oil have more than one double bond. Saturated, trans, monounsaturated and polyunsaturated fats affect the human body differently. In general, trans fats are considered the worst in terms of heart health, and monounsaturated and polyunsaturated fats are considered heart healthy.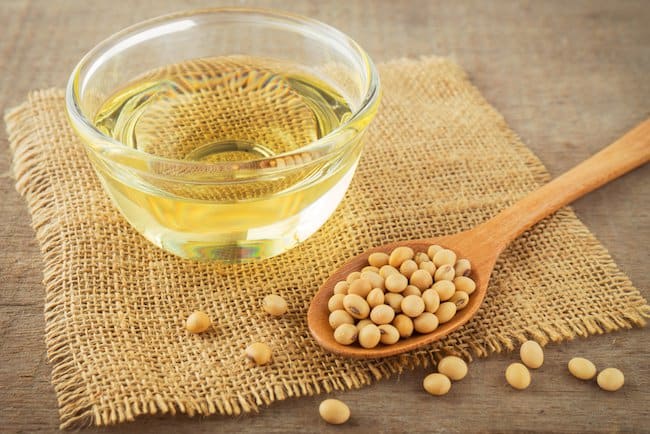 According to the American Heart Association (AHA), eating foods high in polyunsaturated fats may help lower the risk of a heart attack or stroke. All oils provide the same calorie content, and oils high in polyunsaturated fats, like soybean oil, are not considered a low calorie food. However, as part of a balanced diet they may help lower the risk of certain chronic diseases.
Cholesterol
Soybean is naturally low in saturated fat and does not have any cholesterol. Poly and monounsaturated fats can help lower blood cholesterol, specifically the "bad" low density lipoprotein (LDL). Soybean oil has compounds called plant sterols that can help lower cholesterol.
The AHA also recommends most fat choices should be mono and polyunsaturated fats for optimal heart health. Other foods high in mono and polyunsaturated fats include nuts, seeds, olive oil, canola oil, grapeseed oil, fatty fish and avocados.
Essential fatty acids and antioxidants
Soybean oil is a source for essential fatty acids, omega 6 and omega 3. These fatty acids are essential because our bodies need them, but we don't make them. Therefore, we need to get them from our food.
While soybean oil has both omega 3 and 6, it contains far more omega 6 compared to omega 3. Most Americans generally get adequate, if not too much, omega 6 fatty acid. However, getting enough omega 3's can be harder especially if someone's diet is low in fish.
There is a concern of getting too much omega 6 because omega 6 promotes blood clotting and inflammation. Since most Americans get too much omega 6, most health professionals agree that focusing on getting more omega 3's is beneficial.
Soybean oil, like other oils and fats, are also a source for vitamin E. Vitamin E acts as an antioxidant in the body protecting cells from free radical damage.
Too much?
Maybe soybean oil in moderation can be part of a healthy diet, but getting too much soybean oil could have negative health outcomes. As mentioned, because it is high in omega 6, if you primarily rely on soybean oil as your fat source, the ratio of omega 6 to omega 3 could be off. This could increase inflammation in the body and increase risk for certain chronic diseases.
Soybean oil is commonly used for packaged foods and in food service because it is cheap and neutral taste. Since most Americans get a fair amount of soybean oil from pre-made foods, when you are cooking you may want to choose a different type of oil that is higher in omega 3's.
Hydrogenation
Soybean oil is one of the most common oils that is hydrogenated. Any time an oil is hydrogenated (adding hydrogens to the fat), the oil becomes more like a solid and improves shelf life. This is good for food manufacturers, but this type of fat, now trans fat, is more harmful to humans.
If you see partially hydrogenated or fully hydrogenated soybean oil on a package, it means the soybean oil has been modified. This type of fat is not heart healthy and should be limited.
Conclusion
A diet rich in monounsaturated and polyunsaturated fats may decrease risk for heart disease and may help lower blood cholesterol. Soybean oil contains both essential fatty acids omega 3 and omega 6, but is much higher in omega 6.
Since soybean oil is used in many food products, most Americans eating a typical Western diet are at risk of getting more omega 6 compared to omega 3. This could increase inflammation in the body which can also increase risk for certain diseases.
Is soybean oil healthy? It can be. Like with anything else, it is important to remember how much you are getting and what the rest of your diet looks like. Next time you're at a store, look at the food you are buying and see how many products use soybean oil. Try to diversify your foods so you are getting a variety of different oils and fats instead of just soybean oil.
References used in this article