Oats have numerous benefits for our health, but does quick-cooking instant oatmeal have the same advantages?
Healthy properties of oats
High in fiber
Oats are a rich source of soluble dietary fiber, providing about 5g of fiber per 100g in the form of oatmeal.  They are also high in total fiber content with around 10g per 100g serve.
See also: How much fiber should we eat in a day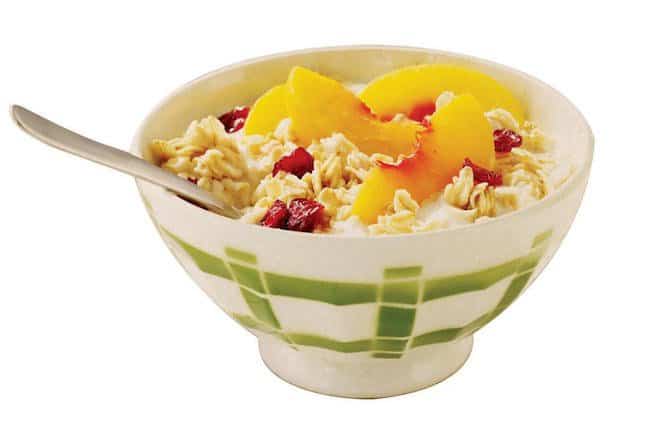 High in healthy fats
Oats are higher in fat than other types of cereals, but contain mostly heart healthy unsaturated fats.  They are rich in the essential fatty acid linoleic acid and also unique antioxidants.
Health benefits of oatmeal
Oats and oatmeal have been shown to have numerous benefits for our health including positive effects for:
Blood cholesterol
The cholesterol lowering effect of oats is well documented.  A serving of 28g of oats per day, providing 3g of beta-glucan is thought to decrease levels of bad blood cholesterol significantly.  Beta-glucan, the type of soluble fiber in oats, is thought to be the most important active component in oats when it comes to cholesterol lowering effects.
This soluble fiber forms a viscous gel which binds to bile acids and increases their excretion in feces, this means that more bile acids need to be synthesized using blood cholesterol and results in reduced blood cholesterol levels.
Other complimentary mechanisms of reducing cholesterol reduction have also been demonstrated, such as reduction in intestinal cholesterol absorption,
Obesity
Oats can have positive effects in preventing weight gain and in weight loss diets due to their high fiber intake.  A high fiber intake is consistently associated with prevention of weight gain.
Studies have also shown that oats have a high satiety index, meaning that they fill us up and keep us full for longer, which can lead to reduced calorie consumption and prevent weight gain.  Oats contain more protein than other grains, and this may also contribute to their high satiety.
Diabetes
Oats are known to have a positive effect on glucose and insulin response, thus reducing risk of diabetes.  This also makes them an ideal food for those with diabetes, in addition to their low GI, which keeps blood sugar levels more stable.
Hypertension
Numerous population studies have suggested that a high fiber intake can reduce risk of high blood pressure or decrease already high levels.  It has also been suggested that the soluble fiber found in oats might be even more effective than other types.
As yet, the mechanism by which oats can help to reduce blood pressure is unclear and more research is required.
Other benefits
Oats are good sources of B vitamins required for energy metabolism in the body and may also play a role in a healthy digestive system due to the insoluble fiber that they contain.
Oat consumption has also been linked to improved performance in sports and reduced risk of cancer due to their phytochemical content.
Instant Vs. Traditional Oatmeal
So we know that oats and oatmeal are a healthy option and make a valuable contribution to a healthy diet, but are any of these health benefits lost if you choose instant quick-cook oatmeal over traditional varieties that are less convenient and slower cooking?
The main difference between instant and traditional oatmeal is the amount of processing, with instant oatmeal being more processed in order to reduce cooking time.  In terms of health benefits, this does not have too much effect and instant oatmeal is almost as healthy as traditional, except when it comes to glycemic index or GI.
As is more processed, instant oatmeal has a higher GI than traditional versions.  This means that is does not keep blood sugars at a stable level for so long and produces a larger and sharper increase in blood glucose.
This may mean that some of the benefits in terms of glucose response and satiety are reduced.  If time is an issue, and instant oatmeal is more convenient, you can decrease the GI of the meal by adding some low GI carbohydrate, or a source of fat or protein that will slow down absorption of the carbohydrates and therefore keep blood sugars more stable.  Low fat milk, yogurt or nuts make an ideal addition.
In terms of health, it is also important to choose an instant oatmeal without additions of sugar or flavors as these often add calorie, fat and increase the GI.  For a healthier option, buy natural oatmeal and flavor it yourself with fruit, a little honey or spices such as cinnamon, nutmeg or vanilla.
References used in this article