Here are some of my favorite low sugar breakfast ideas. They will nourish you and get you going all morning long. I promise you no harsh energy crash that you might experience after indulging in one of these fancy boxed cereals that are loaded with sugar. Happy breakfast.
Protein shake with chia seeds
This is for you – the "non-having-breakfaster". All it requires is your attention for 5 minutes and some sort of a blender, and of course the ingredients. This shake will make your day so much better.
Chia seeds are easy to digest and a great source of Omega-3's and fiber. These seeds will keep your energy levels up (according to the natives of Central America and Mexico). Always mix them with liquid otherwise you will spend 5 more minutes picking these sticky little critters from your teeth.
Bee pollen is an energy enhancer as well. They are rich in B-vitamins and help you in fighting off fatigue. Besides that they contain other healthful vitamins, minerals, protein and enzymes that help with digestion. If you've never had bee pollen and are allergic to pollen you might want to skip this ingredient.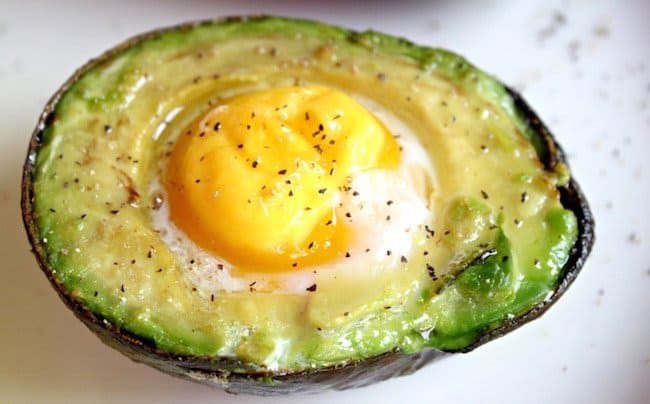 ½ cup nut milk
1 tbsp. chia seeds
1 tbsp. coconut oil, melted
1 serving of protein powder
¼ cup rolled oats, soaked over night
Bee pollen
Combine all ingredients in blender and blend. Add more milk or water to your liking. If you want some extra nutrients, add some greens powder with spirulina, wheatgrass, alfalfa or steam some kale or spinach the night before and put it in there.
Zucchini Pancakes
Don't judge just yet. These are actually super delicious. You and your kids will say where have these been all my life. The zucchini gives the pancakes a green nutritional boost. Zucchini are low in calories and provide vitamin C. It's a great way to introduce kids to a new vegetable. Coconut sugar is low glycemic.
1 cups grated zucchini
4 large eggs, separated
¼ cup full fat coconut milk
Pinch of sea salt
1 cup almond meal
½ tsp. baking powder
Unsalted butter
Grate zucchini, place in colander, sprinkle with sea salt and let sit for a while. In a small bowl mix almond meal with baking powder. Place egg whites in a medium bowl and beat until soft peaks forms. Mix egg yolks, milk, sea salt in a large bowl until smooth. Then add the almond meal mixture to the yolk mixture and whisk until smooth.
Stir half of the egg whites into the yolk mixture to loosen it up then fold in the rest of the egg white. Squeeze excess water from zucchini in colander. Heat the frying pan over medium heat. Add butter. Using a ¼ cup of the batter form pancakes. Sprinkle some of the zucchini on top of pancake. Let cook until lightly browned and then gently turn over.
I top mine with plain Greek yogurt flavored with vanilla extract and fresh berries. Applesauce and cinnamon is another great added-sugar-free version. Gobble down this nutritious cakes.
Avocado eggs toast
Avocados have a brilliant fat profile, an amazing vitamin diversity and are high in fiber. Eggs are super nutritious and deliver the protein of this breakfast feast. Now if you can find bread that is made from sprouted whole grain, then I guarantee you, that this is not only tasty and healthy but keeps you satisfied until lunch.
For one toast:
¼ avocado
1 boiled egg
1 slice toast
Sea salt
Toast bread to your liking. Mash avocado and spread over toast. Slice egg and place on top of avocado spread. Sprinkle with sea salt. Serve with cucumber sticks. Yummy!
Hot almond cereal
This hot porridge like recipe is not only low in sugar but also in carbs (depending on the protein powder). The texture is quite dense because it is loaded with fiber.
2 tbsp. ground flaxseeds
2 tbsp. ground almonds
1 tbsp. oat bran
1 tbsp. vanilla flavored protein powder
Cinnamon
½ cup nut milk, warm
Pinch of salt
Combine the dry ingredients in bowl and add warm nut milk and a pinch of salt. Stir, and let sit for a few minutes before eating.
Plain Greek yogurt with berries, almond slivers and cinnamon
This is a bowl of goodness. The Greek yogurt is rich in protein. Make sure you buy a plain version to curb out unnecessary added sugars. If it is a flavored yogurt and low in sugar it's probably too good to be true and sweetened with artificial sweeteners.
Anyway, raspberries, strawberries or blueberries will add a real sweet taste while also delivering powerful disease fighting antioxidants and fiber. Almond slivers supply a nice crunch plus healthy fats.
Cinnamon is not only super tasty but may lower blood sugar in people with diabetes.
½ cup plain Greek yogurt
¼ cup berries
1 tbsp. almond slivers
Cinnamon
You also could use protein rich cottage cheese here instead of the yogurt. However, cottage cheese is usually high in sodium. Maybe you can find a low-sodium cottage cheese at your supermarket.
Gluten free flax muffins
Flax is awesome! It is chock full of essential fatty acids and a great source of fiber. This breakfast option will take some preparations. But once baked these muffins sit in your fridge for 5 days happy to be eaten within 5 minutes. Drop a tablespoon of almond butter on them and sprinkle with nutritious bee pollen for some extra prettiness.
Dry ingredients:
1 cup ground flaxseeds
½ cup vanilla or chocolate protein powder
2 tsp. baking powder
2 tsp. ground cinnamon
½ tsp. salt
Wet ingredients:
1 cup almond or coconut milk
2 large eggs
¼ cup melted coconut oil or extra virgin olive oil
1 tsp. vanilla extract
¼ tsp. almond extract
1 banana, over ripe, mashed
Preheat oven to 350 Fahrenheit. Coat a 6-cup muffin tin with oil of your choice. Whisk together the dry ingredients in a medium size bowl. Whisk together the wet ingredients and pour into dry ingredients. Mix well and let sit for a minute. Then divide mixture in muffin cups. Bake for 30 minutes or until done. Let sit for a bit before removing them. Enjoy.
Happy Breakfast everyone.