We know that eating fruits and vegetables are good for us.  In fact, a diet rich in fruits and vegetables is associated with reducing risks of certain cancers and heart disease.  Salads seem like an easy, healthy choice to get vegetables, and they are usually low in calories.
However, salads don't always equate health and the lowest calorie option especially when dining out.  All salads are not created equal.  High calorie toppings and dressings can add up to more calories than it's worth.
Steer clear of these ingredients
Creamy dressings
If a salad has something like a blue cheese, ranch or Thousand Island dressing, stay away.   These dressings are often cream or mayo based and add calories without a lot of quantity.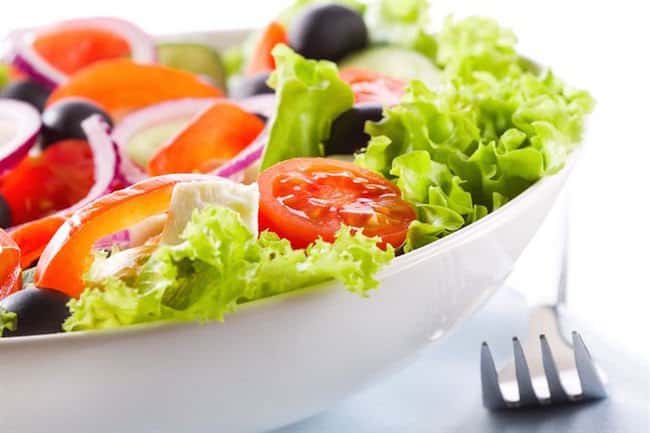 A general tip to lighten any salad dressing is to always get it on the side.  Dip your fork in the dressing then in the salad instead of pouring on the dressing.
Cheese
Some cheese on a salad can be fine, but if there is a lot of cheese it will add a lot of calories and fat.  Use cheese as a flavoring, not a main ingredient.
Fried chicken or tortilla chips
Adding anything fried to a salad can drastically increase the fat and calorie content.  Watch out for Mexican or taco salads, as they tend to be high in calories because of the taco shells.
Wendy's Spicy Chicken Caesar Salad has fried chicken, shaved cheese, croutons, tomatoes and Romaine lettuce with Caesar dressing and provides 780 calories.  That's more calories than a ¼ pound hamburger from Wendy's which has 580 calories.
The Wendy's Baja Chicken Salad with fried tortilla chips, chili, cheese, pico de gallo, guacamole and a creamy red jalapeño dressing contains 690 calories.  The combination of fried tortilla strips and a creamy dressing spells disaster.  A small chili from Wendy's has 180 calories; you could eat almost 4 small chilies for the same calories as the salad.
The fiesta chicken salad from Taco Bell has tortilla strips, chicken, rice, beans, cheese, lettuce, tomatoes, reduced fat sour cream in a taco shell.  The salad has 457 calories, which isn't that high.  However, other items on the menu are a lot lower in calories, so this "healthy" salad option is deceiving.
Look for These Ingredients
Olive oil based dressing
Olive oil is rich in heart healthy monounsaturated fats.  Although it is still a concentrated source of calories, many studies have shown that diets rich in olive oil may have health benefits.
According to a 2006 article in Public Health Nutrition, olive oil may reduce risk for coronary artery disease, is anti-inflammatory and rich in phytochemicals.  Pairing olive oil with an acidic component, like balsamic vinegar or lemon can help cut the oil.
Aim for about 2 tbsp of olive oil based dressings for a salad or just enough dressing to very lightly coat all ingredients.  Avoid dressings made with vegetable oils, as they don't have the same heart health benefits as olive oil.
Lean Protein
Instead of fried chicken, opt for grilled or roasted chicken, turkey or lean beef.  Having a protein on a salad is important for satiety.  For vegetarian option, choose tofu, nuts or beans as a protein source on a salad. (see also: how to eat more protein without meat)
If you eat a salad and are hungry soon after, you may just sabotage your effort for a low calorie meal.  Make sure the salad leaves you satisfied with high volume fruits and vegetables and lean protein instead of feeling heavy from high fat ingredients.
Variety of Color
Salads using iceberg lettuce as their main vegetable are not going to offer a lot of nutrition.  Top salads with red, orange, yellow, deep greens, purple and blue produce.  Get creative- salads are like an open canvas for color.
An example would be to pair pomegranate seeds, blueberries, walnuts, yellow bell pepper, orange grape tomatoes on top a bed of spinach with some roasted chicken breast and olive oil balsamic dressing.
According to a 2003 article from American Society for Clinical Nutrition, eating whole fruits and vegetables in various combinations could increase the health benefits of the phytochemicals.  These phytochemicals in fruits and vegetables can help reduce inflammation in the body and may help reduce risk of certain cancers.
Salads are healthy but make sure to….
Salads can be a very healthy choice for a meal, but keep in mind salad does not always mean it is healthy.  Look carefully at ingredients and steer away from creamy dressings, excessive cheese and fried toppings.
When preparing salads at home, get creative and combine different colored produce together for an added health benefit.
When ordering a salad at a restaurant, look at the nutrition facts before hand.  Ask for dressing on the side.  When getting a prepared salad, check the ingredient label.  If there are a lot of words that are hard to pronounce, you may be better off making your own salad at home.