The importance of cheese in a healthy balanced diet
Cheese is a natural, healthy food and apart from the fact that it is delicious, can also play a very important role in a healthy, balanced diet.
Cheese is important for the normal functioning of the various body organs. In addition, cheese is our valuable ally for our continuous efforts throughout our lifetime to have healthy, strong bones and teeth.
The ingredients of cheese have interesting peculiarities. The main nutrients of cheese are proteins, vitamin A, vitamin B 12, vitamin D and calcium that have multidimensional energizing effects on our body.
However, consumption of cheese should be done carefully and in moderation. Many types of cheese are rich in saturated fats, cholesterol and salt. Depending on your health condition, you can choose between various alternative cheese varieties with low fat content and salt.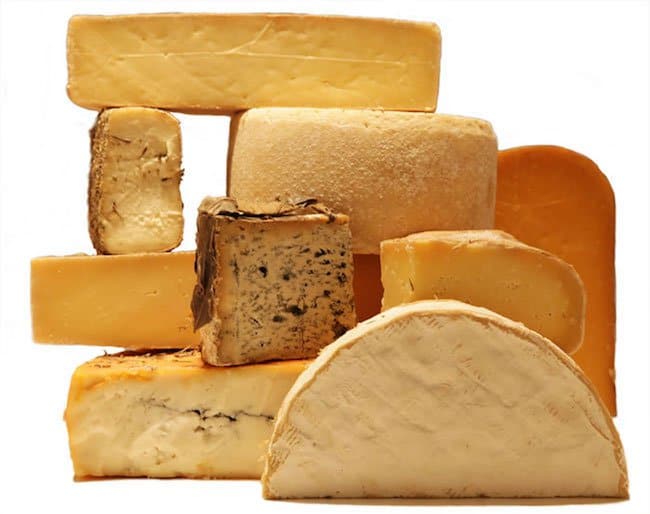 Cheese – a great source of important nutrients
Proteins
Protein is the key component responsible for the development, maintenance and operation of many body functions. Cheese contains high quality protein with amino acids essential for the human body.
Vitamin A
Vitamin A plays a vital role in vision, bone growth, maintenance of skeletal cell proliferation and creates a stronger immune system that protects us from infections, cancer or other diseases.
Vitamin B12
Vitamin B12 is essential for the health and optimal function of the nervous system, red blood cells and the synthesis of DNA.
Vitamin D
Many studies have shown that Vitamin D offers a plurality of benefits for the human body. Researches discover new benefits all the time and certainly there are even more that we will learn in the future about it.
So far we know that vitamin D is essential for calcium absorption from the intestine, the metabolism of phosphorus and calcium, and for the formation and maintenance of bones. Recent studies also highlight the beneficial effects of vitamin D on cancer, the immune system and the cardiovascular system.
Calcium
Cheese is a rich source of calcium, which is necessary for many body functions. In all phases of our life we need to consume calcium on a daily basis and in sufficient quantities otherwise the consequences can be dangerous and unpredictable for our health.
In children and adolescents, intake of calcium in the quantities they need each day is crucial. They are in an important phase of their life characterized by rapid growth and bone formation. If they don't consume the recommended quantities of calcium, phosphorus and vitamin D, the impact can be serious and will affect their health throughout their life.
How much is too much?
If you eat cheese every day, as a snack or as part of one of your meals, you can cover the daily needs of your body in calcium (1000mg based on a 2000 calorie diet). The different kinds of cheeses generally contain plenty of calcium and eating even small amounts is enough to provide you with the recommended daily intake. For example 100g of parmesan cheese contains 1367mg of calcium. You can use our food journal to find out the calcium contents of each type of cheese.
Eat cheese at the end of each meal and protect your teeth
The fact that cheese is essential for the formation, maintenance and protection of our teeth is widely known. However in 1999, a panel of experts from the British Nutrition Foundation (Task Force, British Nutrition Foundation), examined in a special survey (Oral Health: Diet and Other Factors), the multidimensional effects of cheese on dental health.
The British independent experts found among other things that when people finish a meal with cheese, can help prevent tooth decay. In other words eating cheese at the end of the meal may be able to protect the teeth from germs, attenuation and distortion.
The study also examined the reasons why cheese can have such beneficial effects on teeth. Originally cheese appears to increase the amount of saliva in the mouth which helps to neutralize and get rid of acids.
Also due to the plethora of calcium and phosphorus, cheese prevents the bacteria from converting sugars to harmful acids that attack and gradually destroy the enamel.
For these reasons, eating cheese at the end of the meal, protects and strengthens the teeth.
Cheese and osteoporosis
Cheese in addition to other benefits, also plays an important role for the treatment of osteoporosis. Osteoporosis is the plague of our times and a source of many health problems not only for women but also men, and a large percentage of the elderly.
Prevention of osteoporosis should begin from childhood. Regular physical exercise and a constant supply of the human body with adequate amounts of calcium and phosphorus are essential in children and adolescents if we want to protect them throughout their lives from osteoporosis.
Osteoporosis weakens bones and makes them fragile, that's why fractures are very common in patients with osteoporosis. The cost to the patient, the family and society is enormous.
The consumption of cheese on a daily basis provides the bones with valuable calcium necessary for their protection and prevention of osteoporosis.
What is your "cheese type"?
So we see that apart from its unique taste that enriches our culinary delights, cheese is a powerful ally against many diseases. There is a wide variety of cheeses to choose from, even for people who need cheese that is low in saturated fat, cholesterol and salt.
So with the right knowledge and the right choices, we can eat cheese on a daily basis and still enjoy a healthy diet. Cheese is able to offer a lot in our efforts to prevent and treat many enemies who try to fight our health.