Eating a late night snack doesn't necessarily mean it will cause weight gain, but some research suggests those who usually consume more calories at night have a higher risk for being overweight or obese.  The problem is when people reach for food at night, it usually isn't healthy foods and can be in large portions.
A 2007 study (1) looked at the eating habits of 180 obese participants.
Researchers found eating the majority of calories at night was positively associated with having a higher body mass index (BMI).
A 2008 study (2) found night time eating was a predictor of weight gain in Pima Indian and Caucasian study participants.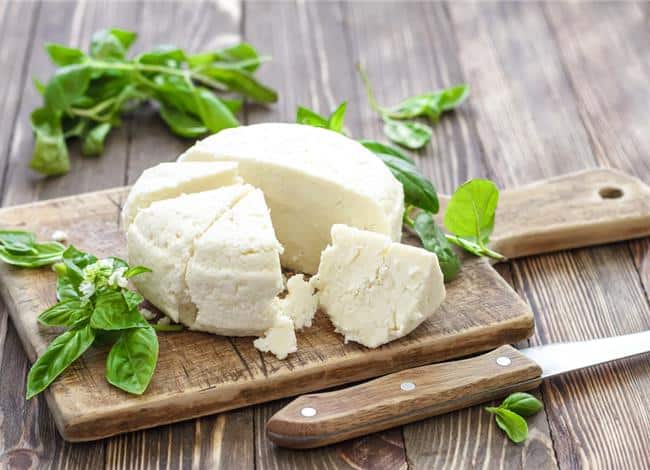 These and other studies suggest eating the majority of your calories at night can increase risk for weight gain.
Does this mean anything eaten after dinner will make you gain weight? 
Not necessarily.  If you are hungry before bedtime, it's fine to have a small bedtime snack if you keep it to a small portion.
Also, avoid refined carbohydrates like sweets, sugary drinks, white, processed carbohydrates as these can affect blood sugar levels, fat storage and disturb sleep patterns.
Keep late night snacks to small servings and eat the majority of your calories earlier in the day.
In general, eating a small snack that provides some protein and fiber can help keep you feeling full at night without spiking blood sugar levels.
Overall calorie intake throughout the day is the bigger picture for weight regulation.
#1 – An ounce of cheese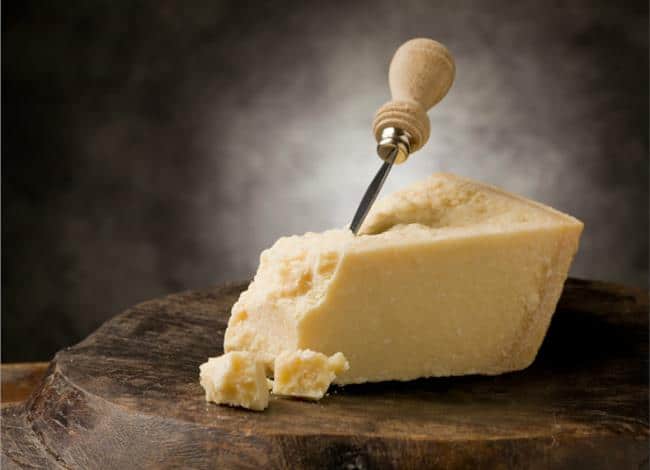 Cheese is a source of calcium and protein.  The protein from cheese can help keep you feeling full without spiking blood sugar levels.
The amino acid tryptophan is also found in cheese and other dairy products.  Tryptophan is a precursor for the neurotransmitter serotonin, and serotonin is a precursor for melatonin.
Melatonin is needed to regulate proper sleep and wake cycles.
Need another reason to have cheese as a late night snack? 
According to Berkeley Wellness (3), eating cheese may not increase risk for weight gain according to some research studies.
Keep the portion of cheese reasonable to an ounce or less.  Think of the size as about the size of your thumb or a pair of dice.
Pair with some fruit or veggies to get even more vitamins, minerals, antioxidants and a source of fiber.
#2 – Whole grain cereal and some milk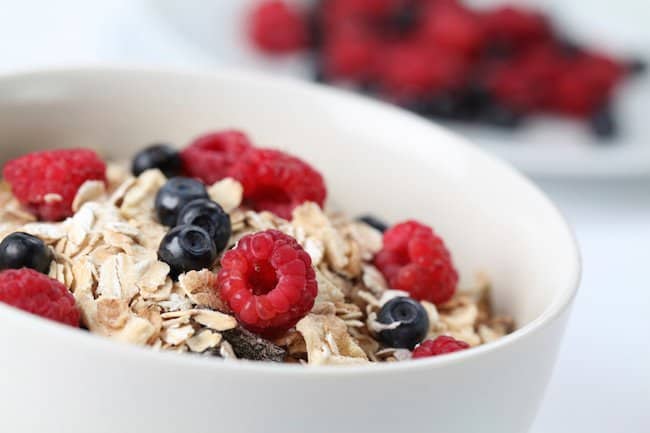 Eating a bowl or two of sugary cereal has a much different effect on the body compared to eating a small portion of whole grain cereal as a late night snack.
Sugary cereal can send blood sugar levels through the roof which promotes the secretion of insulin.  A large secretion of insulin can promote fat storage.
A serving of whole grain cereal provides many vitamins, minerals and fiber.  Adding dairy or soy milk to cereal also provides more protein, calcium and also a source of tryptophan.
For the healthiest option, make sure to choose a cereal that doesn't have added sugar.
#3 – Banana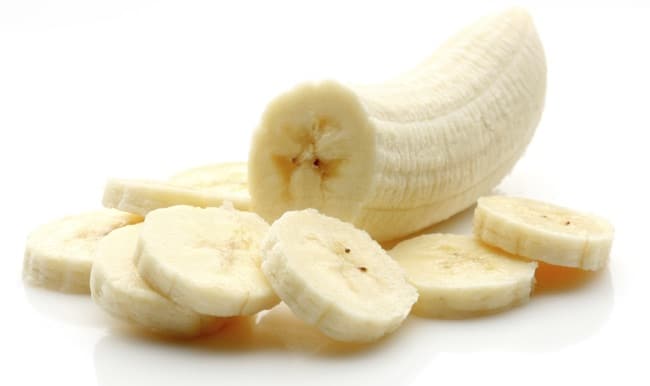 Eating a banana as a late night snack is a low energy source of fiber, potassium and magnesium.
Both potassium and magnesium have a role in nerve and muscle signaling.  They also help balance fluid in the body.
Eating a banana can give an extra source of these two minerals that most American adults are actually not getting enough of.
Bananas are a source of natural sugars, but they also provide fiber which can help keep blood sugar levels balanced.
If you want a more filling snack than just a banana, pair it with a tablespoon or two of nut butter.  This will add some heart healthy fats and a source of protein.
Bananas are also a natural source of tryptophan.  The carbohydrates in bananas could make the amino acid tryptophan more accessible to get to the brain to eventually turn into serotonin and melatonin (4).
#4 – Apple with nut butter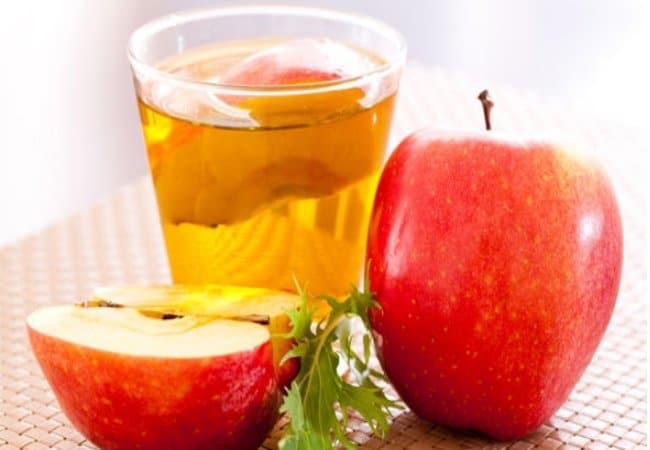 According to a January 2016 Medical News Today article (5), apples may be one of the healthiest foods to include in your diet.
An average apple provides about 20% Daily Value of fiber along with vitamin C, B6 and many antioxidants.
The antioxidants from apples may even help protect neuron cells in the brain against dementia and may help lower risk of stroke.
Because apples are so high in fiber, they can keep you feeling full after eating them.  Pairing an apple with nut butter provides more protein to also increase satiety.
#5 – A few pieces of chicken or turkey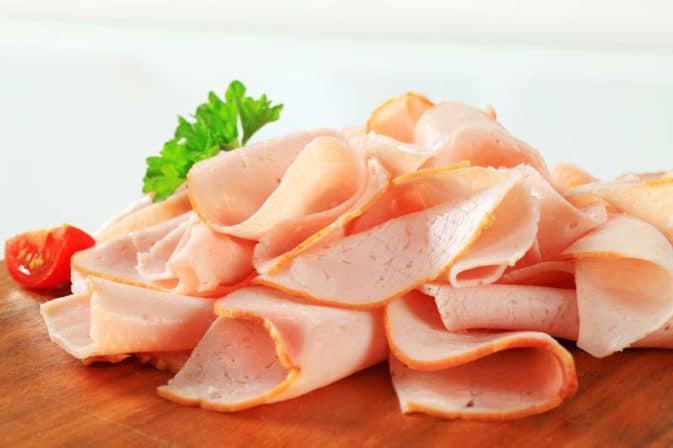 Poultry is a rich source of the amino acid tryptophan.  Eating a few pieces of lean turkey or chicken provides a snack high in protein, tryptophan, iron, zinc, phosphorus, potassium and B vitamins (6).
If eating a few pieces of poultry isn't your idea of a late night snack, jazz it up by wrapping the meat around some fresh basil leaves, cherry tomatoes and/or some honey mustard.
A vegetarian alternative could be a Caprese inspired snack: a small piece of mozzarella, basil leaves, tomato and a drizzle of balsamic vinegar.
#6 – Greek yogurt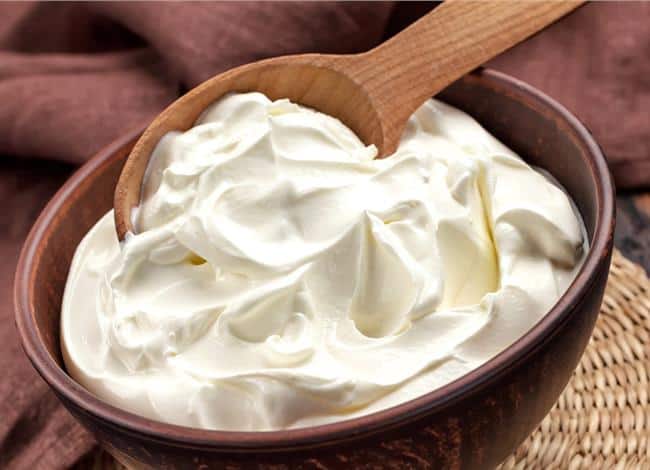 Plain Greek yogurt is high in protein and tryptophan.  Pairing Greek yogurt with some fruit can make for a healthy, satisfying late night snack.
Make sure you choose plain varieties, as sweetened yogurts are high in sugar.  Sweeten your own yogurt with a drizzle of honey or with some dried or fresh fruit.
#7 – Hard boiled egg and whole grain cracker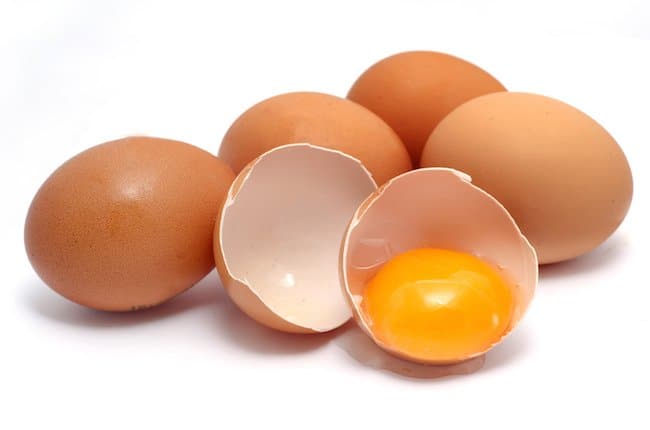 Keeping some hard boiled eggs in your refrigerator can give you a quick, satisfying late night snack.
One egg provides about 7 grams of protein, a source of vitamins A and D.
Pairing with a few whole grain crackers can provide some fiber.  Top with your favorite veggies to up the fiber and antioxidant value.
#8 – Pumpkin seeds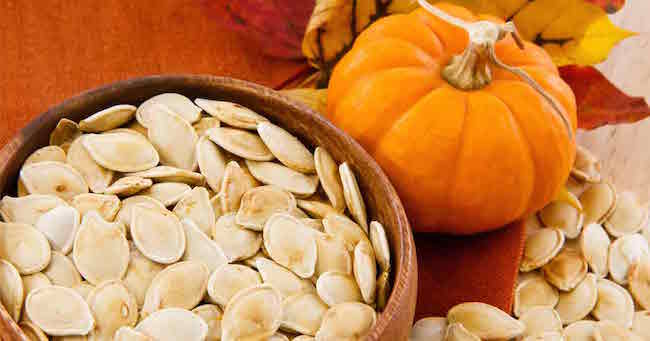 Pumpkin seeds not only provide protein and heart healthy fats, they are a good source of tryptophan.
An ounce of pumpkin seeds provides about 20% DV for fiber and 18% DV for magnesium.
Pairing a banana with some pumpkin seeds can be a good boost for magnesium, fiber and tryptophan.