Black rice has been an elegant food for centuries; it was used for only serving royalty in ancient Chinese culture.  Nowadays, this rarer breed of rice is becoming more popular for anyone to try.  Black rice gets its color from being high in the compound called anthocyanins.  Anthocyanins are the same compounds that give purple and blue hue to blueberries, grapes, blackberries or acai berries.
Many research studies have shown getting anthocyanins from the diet can have health benefits, as anthocyanins are a rich source of antioxidants.
Brown rice is known for being higher in antioxidants, fiber and other nutrients compared to white rice.
Black rice has many health benefits as well even though it is still not as easy to find.  If you are looking for an alternative to plain rice or want to add some healthy variety for a grain option, adding black rice can be a source for many beneficial nutrients.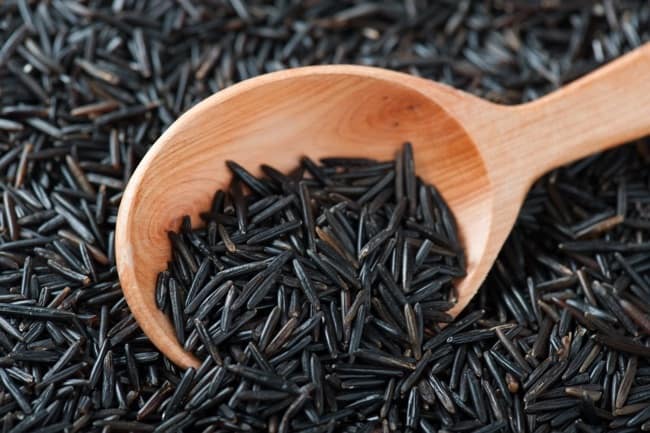 Health benefits of anthocyanins
There are more than 600 types of anthocyanins found in foods.  Anthocyanins give the deep blue/purple/red color to many fruits, vegetables and black rice.
Anthocyanins have been shown in many research studies to have anti-inflammatory, protect against cancer, diabetes, obesity and heart disease (1).
One study (2) found the anthocyanins from black rice protected cells from damage from reactive oxygen species (ROS).  ROS can cause damage to cells in the body, so protecting against ROS can have many benefits.
According to a 2010 CNN article (3), about 10 spoonful's of cooked black rice contains the amount of anthocyanins from a spoonful of fresh blueberries.
Health benefits of black rice bran
Most of the anthocyanins in black rice are contained in the bran layer.  Eating black rice is an obvious way to get this rich source of anthocyanins, but researchers also suggest (4) using the black rice bran could be a cheap way to increase antioxidant intake.
In the near future, food manufacturers could add black rice bran to foods to increase the nutritional value, or you could simply sprinkle black rice bran yourself onto certain foods.  A bonus of using black rice bran is the bran layer is also rich in the antioxidant vitamin E.
If you buy plain black rice, you can put the dried rice in a coffee grinder to get a powder form.  You can sprinkle that powder onto various foods, like on proteins, for an added antioxidant boost.
Black rice bran could be used as an alternative for food coloring, as it has a natural dark pigment.
A consideration to keep in mind is even if you start eating black rice or use black rice bran, it is not a substitute for eating a diet high in fruits and vegetables.
Researchers stress the importance of getting a variety of antioxidants from different food sources for the biggest health benefit.
High nutrient content
Black rice is not only high in antioxidants, it is also a source of many vitamins and minerals.  Whole grain black rice is a good source (5) of minerals magnesium and manganese.
Getting enough magnesium can be hard for people following a traditional Western style diet, and getting enough magnesium can help lower blood pressure levels.
Black rice is higher in protein, iron and fiber compared to brown or white rice (6).  Therefore, it can be a healthier alternative compared to especially white rice.
What may be a drawback for some people is the taste or texture of black rice.  Similar to brown rice, it can seem chewier with an earthier flavor compared to white rice.
However, the nutritional benefits outweigh any texture differences, so you should at least try black rice if you can find it at a store near you.
Where can you find it?
With the demand for black rice growing in the US and other parts of the world, black rice is becoming more available.  Most specialty or health food grocery stores carry black rice.  If black rice continues to grow in popularity, more chain grocery stores may carry it.
Black rice is still grown in parts of Asia, but is not wide spread.  If you are concerned about arsenic levels in rice, eat rice with a variety of other grains.
Some experts suggest getting organically grown rice can lower risk for arsenic levels in rice, and there are companies that source black rice from organic farms.
How can you eat it?
Black rice can be used in place of white rice, just keep in mind it might have a chewier texture.
Black rice bran can also be used to sprinkle onto foods, and you could make your own by grinding up black rice in a coffee grinder.  This powder could be sprinkled on salads, oatmeal, stir fries, etc.
Adding black rice to salads can add texture, or you could try incorporating black rice sweets like rice pudding.
Keep in mind if you don't want to eat all black rice, you can mix it with white or brown rice.
Conclusion
Black rice, which has been grown for centuries in ancient Asia, has been used as a food for royalty.  While it is still fairly rare to find, researchers have found black rice is a concentrated source of the antioxidant anthocyanins.
Anthocyanins can protect cells from damage from free radicals and can protect against certain cancers and heart disease.
Because of this, black rice can be a healthy substitution for other grains like white rice or white pasta.  While black rice is a concentrated source of antioxidants, health experts are quick to point out it shouldn't be a substitute for eating a variety of grains, fruits and vegetables.
Even though black rice is high in anthocyanins, other foods are also a rich source, and other fruits and vegetables provide different antioxidants.