The Paleo Diet is based on the premise that human ancestors adapted on a diet much different than the typical modern Western diet full of processed foods.  The Paleo Diet is based on what previous hunter gatherers diet looked like with a diet higher in protein, lower carbohydrate and glycemic index, higher fiber and potassium intake and moderate fat intake.
The Paleo Diet is based on meats, sea food, fruits, vegetables, healthy oils (olive, macadamia, walnut flaxseed, avocado and coconut) and eggs.  The Paleo Diet eliminates grains, dairy, legumes, potatoes, processed oils, processed foods and refined carbohydrates.
The Paleo Diet advocates a protein intake around 19-35% of total calories, while a typical Western diet provides about 15% of calories from protein.  The Paleo Diet advocates 35-45% of calories from carbohydrates.  The carbohydrates are non-starchy fruits and vegetables and no grains.  Fat intake focuses on monounsaturated fats, omega 3's and limiting trans fats and omega 6 fatty acids.
Health Benefits
A diet high in fruits and vegetables, like the Paleo Diet recommends, has many health benefits.  Eating a lot of fruits and vegetables will provide high amounts of vitamins, minerals, fiber and antioxidants that may be lacking from a typical Western diet.  A Paleo Diet is rich in omega 3's as well which can help lower inflammation.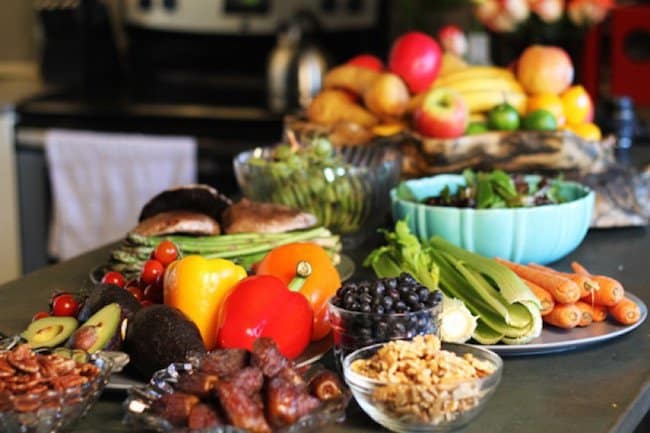 The biggest health benefit promoted by the Paleo Diet is cutting out processed foods.  Processed foods are often high in refined carbohydrates, excess sugar, sodium, preservatives and artificial ingredients.  By eliminating these foods, anyone can have a healthier diet.
Eating whole, unprocessed foods and a high amount of fruits and vegetables could be argued as healthy for anyone.  The protein side of the Paleo Diet can be a little tricky.  Truly following a Paleo Diet means eating primarily wild game or grass fed animals as protein, not the meat you would get in the grocery store that is fed a corn based diet.
Eating grass fed or wild game is higher in omega 3's and generally has a healthier fat content compared to corn fed animals.  By eliminating most processed foods, you will also naturally lower your omega 6 intake.  Most Western diets are too high in omega 6 fatty acids.  Omega 6 is an essential fatty acid needed to increase inflammation.  This is vital for life, but often omega 6 intake out balances omega 3 intake which can increase risk for chronic inflammatory diseases.
Weight Loss
Eating a diet rich in fruits, vegetables, proteins and moderate fat consumption can be conducive for weight loss.  Some health professionals question the need to eliminate all grains and dairy, as advocated by the Paleo Diet.  Because the Paleo Diet is now very popular, there are many variations from the original Paleo Diet.  Some paleo-like diets still include some whole grains and dairy, but still limit processed foods.
Eliminating processed foods and excess sugar and focusing on eating real food could help with weight loss.  This may not mean you follow all the Paleo Diet guidelines to the fullest, but weight loss could still occur.  Keep in mind though that people can lose weight on many different diet "philosophies" such as a vegetarian or Mediterranean style diet.
What the Paleo Diet is NOT
Sometimes people may say they are following a Paleo Diet because they only eat meat and fats.  That is not really a Paleo Diet but more of a low carbohydrate diet.  The Paleo Diet promotes a high intake of non-starchy fruits and vegetables.  Thirty-five to forty-five percent of calories are still coming from carbohydrates, and a Paleo Diet is very high in fiber.
A Paleo Diet is not just loading up on meat.  Paleo Diet advocates a high intake of monounsaturated fats and omega 3's, which are higher in grass fed and wild game.  Meat from grain based feed will be higher in omega 6's and lower in omega 3's.
Should you eat Paleo?
The Paleo Diet has some healthful components to it; it is high in phytonutrients, antioxidants, fiber and omega 3's.  It eliminates processed foods, which can be beneficial for health.  However, the Paleo Diet also eliminates all grains, legumes and dairy.  However, some research studies have shown a health benefit for eating these foods.
Remember there is no one diet that fits all, and people can lose weight on different macronutrient composition diets.  Some people do better with lower animal based food intake, like a vegetarian diet or Mediterranean diet.  Both of these diet types have research studies concluding health benefits.  The bottom line from the Paleo Diet and other health promotion messages is to increase eating whole, natural unprocessed foods.
Many people follow a modified approach to the Paleo Diet and eliminate processed foods but also eat some grains, dairy and legumes.  Another potential down side to the Paleo Diet is it is labor intensive and not always conducive to eating out, although more eating establishments now have paleo friendly menu options.