Pasta can be considered a "good" carb. Even though most of the calories from pasta are coming from carbohydrates, pasta has a low glycemic index (GI) score. Research has shown that eating pasta was associated with lower waist circumference and may help lower risk for abdominal weight gain.   
Low carb diets have been popular for weight loss, but are foods higher in carbs bad for you and hinder weight loss?  Carbs have gotten a bad rep because foods high in simple carbs, like refined grains, desserts, packaged snacks, sweetened cereal and sweetened beverages can cause a surge in blood sugar soon after eating.
This leads to a spike in insulin levels to move the glucose from the blood stream into body cells for energy or storage.  Insulin also promotes fat storage, so high insulin levels, especially many times throughout the day, can lead to increased risk for weight gain.
This has mostly led to the low carb diet popularity.  While it is true a low carb diet may help promote weight loss, it doesn't mean all carbohydrate foods are bad for weight loss.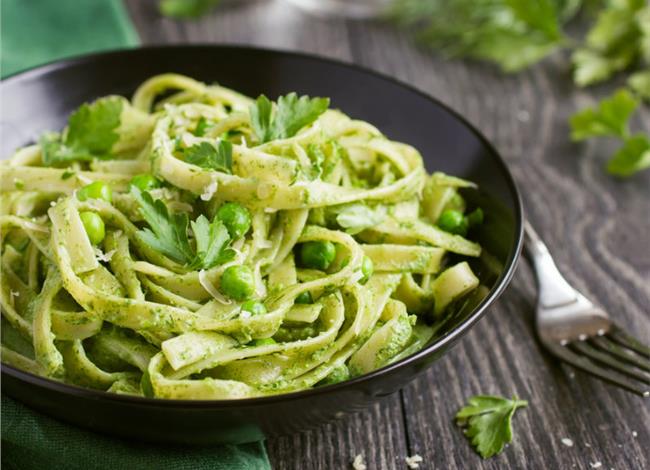 Many think because pasta is higher in carbohydrates it is bad.  However, as with most foods, it is not as simple as classifying pasta as good or bad.
Pasta is actually low in glycemic index, a measure for how a food will impact blood sugar.
Some research also suggests when eaten as part of a Mediterranean diet, pasta does not increase risk for weight gain.  As with any food, it depends how much pasta you eat and what else is in your diet.
A cup of cooked pasta contains about 220 calories, 1.3 grams of fat, 43 grams of carbohydrate, 2.5 grams of fiber and 8 grams of protein.
A cup is considered an average serving, but this amount is actually equal to a 2 ounce serving of grains according to the USDA.
Recommendations for women 31 to 50 years old are 6 ounces of grains per day, and men 31 to 50 years old 7 ounce equivalents per day.  How many servings of grains you eat per day can vary depending on activity and health factors.
If you eat pasta as part of your diet, is it making you gain weight?  According to a 2016 TIME article (1), Italian research suggests pasta as part of a Mediterranean diet does not increase risk for weight gain.
Researchers analyzed data from more than 23,000 people and found that eating pasta was not associated with weight gain.
In fact, the opposite was true: eating pasta was associated with lower waist circumference and may help lower risk for abdominal weight gain. 
Does this mean you can eat as much pasta as you want without fear of weight gain?  Not so fast. 
Researchers suggest the positive association from eating pasta is probably due to Italians eating smaller portion sizes and as part of a Mediterranean diet.
A Mediterranean diet is rich in healthy fruits, vegetables, whole grains, legumes and heart healthy oils.  In general, Italians also get more movement in their lifestyle compared to Western societies.
Pasta and glycemic index
Even though most of the calories from pasta are coming from carbohydrates, pasta has a low glycemic index (GI) score.
The GI rating is a tool that can estimate the impact a food will have on raising blood glucose levels.  Some research (2) has shown a diet with a high GI can increase risk for metabolic syndrome and certain cancers.
How does pasta have a low GI but is mostly carbohydrate? 
Pasta made from durum wheat contains a high amount of resistant starch.  Because of this, the breakdown of the carbohydrate molecules happens slowly and glucose levels rise slowly after eating pasta.
Harvard Health (3) lists spaghetti with a GI of 49.  Foods with a GI less than 55 are considered low GI, medium GI 56-69 and high GI is considered 70 or above.  Just based on GI, pasta can be considered a "good" carb.
However, portion size still needs to play a factor when considering GI levels.  How you cook the pasta can also factor GI; cooking al dente can keep GI low.  If pasta is cooked until it is mushy, the GI can go up.
Portion size for pasta
Portion size is one of the main factors when determining how a food can influence health.  Eating a large bowl of pasta will have a different impact than eating pasta as a small component of a balanced meal.
A half cup of pasta is considered a serving based on the USDA.  Therefore, eating a cup of pasta provides 2 servings of your daily needs.
Measuring out your pasta before you eat can help you keep your portion size down.  A half cup, or even a cup of pasta, can seem small!  To bulk up your portion size, add in a variety of vegetables and legumes to your pasta dish.
Try different kinds of pasta
If you are gluten intolerant or just want to experiment with different types of pasta, there are a number of varieties you can find in your grocery store.  Legume based pastas can be higher in fiber and protein, and there are even quinoa or brown rice based pasta.
You can cut out the flour all together and do vegetable noodles instead of pasta noodles.  There are kitchen gadgets that can help you shred vegetables in pasta shapes, or you can buy pre-packaged noodle shaped vegetables.  These options will of course be higher in fiber and lower in calories.
Are pastas that have vegetables in the ingredients healthier than normal pasta?
Vegetable pastas that may be different colors just have added vegetable powder or puree.  While they may claim to provide a serving of vegetables, be aware eating these pastas is not a substitute for eating real vegetables in your diet.
What are you eating with your pasta?
When you eat pasta, make it a smaller part of a balanced meal.  Keep half your plate filled with fruits and veggies, and keep pasta to a moderate portion size.
Pairing pasta with a salad and adding veggies to your pasta sauce are easy ways to bump up the volume of food you're eating while keeping calorie amount lower.
See also: How to make your pasta diet friendly
What type of sauce are you putting on your pasta?  Cream based sauces can quickly add on calories.  Tomato based sauces are lower in calories and provide a good source of antioxidant lycopene, but watch the sugar content in jarred sauces.