Carbs are the latest macronutrient to be under fire for causing weight gain.  There may some bits of truth to this, but all carbs do not have the same effect on the body.  Simple carbohydrates like sugar and refined grains are fairly easy for the body to break down.
Sweetened beverages, sweets, sugary cereal, white bread and packaged snacks are all examples of simple carbohydrates.  These carbohydrates get broken down into single glucose molecules that rapidly get into the blood stream.
This rapid rise in blood sugar signals a strong release of insulin into the blood stream.  Insulin takes the glucose from the blood stream into body cells for energy and storage.
Another role insulin does is promote the storage of fat.  Therefore, constantly raising blood sugar and insulin levels may promote fat storage which is why carbs have gotten a bad rap.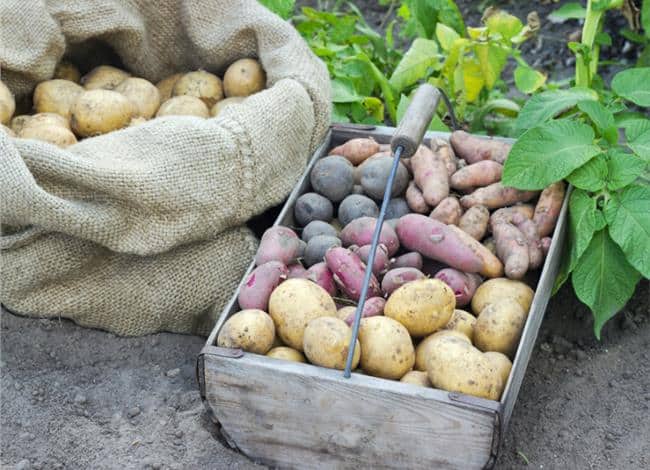 However, complex carbohydrate sources also provide fiber.  Fiber can slow the release of glucose into the blood stream which lessens the insulin demand.  Complex carbs can be considered whole grains, vegetables, fruits and legumes.
Besides being a source of fiber, these foods also provide important vitamins, minerals and antioxidants.
Following a low carbohydrate diet, which is common for many weight loss programs, may strictly limit fruit and vegetable intake.
Cutting out excess sugar and refined grains is recommended for overall health, but restricting fruit and vegetable intake is not recommended unless specified by your healthcare team.
The below fruits and vegetables may be considered higher in carbohydrates compared to other fruits and vegetables.  However, it doesn't mean these fruits and vegetables are less healthy.
Potatoes
Potatoes are probably the most commonly associated high carb vegetable.  One medium sized potato provides about 26 grams of carbohydrates (9% DV) and 2 grams of fiber (8% DV).
Besides being a carbohydrate source, potatoes also provide vitamin C, potassium, vitamin B6 and iron.  Potatoes in their natural form are a nutrient dense food, but the main problem with potatoes is most of the potatoes we eat are in a processed form.
According to Live Science (1), since the 1950's, Americans are eating more processed potatoes, like French fries and hashbrowns.  These products are often fried and can have added ingredients to them.
Eating fried potato foods has been associated with an increased mortality risk (2).
However, eating natural potatoes is a much healthier alternative.  When cooked the right way, potatoes can be good for you.
Corn
Corn may be one of the highest carb sources of vegetables; one ear of corn provides about 32 grams of carbohydrates.  An ear of corn also provides vitamin B6, potassium, vitamin C, magnesium and vitamin A.
Despite the higher carbohydrate amount in corn, it is not considered a high glycemic index (GI) food.
Popcorn can be a high calorie snack food because it is usually topped with butter and salt.  However, popcorn can be made healthier.
Air popping popcorn can be a lower calorie option, and surprisingly popcorn has been shown to be a high source of antioxidants (3).
Corn, like potatoes, is in their healthiest form when eaten minimally processed.  Corn products that are heavily processed like corn chips and corn syrup should be limited or avoided.
Frozen, fresh or canned corn can be a good source of antioxidants that are important for eye health. If you are on a low carbohydrate diet for health reasons, corn is often suggested to limit because of the higher carbohydrate content.
However, if not suggested from your healthcare team, eating corn can be a good source of nutrients.  Limiting corn derived products like corn syrup and corn chips is the more important focus.
Bananas
A medium banana can provide about 27 grams of carbohydrate, but it also provides 3 grams of fiber, vitamin B6, potassium, vitamin C and magnesium.  Bananas can be a nutritious snack eaten on their own to provide energy.
Even though carbs are often associated with increasing risk for weight gain, Live Science (4) suggests eating bananas may help lower risk for type 2 diabetes and may help with weight loss.
Because of their higher potassium amount and low sodium levels, bananas are associated with heart health.
Eating a high fiber, high potassium, magnesium and calcium diet is recommended for lowering blood pressure.  Eating more fruits and vegetables especially bananas can help increase your potassium intake.
Dried fruit
Dried fruit can be considered a concentrated source of carbohydrates.  Unlike fresh fruits, dried fruits do not have the water content.
An ounce of dried fruit contains about 23 grams of carbohydrates but also provides vitamin C and vitamin B6.
If you are trying to be conscious of your carbohydrate intake, dried fruit can add up calories and carbs in a hurry.
However, dried fruit also provides on a weight basis more fiber and some vitamins and minerals.  They are also considered a medium glycemic index food meaning they do not provide a high blood glucose level after eating.
The blood sugar level may be blunted because of the high fiber content of dried fruit.  In fact, adding some dried fruit and extra water to your diet may help treat or prevent constipation.
Apples and pears
Apples are pears can be considered higher carb fruit options, but they are also high in fiber and nutrients.
A medium apple provides about 25 grams of carbohydrates, but it also provides about 4.5 grams of fiber.
Eating apples and pears can help make you feel full because of their high fiber and water content.  The glycemic index for apples is also considered low.
Conclusion
Just because a fruit or vegetable provides carbohydrates doesn't mean they should be cut out from your diet.
In their natural form, fruits and vegetables provide many important nutrients and a fiber source.
Don't cut out fruits and vegetables to try to lose weight; focus on cutting out empty calorie sources instead.
If you have been advised to follow a low carbohydrate diet from your healthcare team, limiting your intake of these higher carb fruits and vegetables may be recommended.