Not all carbs are bad news
In recent years many low and no carb diets have hit the headlines promising amazing weight loss and better health.  However, whilst carbs have a bad reputation in the dieting world, it is not necessary to completely eliminate them from our diets for weight loss or health benefits.  The key thing to remember about carbs is that they are not all created equally and whilst some may promote weight gain, others are important parts of our diets and provide valuable nutrients to the body.
A healthy balanced diet is one that includes foods from all the food groups.  This is what our body needs to perform its normal functions and to give the energy we need to get through the day.  It is perfectly possible to lose weight without eliminating any food groups from your diet, and this includes carbs.  The key is to choose the right foods in the right amounts.
What are carbohydrates?
Carbohydrates are the foods we eat that are converted to glucose during digestion.  This is what fuels the body and gives us energy.  There are two main types of carbohydrates, complex carbs, which are broken down in the body to form glucose and simple carbs, which are already in the form of sugar.
Carbohydrates can be found in the following foods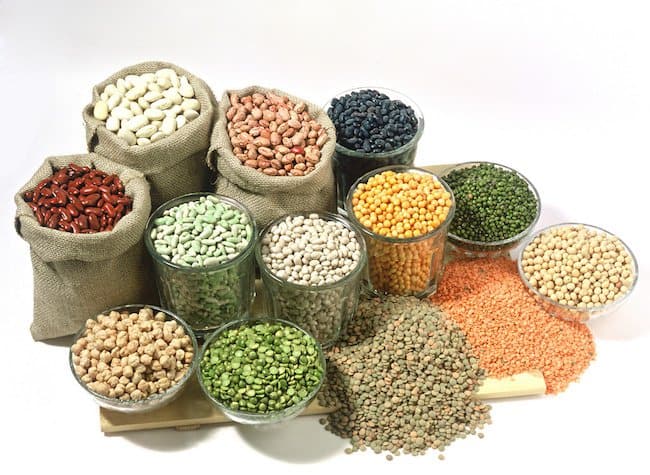 Fruit
Vegetables (particularly starchy veggies such as potatoes and peas)
Breads, cereals and other grains
Milk and milk products
Foods with added sugar such as cookies, cakes, candy and sweet drinks
Alcohol
Complex Carbohydrates
The two main types of complex carbohydrates are starch and dietary fibre.  Starch is broken down during digestion and used as a source of glucose by the body.  It is found in vegetables such as potatoes, dry beans, peas and corn, as well as bread, cereals and grains.
Dietary fibre comes in two types, soluble and insoluble, both of which have important functions in the body.  Soluble fibre attracts water, forming a gel and slows down digestion, which leads to a feeling of fullness for longer meaning that you are less likely to overeat.  Soluble fibre has also been shown to have a positive effect on blood sugar levels and reduce 'bad' LDL cholesterol in the body.  Insoluble fibre is also important due to its function in maintaining gut health.  This fibre adds bulk to the diet and has a laxative effect, which prevents constipation.
Sources of soluble fibre include:  oatmeal, oat bran, nuts and seeds, most fruit, dry beans and peas
Sources of insoluble fibre: Whole wheat bread, barley, brown rice, couscous, bulgur or wholegrain cereals, wheat bran, seeds, most vegetables and fruit.
Whole grain VS refined grains
Many starch based foods are based on grains, which can be whole or processed.  Whole grain carbohydrate foods have all parts of the grain seed present, meaning they are rich in fibre and nutrients.  Whole grains are usually low GI, as the presence of the seeds slows down the digestion and absorption of sugar into the blood stream.  Whole grain products are preferable to refined grains such as white breads and anything made from white flour, as many of the nutrients and most of the fibre is lost during processing.  Some refined grains are enriched with nutrients such as iron and folic acid, which were removed during processing but then added back to the product.  Although these are preferential to non enriched varieties, whole grains are still the better option.
Simple Carbohydrates
These carbohydrates are found in their simplest form and do need to be broken down by the body during digestion.  They are found naturally in fruit, vegetables and milk products, but also include sugar that is added to foods during processing.
These sugars include:
Brown sugar
Corn sweetener
Invert sugar
Lactose
Maltose
Malt syrup
Dextrose
Raw sugar
Sucrose
High fructose corn syrup
Honey
Why we need carbs in our diets
Not only do carbohydrates provide the fuel that our body uses for energy, but foods that are high in carbohydrates also contain valuable nutrients.  Whole grains are high in B vitamins, which are essential for energy, as well as nutrients such as iron and folic acid.  Fruit is high in a range of vitamins required for an overall health and milk products are high in calcium which is important for strong bones.
If we do not eat sufficient amounts of carbohydrates we not only risk nutrient deficiencies, but may also start to burn alterative sources to fuel the body.  Unfortunately, this is not usually the fat that people hope to lose, but protein which can reduce muscle mass and strength.
Carbohydrates also provide the main sources of fibre in our diets, meaning if they are eliminated we run the risk of constipation and poor bowel health, as well as losing the benefits that fibre is thought to have for heart health.
The importance of GI
The GI or glycemic index of carbohydrates is an important factor to consider when choosing the healthiest carb options.  The GI refers to the effect carbohydrate foods have on blood glucose levels.  High GI foods are quickly digested and cause a sharp rise in levels, followed by an equally sharp drop.  This drop can cause hunger and result in more food intake.  Low GI foods on the other hand are a much better option, as these are digested more slowly and cause a more controlled rise in blood glucose.  The increased level is longer lasting, which results in more constant blood sugar levels and reduced hunger.  Controlled blood sugar levels are also important for the prevention of lifestyle diseases such as diabetes.
Good Carbs
So with so many types of carbs out there, how do we know which to choose for the healthiest diet? Ideally the best carbs to include in a healthy diet are ones that:
Have a low GI and therefore keep blood sugar levels constant
Are high in fibre for bowel and heart health
Contain whole grains for fibre and vitamins
Provide other nutritional properties aside from energy, such as vitamins and minerals.
Bad carbs
The carbs to avoid are those which:
Contain added sugars
Have a high GI
Are made from refined grains
Have little nutritional value aside from calories.
How to choose the best carbs for you
| | |
| --- | --- |
| Choose | Avoid |
| Whole grain and multigrain bread | White bread |
| Whole grain, high fibre cereals and oats | Refined, processed cereals with high added sugar |
| Fruit | Cakes, biscuits with refined grains or added sugar |
| Vegetables (with skin when possible) | Crackers and crisp breads made from refined grains |
| 100% fruit juice | Sugary sodas or fruit drinks |
| Brown rice | White rice |
| Nuts and seeds | Dairy desserts high in added sugars |
| Grains such as barley and couscous | Potato chips and fried snacks |
| Plain popcorn | Candy |
| Low fat dairy products with no added sugar | Any highly processed starch based foods. |
Portion Control
Although some of the right types of carbohydrates are essential in our diets, they are often very easy to eat in large quantities.  Many people consume huge portions of foods such as pasta, rice and bread.  These can be healthy options but will cause weight gain if eaten in excess, as is the case with any food.  It is important to be familiar with serving sizes of products and eat quantities that are in line with your calorie requirements.