According to a 2015 CNN report (1), about 95% of Americans think frozen yogurt is healthier than ice cream.  Ice cream is known to be high in fat and sugar and consequently high in calories.
However, fresh plain yogurt is lower in sugar, fat, calories and a good source of probiotics, calcium and potassium.
So, does this mean frozen yogurt is healthy? Unfortunately, frozen yogurt can often have added sugars to it making it higher in calories than you might assume.
Most frozen yogurt places are self serve which also means it is easy to pour yourself a large serving.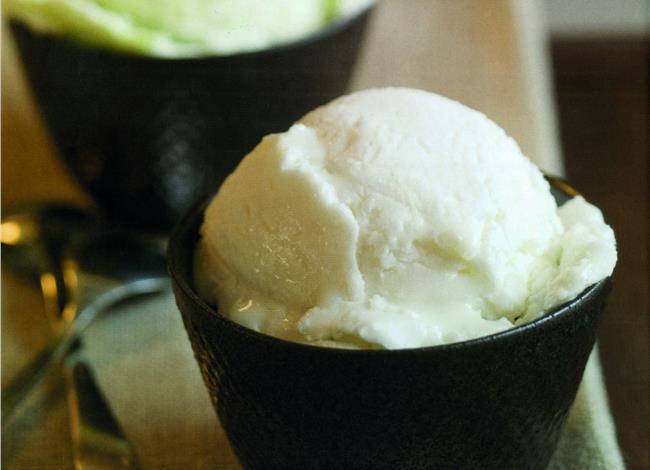 Then come the toppings you can add yourself which can on even extra calories and sugar.
When it's all said and done with, creating your own frozen yogurt cup could have more calories and sugar than a serving of ice cream.
The amount of probiotics from frozen yogurt can vary; the freezing technique used for some frozen yogurts could lower the amount of active cultures compared to fresh yogurt.
The nutritional content of frozen yogurts can vary from different companies.
In general, frozen yogurt is usually higher in sugar than you may think and should be treated as any other occasional sweet treat.
Sugar content
All dairy products are a natural source of the carbohydrate lactose.
When you look at a nutrition label for plain yogurt or milk, you will see they naturally provide carbohydrates and sugar even when unsweetened.
When yogurt is sweetened, the sugar content can be quite high.  Sometimes even plain frozen yogurt is sweetened.
According to a 2016 report from Good Morning America (2), plain frozen yogurts can have as much as 18-28 grams of ADDED sugar in them.
Buyer beware; plain frozen yogurts can be a source of added sugars.
If you choose a flavored frozen yogurt, there will be added sugar.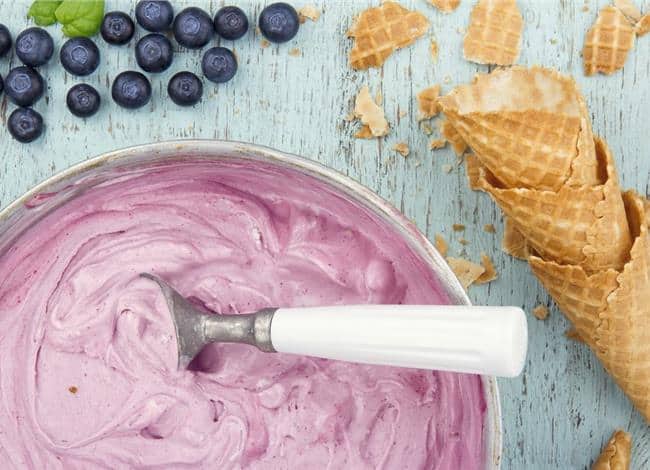 Then you also need to consider the toppings you are adding to your frozen yogurt.
When it's all said and done with, the calorie and sugar content from frozen yogurt can be higher than you originally thought.
Does frozen yogurt have probiotics?
Probiotics are considered healthy bacteria that live in the digestive tract.
There is a growing amount of research suggesting probiotics can have a positive influence on many aspects of health.
Sources of probiotics include fermented foods like yogurt, kefir and fermented vegetables.
Yogurt is a source of probiotics, so it makes sense to think frozen yogurt provides probiotics as well, right?
Well, unfortunately, depending on the freezing technique used and what strain of probiotics is in the yogurt, the probiotics may not make it past the freezing stage.
According to Tufts University professor Simin Nikbin Meydani (3), the amount of probiotics in frozen yogurt can be more or less than the amount in fresh yogurt.
The amount of probiotics in frozen yogurt can vary between brands.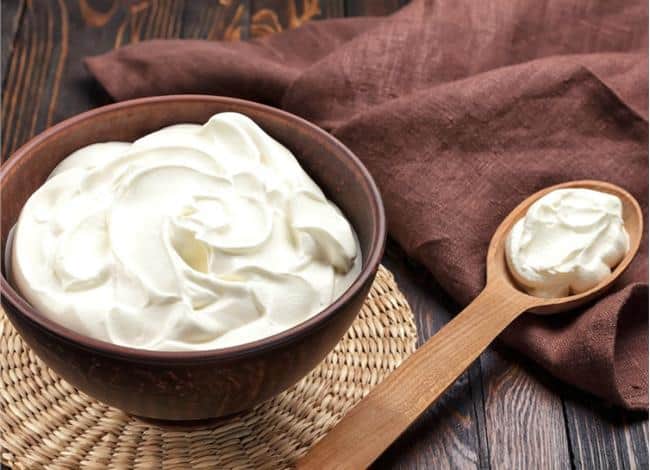 Look for a seal on frozen yogurt that says "Live and active cultures" on it.  This should mean the frozen yogurt is a source of probiotics.
Frozen yogurt manufacturers are also starting to use more strains of bacteria that can survive the freezing part of making frozen yogurt.
Since there is wide variability of probiotic in frozen yogurts, ask certain frozen yogurt companies what their specific policy is for probiotic content in their frozen yogurt.
What are you putting on top?
Something that can really impact the nutritional content of frozen yogurt is the toppings.
If you go to a self serve frozen yogurt bar, it can be easy to add a little of many ingredients on your frozen yogurt.
The best options for toppings can be plain fruits and nuts, as these will also add fiber, vitamins, minerals and antioxidants.
To help gauge your topping amounts, try putting your toppings in the yogurt cup first.
Then put your frozen yogurt on top.  This can help with portion control and not over doing on the toppings.
Tips for healthier frozen yogurt
Keep it to 4 ounces. As with any other treat, enjoy frozen yogurt as an occasional treat.
Keep the portion size to around 4 ounces which is slightly smaller than your fist.
Choose the smallest cup size if you are serving yourself.  Using a larger cup makes it easy to over estimate how much frozen yogurt you are getting.
Pile on fruit for toppings. Skip the gummies, crunchy cereal and brownie bits for toppings.
Pile on different fruits to give it varying textures and sweetness.
Choose plain frozen yogurt. Remember, plain frozen yogurt could still have sugar added to it.
Flavored frozen yogurts probably have even more added sugar.  Choose plain flavor and look for no added sugar label.
Conclusion
Most people associate frozen yogurt as being healthy.  However, it can be a hidden source of added sugar, and it can be easy to over indulge with frozen yogurt.
Even though most frozen yogurts are lower in fat content over ice cream, they can be higher in sugar.
The extra toppings you can add on frozen yogurt could tip the total calorie content higher than a serving of ice cream.
Frozen yogurt is not automatically a source of probiotics; it may or may not be.
Some strains of probiotics do not survive the freezing stage of making frozen yogurts.
However, some companies add extra strains or amounts of probiotics to increase the amount.
Unfortunately, some companies add sugar to plain and flavored varieties of frozen yogurt.
Choose frozen yogurts that do not have added sugars or artificial sweeteners.
Instead of opting to pile on the toppings, stick with adding fruit on top of your frozen yogurt.
Aim to keep your serving size to about 4 ounces.  Choose the smallest container for filling up your frozen yogurt cup.
Frozen yogurt should be treated like any other sweet; it can be an occasional treat.
Just because frozen yogurt sounds healthy doesn't mean you can over indulge whenever you want.