Skyr is a relatively new food item in the US, but it has been used for over a century in Iceland.  The texture, flavor and nutritional profile for Skyr is similar to Greek yogurt, but people in Iceland consider Skyr more like a cheese than a yogurt.
According to Cook's Science (1), the traditional way of making skyr starts with heating low fat milk with some skyr made from a previous batch.
This old skyr can be considered like a starter similar to making sourdough bread.  Rennet can also be added.
As the curds form, whey is slowly drained off.  The end result is a sour tasting, thick yogurt like product.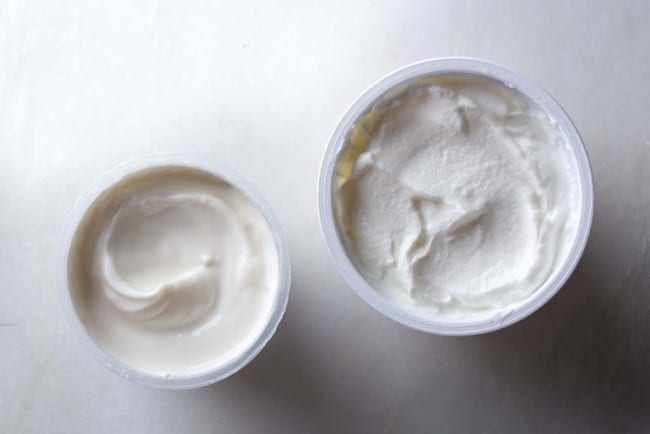 Like yogurt, active cultures in the skyr break up lactose to make lactic acid.  This gives skyr the tangy, acidic flavor.
There are many potential benefits from consuming foods like Greek yogurt or skyr.
They are a source of probiotics (beneficial bacteria), calcium, vitamin D and are high in protein.
Eating foods high in protein may help increase satiety which may help keep appetite levels down hours after eating.
Calorie content
Nutritional values may vary from brand to brand for both skyr and Greek yogurt.
However, in general, when comparing plain non-fat Greek yogurt to non-fat plain skyr, they basically have the same calorie content.
A six-ounce serving for both skyr and Greek yogurt provide about 100 calories.
Skyr is just slightly higher than Greek yogurt with 110 calories.
Both options can be considered a low calorie, nutrient dense snack.
However, when you are looking at flavored yogurt or skyr, calorie content can increase from added sugars.
For example, a fruit flavored six ounces serving of skyr can have about 150 calories.
Protein content
One reason why skyr is slightly higher in calories compared to Greek yogurt is because skyr is slightly higher in protein.
Exact levels can vary, but an average six ounce serving of plain non-fat skyr provides 19 grams of protein.
A six ounce serving of plain Greek yogurt contains just one gram less at 18 grams of protein.
A 2012 study (2) assessed the impact afternoon snacks with varying levels of protein would have on influencing appetite control and eating initiation.
Researchers gave women an afternoon snack that was 160 calories that was either: low protein (5grams), moderate protein (14 grams), high protein (24 grams).
Researchers concluded the high protein snack led to the greatest reductions in hunger, increased fullness and delay in eating dinner compared to the other snack groups.
Eating either skyr or Greek yogurt can qualify for a high protein snack which may help curb appetite longer than other lower protein food choices.
Calcium and probiotic source
Both skyr and Greek yogurt provide about 20% DV calcium for a six ounce serving.
Eating dairy foods as part of a moderately restricted calorie diet has been associated with a beneficial role on weight regulation (3).
The combination of protein, calcium and other components in dairy foods may all work together to benefit weight regulation.
Both skyr and Greek yogurt are made with live and active cultures that ferment the dairy products.
Because of the way they are made, both foods are a source of beneficial bacteria probiotics.
Eating foods that contain probiotics can increase probiotic growth in the digestive tract.
Many studies have shown health benefits associated with high levels of probiotics in the digestive tract.
Consuming either skyr or Greek yogurt will provide a source of probiotics.
Taste and texture
To most people who live outside Iceland and are unfamiliar with skyr, it will taste very similar to Greek yogurt.
When Cook's Science prepared a blind taste test of seven samples of skyr or Greek yogurt, most people could identify the Greek yogurt, but most had a harder time identifying the skyr samples as skyr.
Skyr can have more of a "cheesier" taste compared to Greek yogurt.  Skyr may also come across as more sour tasting than Greek yogurt.
Greek yogurt, although still relatively new to the US market, is getting to be more of a familiar taste profile with more people.  Most people can recognize the flavor and creaminess characteristic of Greek yogurt.
As skyr grows in popularity in the US, more people may notice the subtle differences between skyr and Greek yogurt in the future.
If you are curious how skyr and Greek yogurt compare, do your own taste test between the two and see what, if any, differences you can pick out.
Ways to add Skyr or Greek yogurt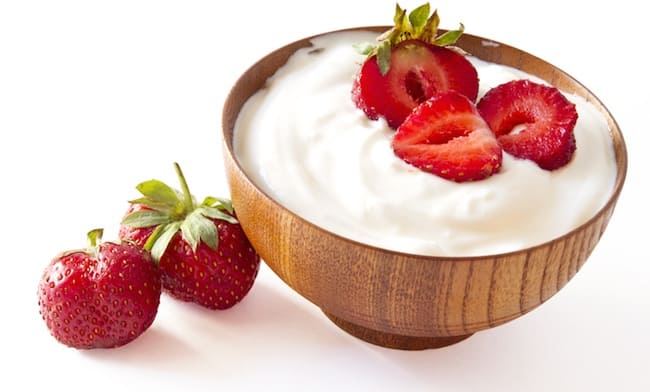 Eating skyr or Greek yogurt for a snack or meal can boost the protein and nutrient content.
Pairing either with some fruit, nuts, seeds or whole grains can make a balanced snack or meal.
Many cultures also use yogurt as a topping for savory dishes.  Yogurt can also be used for baking.  The acid in yogurt or skyr can react with baking soda to produce a leavening agent (4).
You can also use skyr or Greek yogurt in place of condiments like sour cream or mayonnaise.  This will lower the fat content and bump up the protein for this substitution.
Conclusion: Skyr or Greek yogurt?
There really are pretty minimal differences nutritionally between skyr and Greek yogurt.
While there can be some variance, in general they both provide very similar levels of calories, protein, probiotics and mineral content.
They both are considered a higher protein food which, as studies have shown, can be beneficial for curbing appetite after eating.
Taste wise both types of yogurt have a sour, tangy taste.  Skyr may even be a little more tangy compared to Greek yogurt, but some may also note skyr has a creamier texture.
If you have not tried skyr before, look for it in your grocery store.
As it continues to grow in popularity in the US, just like Greek yogurt, it will continue to become readily available.