Calcium is well known to be the building block for bones.  In fact, 99 percent of calcium in the body is stored in bones.  Besides building strong bones, calcium has many other vital functions in the body.
Calcium is needed for muscle contraction, blood vessel contraction, dilation, nerve signaling, cell signaling and hormonal secretion (1).
Even though 1% or less circulates freely in the blood, calcium blood levels are very tightly regulated.
If you don't get enough calcium from the diet, calcium can get broken down from bones and circulated into the blood.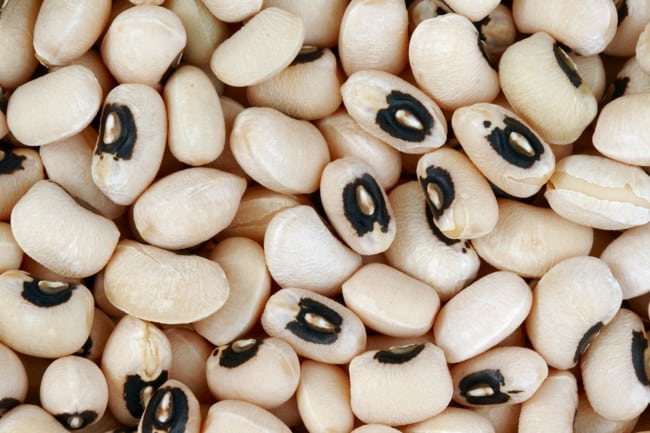 Getting adequate calcium intake when you are younger is critical for building a strong skeletal system.
A calcium deficiency may not show up until late adulthood with osteoporosis.  Osteoporosis is a condition where bones are weaker than normal.
Osteoporosis looks like the bone is more porous which leads to bone being weaker.
When calcium intake is low, the body can break done bone to increase the amount of calcium in the blood.
Therefore, chronic low intake of calcium can increase the breakdown of bone tissue.
Dairy foods are often what come to mind as good calcium sources.  However, many other foods can provide calcium including: leafy greens, legumes, seafood and fortified foods.
How much calcium you need
The Recommended Dietary Allowance (RDA) for calcium for men and women 19-50 years old is 1,000 mg.  The RDA for women over 50 years old is 1,200 mg.
As we age, the absorption of calcium in the digestive tract goes down.
This is why elderly populations have a higher RDA for calcium intake.  The RDA for adolescents is 1,300 mg.
Their need is higher because these are the years where bones are growing and developing.
Getting adequate calcium as children into early adulthood can influence the bone strength someone may have as an older adult.
Do you get enough calcium?
Unfortunately, even though adolescents have a higher need for calcium to develop strong bones, they are at a higher risk for not getting adequate daily calcium (2).
Women over 50 years old and men over 70 years old are also at an increased risk for not getting enough calcium.
Post menopausal women are at a higher risk for weak bones because of the drop in circulating estrogen.
It is estimated post menopausal women account for 80% of cases of osteoporosis (3).
People who avoid dairy products may be at risk for not getting adequate calcium intake.
However, if you are lactose intolerant, vegan, or avoid dairy for other reasons, you can get calcium though other foods.
Calcium supplements can also be taken to bump up intake.  People on a low calorie diet or on a diet high in processed foods may not be getting adequate calcium intake.
What is too much calcium?
Even though certain groups are at risk for not getting enough calcium, you don't want to go overboard on taking calcium supplements.
Calcium does have a Tolerable Upper Intake Level (UL).  Staying below this level, unless under guidance of your physician, is recommended.
If you are wondering if you should take a calcium supplement, speak with your physician before you start taking it.
Calcium supplements may interact with certain medications, and some studies have shown an association between calcium supplements and risk for heart attack (4).
More research is needed on calcium and heart health.  Some, but not all, studies also suggest there may be an association between high calcium intake increasing risk for prostate cancer.
More research is needed in this area as well.
Dangers of not getting enough calcium
Not getting enough calcium and vitamin D is a risk factor for developing osteoporosis.  Osteoporosis usually doesn't manifest until later in life.
Symptoms of not getting enough calcium earlier in life are hard to detect.  In fact, osteoporosis is often referred to as a silent disease because of this.
Other risk factors for developing osteoporosis include: smoking, lack of weight bearing exercise or drinking too much alcohol (5).
Best calcium food sources
An eight ounce serving of plain low fat yogurt is one of the best sources of calcium; it provides 415 mg of calcium which is about 40% DV.
Surprisingly, collard greens are also a good source of calcium by providing about 35% DV for one cup of cooked greens.
Other sources of calcium include: dairy products, black eyed peas, salmon, baked beans, peas, fortified dairy alternatives, almonds and lettuce (6).
By eating a variety of calcium food sources, you can meet the RDA intake.  Taking a calcium supplement may be recommended for those who do not eat calcium rich foods.
Before you take a calcium supplement, speak with your physician first.
Factors that influence calcium absorption
If you want to take it a step further for increasing calcium absorption, you can also pay attention to other factors that may influence how much calcium your digestive tract absorbs.
On average, we only absorb about 30% of calcium from food (7).  Other components of food, your age and your body's need for calcium can all impact calcium absorption.
As we age from young to mid and elderly adulthood, calcium absorption goes down because they body is no longer growing the skeletal system.
Vitamin D levels can also impact calcium absorption.  Vitamin D helps stimulate calcium absorption from the digestive tract, so if someone vitamin D deficient, calcium absorption will be lowered.
Phytic and oxalic acid from certain foods can bind to calcium which lowers absorption.  There are many foods that contain these nutrients such as: spinach, sweet potatoes, legumes, nuts and seeds.
In general, these interactions aren't need for concern if you eat a variety of foods.  It is taken into account some foods can impact calcium absorption.
Iron and zinc compete with calcium for absorption.  It is recommended if you take an iron and calcium supplement, take them about 2 hours apart (8).
Some supplements, like a multivitamin, you obviously can't separate and that's ok.  However, if you are recommended to take a separate calcium and iron supplement, taking them apart can increase absorption of both nutrients.
Only take calcium supplements in doses of 500 mg or less at a time.  This is considered the optimal dose for absorption at a time.